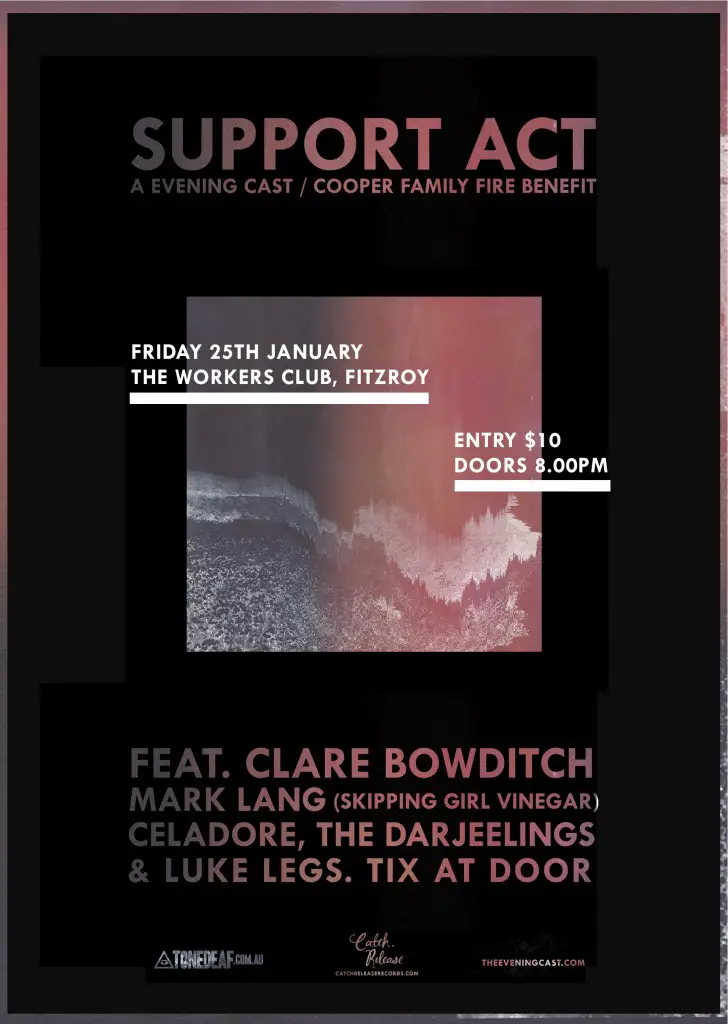 A devastating house fire which destroyed the home and contents of The Evening Cast members Joel & Rachel Cooper has lead to the extremely difficult decision to cancel the bands upcoming National Tour, which was announced at the end of 2012 and due to commence January 19th.
Thankfully Joel, Rachel and 5yr old daughter Poppy managed to escape the blaze unscathed; however the incident has taken its toll on the family and band in many ways. A studio full of instruments, CD stock and band merchandise were just some of the items lost in the fire.
"The east coast tour was set to hit Adelaide, then continue to Melbourne, Brisbane, Yamba and Sydney was one of the biggest opportunities for our band and in return required a performance level that we can not produce at this time. We appreciate all the support and understanding during this process and plan to honour the venues and bands scheduled for the tour in the future when the time is right to hit the road again." Paul Cooper – Brother to Joel and guitarist in The Evening Cast.
As part of their planned national tour, The Evening Cast were to launch their new EP, titled Lake at the Workers Club in Melbourne on Friday January 25th. After an outpouring of support from the music community, it was decided to honour this date with a benefit show, the proceeds of which will go direct to a fire benefit fund. This support will help Joel and Rachel to re-build and The Evening Cast to replace items lost in the fire.
The benefit show will feature performances by an outstanding group of acts, all of whom were touched by this tragedy. This list includes Clare Bowditch, Mark Lang from Skipping Girl Vinegar, The Darjeelings, Celadore and Luke Legs.
Catch Release Records presents: Support Act
Friday January 25th – The Workers Club, Fitzroy
Feat. Clare Bowditch, Mark Lang (Skipping Girl Vinegar), Celadore, The Darjeelings & Luke Legs.
Doors 8pm.
Entry $10
Tickets available at the door. 18+