Vengaboys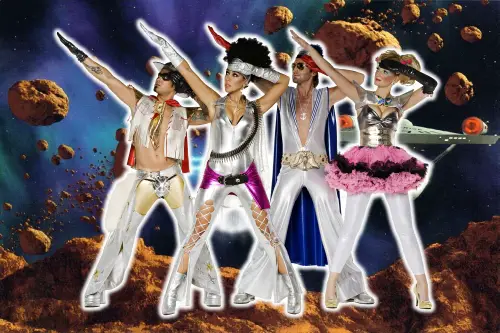 The Vengaboys are back and are coming back to play some shows in Australia and Donny from the group, answer my questions.
THE VENGABOYS 2013 AUSTRALIAN TOUR
"Bussing to the Beach"
Thursday 10th January – The Esplanade Hotel, St Kilda VIC
Friday 11th January – The Entrance Leagues Club, Bateau Bay NSW
Friday 12th January – Selinas, Coogee Bay Hotel NSW
Thursday 17th January – Hornsby RSL NSW
Friday 18th January – The Hi-Fi Brisbane QLD
Saturday 19th January – Metropolis, Fremantle WA
1. How does it feel to be touring Australia again?


It feels AMAZING!! We had so much fun the last time we came to Oz. We love the sunshine, we love the country sights and we loooooove the hot and sexy guys and goils!! Australia is Amazing!
2. Are you happy people are still connecting with your music?
We love doing our songs. Even after 15 years. But what gives us the drive to carry on Partying…. are the fans who come and see the show. Every show we see them go Mental on our tracks and that gives us soo much Energy and Satisfaction that we keep on doing what we're doing.
3. Will we hear any new music from you guys?
hmmmmm …….All we got to say is "Keep your bum tight and your ears pointed …… You never know what the future holds ;o)
4. What inspired you guys to come back and perform again?
You Guys!! The Fans. Ozzy fans showed us so much Love and Support last time that we had to come back.
5. How did Perez Hilton get involved with your latest track?
 We we're at a Party in Paris and met him there. We had way to much to drink and so much fun so we invited him to be part of Rocket to Uranus. Just for the fun of it  ;o)
6. Why perform sex on the beach at your shows?
Because we Love the song…. and we loooove having sex on the beach!!
7. What can we expect from a Vengaboys show?
Expect a Sing-a-long Feel Good Chaos with High Energy Party Madness. This time 'round the show will be LONGER, SEXIER and HOTTER than ever before. ;o)
8. If you could work with any one who would it be?
 hmmmmmm ……. We would love to work with George Lucas. And than we'll make a feature film. VENGABOYS part 106: Return of the Lost Cowboy (who wasn't lost only dis-orientated) …….. (and than make all 105 precuals. WHAHAHAHA LOL)
9. What is next from the Vengaboys?
With us you never know whats next. Even we dont know LOL ….. But one thing is certain We keep on going till we drop and pump it like it's HOT!! Yeehawwww