Summerset Avenue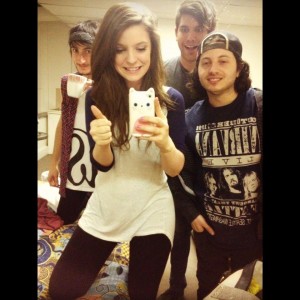 Summerset Avenue are a 4 piece Melbourne rock/pop band doing good things and who music I really dug. I wanted to know more from this amazing band and this is what they had to say.
http://www.facebook.com/summersetavenue
1. How did did you get into music?
For most of us it was through family, either our parents or close relatives played in bands and we grew up around music from a young age so I guess naturally we started taking an interest and it progressed from there. For Leeanne it was a bit different, she started singing because she could sing and found it fun and things went from there for her
2. What was the inspiration for your latest release?
Life at that time for us all. There were some internal band issues going on at the time we wrote and recorded 'ASAP' things were pretty tense and as a result of that we came out with a more angsty, aggressive sound. We didn't plan for that, it was purely a result of our environment we were in at the time but we couldn't be happier with how it came out
3. Are you happy how the media has responded to your music?
Definitely! The reaction to our YouTube videos especially, it has really helped us out a lot. People sharing our videos and songs on social media etc… we couldn't be happier with the response
4. What has been your favorite show to date?
Wow! That's a hard one… There have been so many amazing shows over the last couple of years but I think one that stands out for us would be the first time we played down in a regional town called Koo Wee Rup. It was insane! Also the last time we were in Adelaide supporting our friend D At Sea was an amazing show
5. How has touring helped you as a band?
Playing in different states, meeting new bands, new friends, even traveling over to states, all of it has helped us out a lot especially exposure wise. Touring is also our bread and butter in this day and age
6.  What is the scene like where you live?
The Melbourne Scene is great, we are really fortunate to have a big music scene here with some great venues, pubs and clubs to play at and a lot of people who support the live music scene. Also the FreeZa Committees across Victoria holding All Ages events help exposure kids to new music, its all apart of keeping live music alive
7.  How does social networking help you as a band?
We can honestly say that we would probably not have half the exposure we do if it wasn't for social networking, Facebook, Youtube, Twitter, Instagram etc… all of them help in their own way, people sharing music, videos, photo's etc… it all helps out
8. How do you think connecting with your fans helps you as a band?
Fans are everything, without connecting with them we'd have nothing
9. What is next for yourself and what do you hope 2013 will do for you?
2012 will see us finish up a string of shows and finishing recording our new EP and then 2013 will see the release of the new EP and a national tour to follow
10. How do you find being an independent band?
It can sometimes get a bit hard, especially when things are really busy, doing all our own management, bookings, PR and then as well as that being a band, touring, performing, writing, rehearsing, recording, it never ends really but that's the name of the game, its what we signed up for so no use complaining about it, got to get the job done
11. Who would you most like to collaborate with?
Probably Matthew Wright from The Getaway Plan or Jonny Craig from Emarosa/Dance Gavin Dance
12. Any plans to tour overseas again?
Definitely, we're looking into it at the moment