Animaux Live @ The Gasometer 29/8/2015
Animaux performed over a week ago at The Gasometer touring a new song Come On Over and I had never seen them play live before and was pleasantly surprised. They delivered a high energy engaging set of funk pop tunes that got room getting down and bringing a huge buzz to the room. I can easily see why people are drawing to their music. The song was excellent. The musicianship was first rate as was the sound mix. Go see this talented Melbourne band when they play live next, and you won't be disappointed.
Deep Blue Something – Locust House EP (Kirland Records)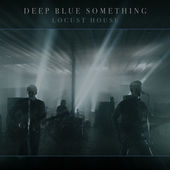 Deep Blue Something are back, that right they are back with their brand new EP Locust House and boy it's excellent. It's really well written, performed and sung. The production is solid. The opening track All Make Believe just highlights why they are such good songwriters and performers. I've always loved what they do with the guitar which is evident in Fuzzy, War Song and Winsome which are my favourites off the EP. Winsome shows their indie pop/alternative/brit pop/rock sound which is why I love them. Out Of My Head is the ballad type track off the EP and the second single. It's another good tune. Welcome back Deep Blue Something, this is an excellent EP can't wait to hear more and hopefully there is an album in the works.
Katherine Hymer – Monsters Single
Katherine Hymer is a Melbourne singer songwriter who has released a song called Monsters which is a delightful jazz pop tune which show's Katherine amazing vocals, lyrics, song-writing and musicianship. She has the talent and if she keeps writing tunes like this sky is the limit for this talented singer songwriter. The video clip is excellent too.