High Side Driver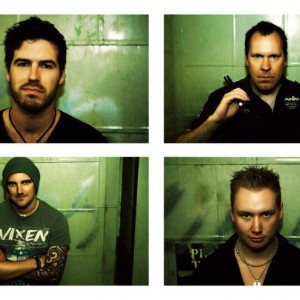 High Side Driver are a Melbourne alternative rock band doing things.  I chat to Rod from the band about it all. Go see them at a show.
You can check them out at Rock The Bay on 16th of February @ The Espy. More info on the event page on Facebook here
http://www.facebook.com/events/122777251216399/
http://www.facebook.com/HighSideDriver
1. How did the band form?
Back in early 2010, myself and the guitar player Matt hooked up on the Melbourne muso's website Melband. He sent me some of his riffs and I absolutely loved them instantly, saw incredible potential in them for great songs. We met up and found we were on the same page. So we then set about finding members to help us bring it to fruition. It took us a while, but I feel we have a very strong and settled lineup now.
All of those initial riffs he sent me have become some of our best songs that we still play now.
2. What was the inspiration for the latest single?
Lyrically, there is a hidden message in the title 'See You Next Tuesday'. There is definite anger in the lyrics, anger about a broken relationship, and that comes across in the video for the single as well (
http://www.youtube.com/watch?v=xTM78_X8jGo
). Musically, the main riff of the song is a classic rock riff that Matt came up with, and overall the music provides a slightly more uplifting vibe to contrast with the darkness and anger of the lyrics, so there is light amidst the dark so to speak.
3. Are you happy to the responses to it?
We've had an excellent response to both the single and video. People seem to really like both, the song is definitely at the catchier end of what we do, and so perfect for a single, and I feel the video, which was completely DIY on a virtually non existent budget, has that off the cuff, done on the seat of our pants feel to it, and hopefully that's what gives it its charm.
4. How does social networking help you?
I absolutely pound social networking, it's one of the best ways to promote a band. Obviously Facebook is number one, but we have profiles on about 30 different band sites, that's the beauty of the internet, you never know who's out there across the world who may chance upon you on the web. There could be someone in Greece or Brasil or Indonesia who finds and likes you, so a strong presence on the net is absolutely necessary.
5. What is your favorite venue to play at in Australia?
Our last two gigs we've done were at the Evelyn in Fitzroy, and they were both very successful. So for this band we'd have to say that place. We love the Espy too, and can't wait to play there again for Rock the Bay in February.
6.Who have you enjoying playing with?
We've done shows with bands like Pandorum, Written in Ruins, Gombo and Pretty Dulcie, those bands are excellent. In the immediate future we'd love to play with bands like Engine Three Seven, Twelve Foot Ninja, Sleep Parade, Moroccan Kings, Jericco etc etc.
7. If you put the ultimate festival together who would be on the bill?
On a local scale, I'd love to do a festival with all of the great Aussie alternative progressive bands on the one bill, like Karnivool, Cog, The Butterfly Effect, Twelve Foot Ninja, Dead Letter Circus, Jericco, Engine Three Seven etc etc. And us!
Worldwide, I'd love to have Rush, Devin Townsend, Porcupine Tree, Opeth, Dream Theater, Karnivool, Periphery and heavy progressive bands like that on the bill. That would be a wet dream for me!
8. What inspires you when writing songs?
The creative process. To see a song go from an initial idea/riff/drum line/bass line or whatever, through to a fully fledged, listenable piece of art is truly inspiring to me, and what keeps me going through all the crap that the music industry throws at musicians and bands.
9. If you do a duet with anybody who would it be?
I'd LOVE to get Devin Townsend to sing on, play and produce a High Side Driver tune. That would blow my mind completely!
10. What would be find on your stereo at the moment?
Alot of the albums that have rocked my world in 2012, and even 2011, like Devin Townsend's 'Epicloud', Twelve Foot Ninja's 'Silent Machine', Klone's 'The Dreamer's Hideaway', Uneven Structure's 'Februus', Red Bee's 'Ictus', Breaking Orbit's 'The Time Traveller' etc etc, plus a heap of the jazzy/fusion stuff that I like, and orchestral/movie soundtrack stuff.
11. What does 2013 mean for the band?
We plan to make 2013 a massive one for us, starting with Rock the Bay in February. Then we're booked in to the studio to complete our debut EP, so we'll be releasing and launching that mid year. Plus more shows, songwriting, some more videos and whatever else we can conjure. We want to put ourselves firmly on the map this year.
12. How important is connecting with your fans?
It's an absolute must. They are your 'customers', your lifeblood, what keeps you going in the marketplace. Ignore the fans and you cut yourself off from the world. Do that at your own peril. We try to be as interractive and approachable as possible, both online and in person at shows etc, and we will continue to do that as long as we are a band.