Alexa Borden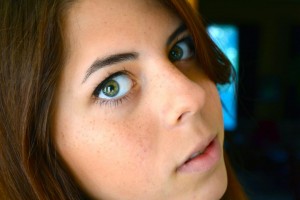 Alexa Borden is a Canadian singer songwriter who discovered my site and I liked what I heard. So this is what she had to say,
http://www.facebook.com/alexabordenmusic/
1. How did did you get into music?
Back in 2008 I had newly discovered indie bands like "A Fine Frenzy" and "Keane". I was so inspired by that style of music that I decided to start teaching myself how to play the piano and everything stemmed from there. Eventually I started creating little melodies, then lyrics, and then a 15 track album. I realized there was nothing else I wanted to do in life but make music.
2. What was the inspiration for your latest release?
The whole concept behind both pieces of work comes from a very dark place, a war internally. It's a story about losing sight of myself and then finding myself. And all the in betweens like taking risks, falling in and out of love, and learning to accept your place in life. I think that was the biggest struggle on the record…learning to be happy with where you stand. Rule the World is continued on in my upcoming record, "Flares".
3. Are you happy how people have responded to your music?
Oh, extremely! I mean it's crazy enough to have people want to listen to your work in the first place, but to have someone tell you that your music has touched them is the most incredible feeling. Thats exactly why I make music- to make people feel something.
4. What has been your favorite show to date?
My very first show back in 2010. It was so magical. The audience was so lovely and we all kind of got lost in this world together. It was the most connected to the audience I've felt, and that really sets the difference between a good show and an amazing show. For both the artist and the audience.
5. How has playing live helped you as an artist?
I think it's making mistakes that have helped me the most. Microphones have fallen mid song, wrong chords have been played, people ignore you, and I've forgotten the lyrics. But all those little mishaps help you grow and be more confident on stage. You can't take yourself too seriously because then you start forgetting why you do it in the first place.
6.  What is the scene like where you live?
Calgary is full of talented artists. There is a good amount of venues and supporters for our local music scene. The market out here for music here isn't the greatest unfortunately, but I've seen it grow in the last 4 years for sure.
7.  How does social networking help you as a artist?
I'm exposed to people who I would have never been exposed to without the internet. Because of Twitter and Facebook, my fan base extends to countries on the other side of the world, and that's so amazing! I'm very lucky to have grown up in a generation with the ability to share my music with the world on social networking sites.
8. How do you think connecting with your fans helps you as a artist?
It makes me realize how important my job really is. Being able to connect with fans, hear their feedback and see how my music affects them just makes me want to create and entertain forever.
9. What is next for yourself and what do you hope 2013 will do for you?
2013 is a huge year for me! My sophomore album "Flares" comes out in January, a project I've been working on for 3 years now. I'll be moving to Vancouver in the summer to open up some opportunities musically and also go to school for music production.
10. How do you find being an independent artist?
It certainly keeps me busy! It's difficult to promote yourself and to fund everything as well. But that's the fun of it. I'd rather experience the struggle and work hard to gain success than just have success handed to me. I think I could take more pride in knowing I accomplished it myself. Also I get free reign on the creativity!
11. Who would you most like to collaborate with?
I would love to work with Drake or Jeff Tweedy someday!
12. What was the inspiration for the video clip Lungs?
My uncle (who filmed and edited the music video) came to me with the idea. It's a very ethereal and disorienting song, so we wanted to make the video very hazy and kind of dizzying. It's got an innocence to it, a shyness. I love it.