Alanna Eileen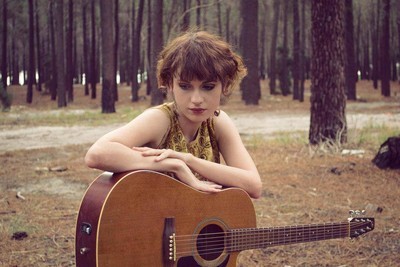 Alanna Eileen is a talented Australian singer songwriter came across her stuff on soundcloud. Liked what I heard and a interview was a must. So read on and find out more about you.
1. How did did you get into music?
My father is a musician; we would often be singing around the house and there was always music on – things like Roy Orbison and Mary Black.  When I  was a teenager, I was given a guitar and started performing in a duo with him.  We played at venues in Perth, where I was born, and occasionally traveled overseas to Ireland and the UK.  Later, I began performing solo.
2. What inspires you when writing music?
When I first started writing songs, I was living in Tasmania, and the beauty of the wilderness there – the silence and majesty of the mountains and forests – inspired me to want to write.  I had always written poetry and prose and gradually the process expanded to encompass song writing.  A lot of Sufi verse, metaphysical poetry and writers like Hermann Hesse, Knut Hamsun, Fernando Pessoa, Fyodor Dostoyevsky and even Shakespeare have inspired me to a great extent, in addition to the music of Joni Mitchell, Joanna Newsom, Kath Bloom, Robbie Basho and others.
3. What was it like playing along side Bill Chambers?
I played alongside Bill Chambers and Michael Waugh as part of a songwriter's night organised by Unpaved.  These are held at The Old Bar.  It's always enjoyable to be able to listen to other songwriters performing their original material and that night was no exception.
4. What has been your favorite show to date?
I can't really highlight any specific show as a favourite, but I've found that the most enjoyable are the ones where something ineffable is exchanged between you and the audience.  It's like a reciprocal connection.  When it's a good night, it's not about image or egoism or anything like that.  It's like music humbles us, extracts what's not important, lets us see one another as we are, and the hackneyed conventions that would normally make us shy or aloof just fall away.
5. Who would you most like to collaborate with?
I think to collaborate with someone there has to be a natural resonance there; it's not something you can predetermine or plan.  One of my favourite things is singing harmony and in the future I'd enjoy exploring that to a greater extent.
6.  Do you think the Internet has made it harder for bands/artists to stand out?
Yes; I think the internet has atrophied many of our natural abilities.  That said, I'm more interested in making music than in standing out, and if people hear it and enjoy it, that's great; if they don't, that's okay too.
7.  How does social networking help you as an artist?
I think if you manage to use it creatively it can be a convenient way of sharing things with people.  It's mainly helpful in that it allows you to keep others updated about upcoming gigs, projects, releases, etc.
8. How do you think connecting with your fans helps you as an artist?
I don't necessarily think it helps me as an artist because I don't see that as being important, but if people are resonating with what you do and responding to it, you feel like the music you're creating is helping others; thus you're compelled to want to share it – not to create it, because that's something you do anyway, but to let others hear it.  Creating something for the sake of praise or recognition negates the elements that make it magical; the enjoyment is in loving whatever you do, surrendering yourself to it, whether it's writing poems, drawing pictures or just washing dishes.
9. What is next for yourself?
Working on my first album, making art and singing as much as possible.
10. How do you find being an independent artist?
It's still new to me and I'm only just finding my feet, but I think independent artists possess greater freedom and are more apt to express themselves with honesty without having to bend their values to fit a marketable mould.
11. Will we hear any releases from you in the pipeline?
I have a lot of new material that I'm due to start recording at Hothouse in September; I hope to release my first album before the end of the year.