Super Best Friends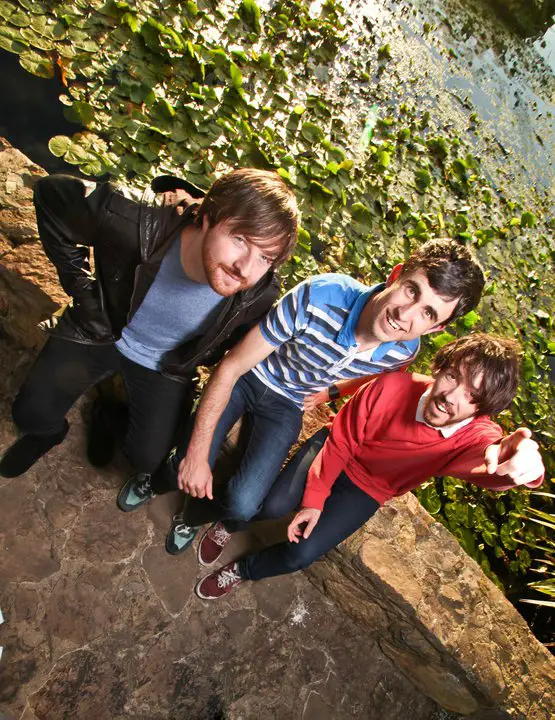 Super Best Friends are a good band from Canberra doing good things. I chatted to John Barrington (Singer) from the band so read on.
https://www.facebook.com/superbestfriends
1. Are you happy how things have gone so far?
We've had a pretty good run over the last few years, for a band that hasn't toured consistently as hard as other bands and has mostly kept everything pretty DIY. Our first studio EP Handshake got some love on triple j and community radio, which lead to our first tour outside of the eastern states with Emperors. From there we joined the Gun Fever label and released the Round & Round singe last year, with a film clip featuring some dancing politicians and Prime Ministers. Toured with Calling All Cars and supported two of our hero bands, Future of The Left and Regurgitator before disappearing into the studios to write our debut album. Out Tonight is the first taste of that, produced by Tom Larkin at Studios In The City, Melbourne and we put that song out last month. Doing well on community radio around Australia and online, so we're happy, yeah. Excited about releasing the album next year.
2. Do you think it's all about the songwriting or does timing and the right place at the right time has a key getting your music out there?
Round & Round was all about timing. Probably not the world's greatest song, but it didn't get panned for being average, despite being attached to a pretty amazing film clip. We probably wouldn't have got access to politicians like that, had it not been election silly-season. Our previous single No Logo Is A Joke got added to rotation on triple j and wasn't tied to any major event, so we'd like to think it was based on the merits of the song! We've also written lyrics that were socially-aware, but often sided with humour and satire, so they don't become too preachy. That remains on our new album, although we've got a few tracks that are a lot more pointed and clear, so any irony isn't lost and people know what we're saying. Hoping the fact that people are more politically engaged now, they'll relate to the lyrics and get into the songs.
3. How important to you are music blogs in helping get your music out there?
There's a heap of blogs and bands around the place. Some bands are more important to people and the industry than others, same deal with blogs. Blogs are necessary in getting bands and their music out there. I guess for me, the blogs that make the effort to not just print what's in the press release are the better blogs. It's good to have them listen to the song and make up their own mind out about it, rather than just swallowing the line that bands and publicists give them. The test would be writing "this is the greatest song of all time" in a press release and seeing how many blogs it appears on verbatim. Hmmm… might try that next single!
4. What inspired you guys in the first place to give music a shot?
Can't really speak for the other guys, Dan (bass) and Jesse (drums). For me, playing your own live music was the funnest thing to do and I came from an area that was pretty musically-devoid growing up, at least for original music. Batemans Bay is 5 hours south of Sydney on the south coast of NSW and parents and bands did try to put stuff on for teenagers every 9 months or something, but there was never really a scene for it – and once you were old enough to play in pubs, they only wanted cover bands or very average DJs. It wasn't cool to be in bands like it is now and this is before MySpace too. I loved 90s punk and Rage Against The Machine, so playing in bands made me feel "punk", like I was doing something different to everyone else and I enjoyed doing something that other people hated. Move to the city though and everyone's in a band, haha, so that's just my small town experience.
5. Having tools like Soundcloud does it make your job easier when trying to gain new listeners to your music?
I'm not a massive Soundcloud user, but it seems to be working for the Out Tonight single. That got uploaded to the Gun Fever Soundcloud like three weeks ago, and it's already had something like 800 listens and a few likes and comments. Not bad for a band that hasn't put anything out for a year. Good for international exposure too, it seems. We've found ourselves tagged by a few radio stations and podcasters in the States, who said they've played the track or our older stuff. I'll have to get my act together and get a bit more social on Soundcloud.
6. Do you think releasing EP's and singles is a good way of keep momentum going before releasing a full length or spending time out of the spotlight writing songs is better?
For me, it always felt like you had to work your way up to an album and that it shouldn't be something you should rush. They take a lot of work and are costly, so unless you're a musical genius, singles or EPs and demos might be the way to go until you're ready for your first concept album about cheese. Super Best Friends has two EPs we still promote, Ready Aim Fire! (2009) and Handshake (2012). We did have an earlier EP, but we don't play anything off it or promote it anymore, as it's kind of a home-recorded demo by comparison to the newer stuff. It's taken several years and a lineup change to get to writing an album. We'll see how that goes in 2015! I feel like bands arrive with albums, even if they don't burn up the charts, it's like a work to say you're an established band. Not all bands have to get famous and not all albums have to blow people's minds. Hopefully with this one we get seen as established and get some more people to shows and into the songs and lyrics. If we blow people's minds, then awesome, but I'm not counting on it. Smiley face.
7. How does a song happen for you?
Mucking around on guitar, sticking a lot of things together to a beat, thinking up a song subject or having some lyrics or a theme occur to me and then thrashing it out with Jesse our drummer in the jam room. Dan has only recently joined the band, so we're yet to start writing with him. We probably should get onto new stuff, even though the album's on the way.
8. Are there moments where you're just not in the mood for writing music and need to do something else before you jump back into songwriting mode?
Yeah – even after our 14 song album demo in April, that Jesse recorded with good quality gear and know-how, we needed some time to sit on the songs and to work out whether we needed to re-record them in a studio with a producer and to see what Greg at Gun Fever thought about the new tunes. We decided to re-record – and working with Tom was amazing and meant for some rearrangement and new ideas on the spot. These days, bands have to worry about social media and video clips and constant publicity, so I've been tied up with all that recently. The internet is amazing for getting heard but it adds a lot of work that older bands didn't have to worry about 20 years ago (besides publicity of course). I wish I could focus more on writing, but I'm a bit distracted the moment. That's not a complaint, by the way!
9. Do you think YouTube has help save the music industry?
Not if it's going to shake things up, so that "indie" bands have a tougher time getting exposure. We've had four video clips do okay on YouTube and a few fun band-banter videos. It's probably awesome for international exposure. The fact that YouTube and Facebook are monetizing promotions now makes it a bit harder to compete with artists and labels with deeper pockets, but we got 300 000 hits on Round & Round through word of mouth and radio play. At the end of the day, the song still needs to have something about it. Unless you're those terrible little twats 5 Seconds Of Summer and some label just promotes the crap out of you to hormonal teenage girls and their concerned parents around the world.
10. Do you think being serious with your music has helped you and is it still fun to you guys from when you were starting out?
Yeah, I think so – I'm still having fun. We have some really awesome friends in other bands around Australia – if I was to tell that to 16-year-old me, he probably wouldn't have believed it. Bands like Born Lion, Reckless Vagina, Surprise Wasp, Doc Holliday Takes The Shotgun & Gay Paris in Sydney; The Sinking Teeth, Captives, DARTS, The Quarters, Batpiss, The Lost Day, Too Soon! & Heads of Charm in Melbourne; Emperors & The Love Junkies in Perth; Maids in Newcastle; Sincerely, Grizzly in Adelaide; Tape/Off and Release The Hounds in Brisbane; not to mention the legends in bigger bands we've played with like Calling All Cars, High Tension and Violent Soho, and all the bands from Canberra we love like Revellers, No Assumption, Yoko Oh No, TV Colours, Mornings, Hoodlum Shouts, Julia & The Deep Sea Sirens and The Ellis Collective. The music gets better the older you get, I can play better now and the shows are better. It's not a struggle to get gigs or get people's attention anymore. Not always easy to get people to the shows, because there's so much going on all the time in the big cities, but I'm looking forward to seeing how these songs go, if people read and like and relate to the lyrics. We'll be touring the shit out of this album next year. Playing in a sweaty small venue with painful stairs to get gear up and paid limited parking, is still more fun than any well-paid job I've had. I'll be doing this for a while yet.