Shimmergloom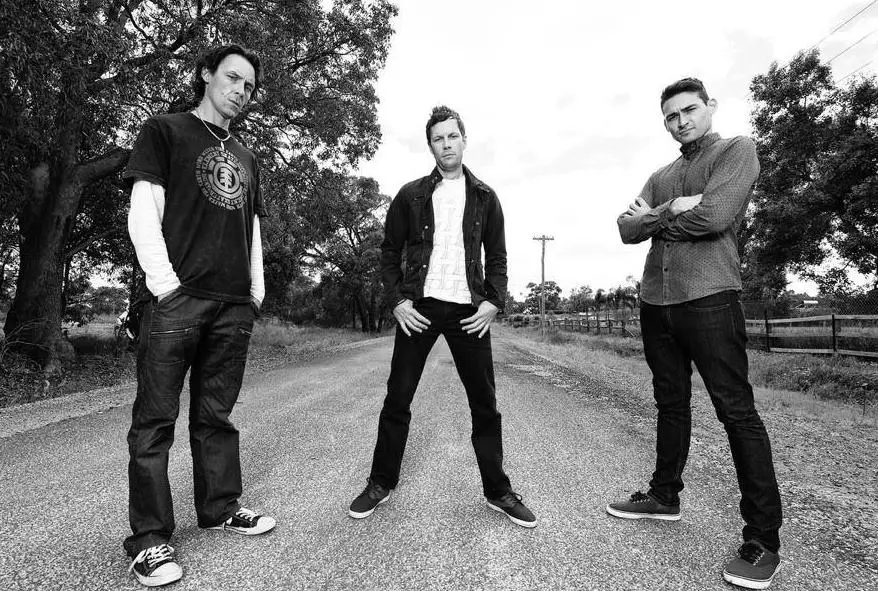 Perth indie alt-rock band Shimmergloom answered my questions. I dug what I heard and knew I had to interview them.
https://www.facebook.com/ShimmergloomSounds
1. For someone unfamiliar with your music, how would you describe Shimmergloom?
Shimmergloom is a mix of various elements & sounds, that range from hard driving bass & drums to lighter vocal harmonies & melodic guitars mixed with offbeat timing. We were recently described as "space grunge" in a recent review, which we thought was fair description based on the sounds & effects we use at times. As a three piece we try to use our vocal harmonies & our playing styles in a way that helps fill out our sound.
2. Tell us a little bit about your writing process. A peek inside the inner workings of the band if you will?
We write music in many different ways which we think helps to add to the variety of tunes we play. We have songs that have come from a spontaneous jam at rehearsals, as well as songs that have been written by individual members separately and also collaboratively. We will often record our rehearsals so if we start going off on a tangent that we like, we keep that so we can go back and work on it at a later date. Right now we have well over 200 files of rehearsals stuck on phones or computers waiting to be looked at.
3. As far as breakout success is concerned, is it all about the strength of a song or does being in the right musical climate at right time make all the difference?
I think it's a little of both. You obviously have to have a strong track that people can either identify with or that they really love, but it also helps to be able to get that track out in a way so that people can hear it. Having someone in the industry take an interest in your music can be a really fantastic boost to help you be heard. On the other hand, sounding exactly like everyone else can mean you get lost in a myriad of acts, so its good to be a little different. Either way you've got to love what you're doing or no-one else will.
4. How important is social media to you in regards to engaging with an audience?
We find social media can be a fantastic way to keep people in the loop of what the band is doing, whether that be any upcoming shows, available releases, or just day to day updates that might interest fans of the band. The trick is to find things that people would be interested in without oversaturating them. We're far from social media guru's ourselves, so we just keep trying to learn what works.
5. What inspired you to take music more seriously?
I think we've always been serious about music because it can be the most incredible feeling to write, create and perform music you love, so naturally we wanted to do it as much as possible. Music can make people feel so many different emotions, it's the closest thing to magic that's left in this world, so to help create that is magical in itself. One of the best experiences I've had is to go out onstage in front of thousands of people and have them sing our songs and rock out with us. Music can also open up so many opportunities for you as a person, where you get to do so many cool things and meet interesting people. I feel most at home on stage and I find that when I'm not creating music I'm not as happy, so music is a serious but fun way of life for us. Its not easy to make a living out of it, but when its your passion, it makes it worth doing well.
6. What's spinning on your playlist atm? Any guilty pleasures?
We listen to a range of different artists, which I think helps to influence our sound in some way, if not directly. My ipod has everything from classic albums by The Cure, Smashing Pumpkins, Swervedriver, Hendrix, Zeppelin, even 80's pop bands to newer tunes from Boy and Bear, Violet Soho, Umpire or Silversun Pickups & Muse etc. My brother, being the drummer, tends to listen to stuff like Tool, Motion City Soundtrack, Karnivool and newer artists like Sleeps Makes Waves, where our guitarist Gareth would listen to Interpol, Fields, We Were Promised Jetpacks and more. Our music collections are fairly eclectic.
7. Are you a fan of keeping the album format alive or do you think there's more benefit to release singles or EPs with the influence of streaming platforms arguably shortening attention spans?
I like the album format, as it creates an atmosphere unique to that record, whereas single after single presents as a one off journey each time. I can see the appeal of single releases, as it keeps a steady stream of tunes for fans to look forward to, however for me I think its good to hear the songs on an album as the artist intended for us to hear them. I think an album can be more of a look into the psyche of the artist at that moment in time as well which can give us the listener a greater insight into what they are experiencing.
8. When not consumed with all things musical, what do you do to tune out or reset?
I tend to get out and do lots of physical activities when not playing music. My brother and I have been surfing, skateboarding, windsurfing, mountain biking, kicking the footy etc from an early age and we still get out and do that for a bit of fun. We do have to be a bit careful these days because we were skating a half pipe last year and my bro broke his wrist which meant we couldn't gig for a month, however we did play a show where he just drummed with one hand on an electric kit which was interesting. I think Gareth does cooking or stuff like gardening when he's not playing music. He's pretty chilled most of the time anyway.
9. Your current release Frequencies Collide is doing the rounds right now, what does the immediate future hold?
Right now we are still playing shows whenever we can to promote the new album, and we're starting to write a whole new set of tunes that we're looking forward to playing live in the near future. After that we'll start looking to record our next album, which I'm looking forward to as we have new sounds and recording techniques we're thinking of using. Hopefully the next record wont take as long as Frequencies took to get completed and out for people to hear.
10. Lastly, Prince or Michael Jackson?
I'd say Prince for his amazing guitar work and Michael Jackson for the fantastic bass lines in The Jackson 5 & his solo stuff. Too hard to split.