Self Talk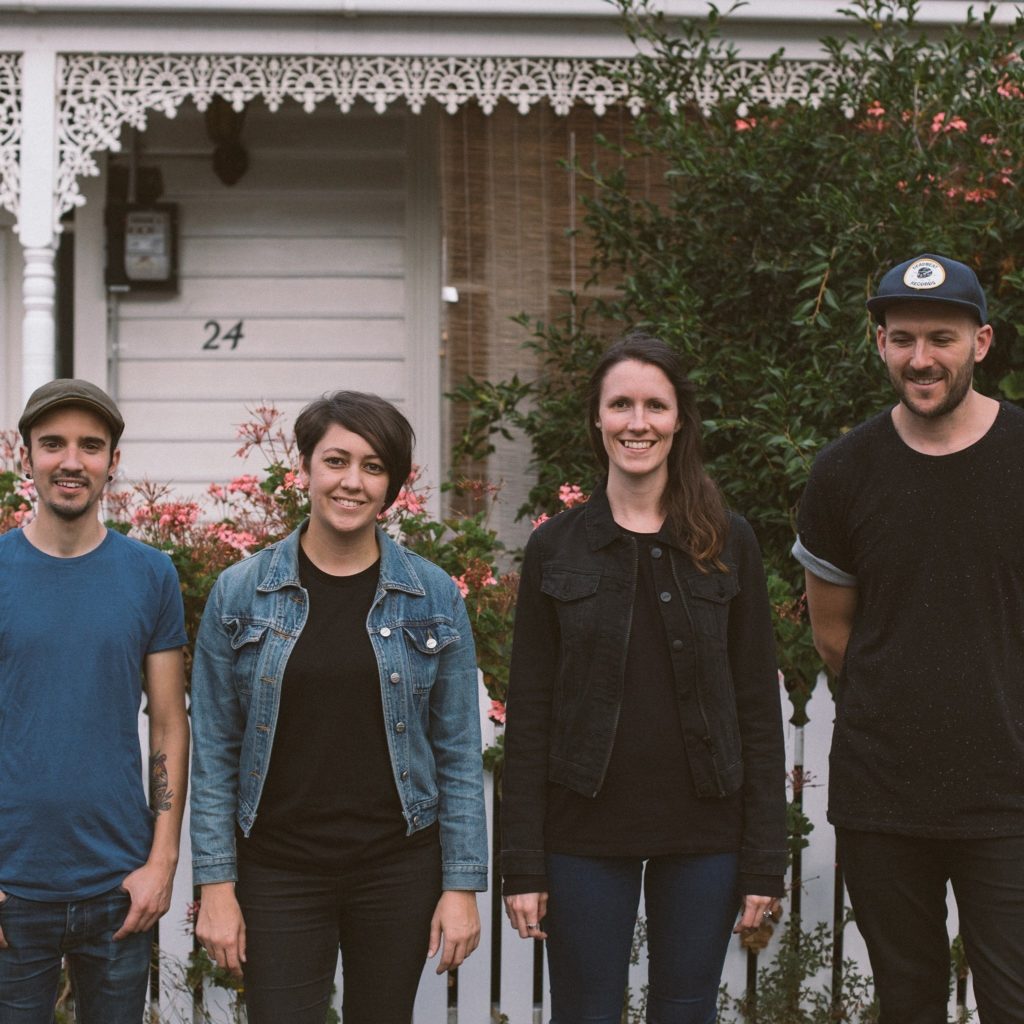 Self Talk are a Melbourne band doing amazing things. I knew I had to interview them. This is what Stacey and Amanda from the band had to say. They have a new EP out August 11th and are going on tour.
SELF TALK + BRIEF HABITS
AUSTRALIAN HEADLINE TOUR 2017
With special guests
SAT 12 AUG @ THE OLD BAR, MELBOURNE VIC 18+
FRI 18 AUG @ THE PHOENIX, CANBERRA ACT 18+
SAT 19 AUG @ THE RECORD CRATE, SYDNEY NSW 18+
FRI 25 AUG @ CROWN AND ANCHOR, ADELAIDE SA 18+
SAT 26 AUG @ THE MILK FACTORY, BRISBANE QLD 18+
https://www.facebook.com/selftalkband/
1. What was the inspiration behind the new EP and how was it structured?
Stace: The songs are kind of the next wave of Self Talk songs. We wrote them over a pretty long time, and they just felt like fit well together on the record. There's a good mix of the loud, hooky stuff that we love, but also some more subtle moments, so it's a good picture of where we are right now.
2. Are you happy the way it turned out and what do you hope people will get out of it?
Amanda: Definitely! It feels like a complete record. We want to be able to tell a story but also make music that people can have a good time to. We also love playing live so hopefully people get a sense of our energy at shows through the recordings.
3. How does a song normally come to you?
Stace: I'm trying to figure this out myself! I'm always jotting down lyrics that come to me, then pulling them out later and trying to get some guitar to fit. Or I might just play guitar and suddenly think of some words to go with it and go from there. It's important for me that it's a natural thing, if it's too forced I don't think the songs turn out that great!
4. What inspires you now when writing music from when you were starting out?
Stace: In terms of what I write about, nothing much has changed. I'm usually writing about my personal experiences, thoughts, feelings, with the exception of a few songs. I'm very much inspired by the music of my favourite artists, and the local artists I'm surrounded by – when I hear the amazing music that's being released it really makes me want to write more songs.
5. What does having fans mean to you?
Amanda: I think it's just about getting our music out there. It doesn't matter how big or small the band is, or how long you've been playing for – the feeling you get when someone is enjoying or able to relate to your music is unlike anything. We feel really humbled when people come to shows!
6. What to you stands out being the highlight to date?
Amanda: Playing with bands like Luca Brasi has been a highlight, for sure. Nothing beats the feeling of playing to a packed, humming room full of people who love music just as much as you do.
Stace: Having Lost Boy Records put out our new EP on vinyl is a big highlight, too. It's so nice to have someone take such an interest in what we're creating.
7. Do you have moments where you just can't write and need to take a break?
Stace: Yeah, definitely. Sometimes it doesn't come as naturally as I'd like it to, so I have to walk away and come back to it. I don't always like what I write when I force it.
8. What is your long term goal for your music and what do you hope 2017 will play a part in that?
Stace: I think we'd just like to do as much as we can with the band, keep putting out our best music and see where that takes us. We'll definitely use the end of this year to start writing some new stuff and see what happens from there!
9. What is next for the band?
Amanda: We are heading off on tour to Brisbane, Adelaide, Sydney and Canberra in August, off the back of our EP Launch in Melbourne on the 12th of August. We have a few gigs coming up later in the year, and then we plan to jump back in the studio and get some more recordings out.