LIVE AT YOUR COSMIC MIND TO TAKE OVER BRIGHTON UP BAR

Friday the 21st of February will see the first Live at Your Cosmic Mind event take centre stage at Sydney's Brighton Up Bar. A sonic-visual hybrid experience in every sense of the word, Live at Your Cosmic Mind will bring together art and music in a bewitching, unpredecented mindmeld.

Sydney artists Sindy Sinn and Mike Watt will take you on a journey that will push the boundaries of the mind until they shatter, taking their art to the wall as they sculpt the trajectory of a trip. Meanwhile, bands you may have heard of Raindrop, Glass Skies, Gypsys of Pangea and Grand Oyster Palace, will be scoring the trip, their psychedelic soundscapes working in tandem with the visuals to generate an unforgettable, mindblowing experience.

A journey through the kaleidoscope of the mind, Live at Your Cosmic Mind is one of the most unique experiences possible in Sydney – make sure to join these artists on their audio-visual trip.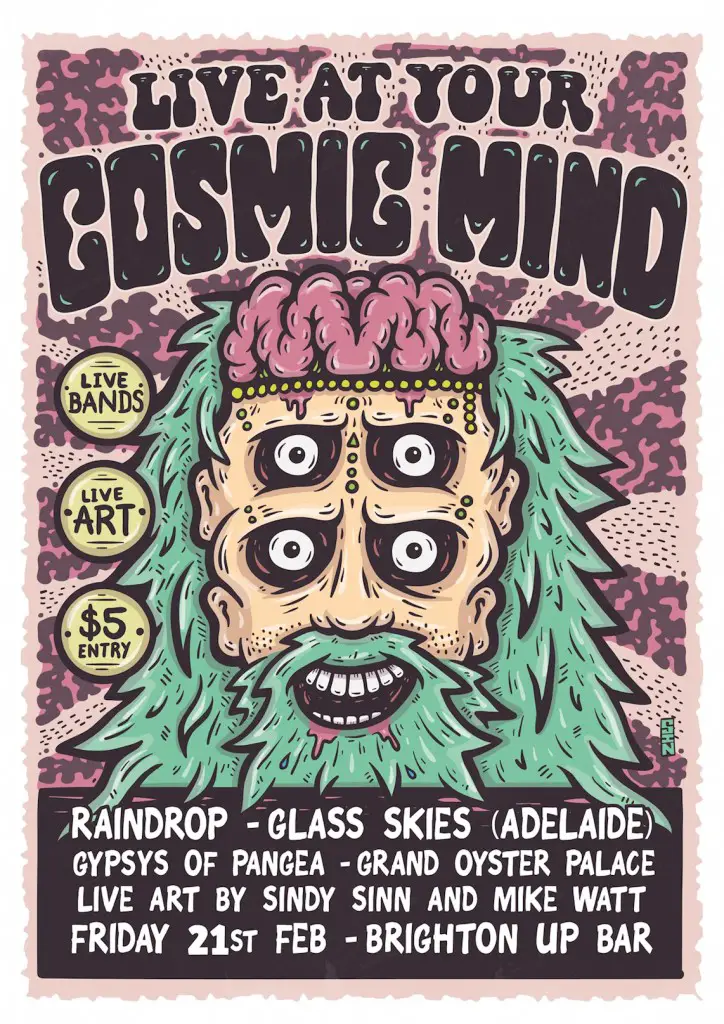 LIVE AT YOUR COSMIC MIND
Friday February 21st – Brighton Up Bar, Sydney, NSW
Entry $5

featuring live music by
Raindrop
Glass Skies
Gypsys of Pangea
Grand Oyster Palace

and live art by
Sindy Sinn 
Mike Watt