Legs Electric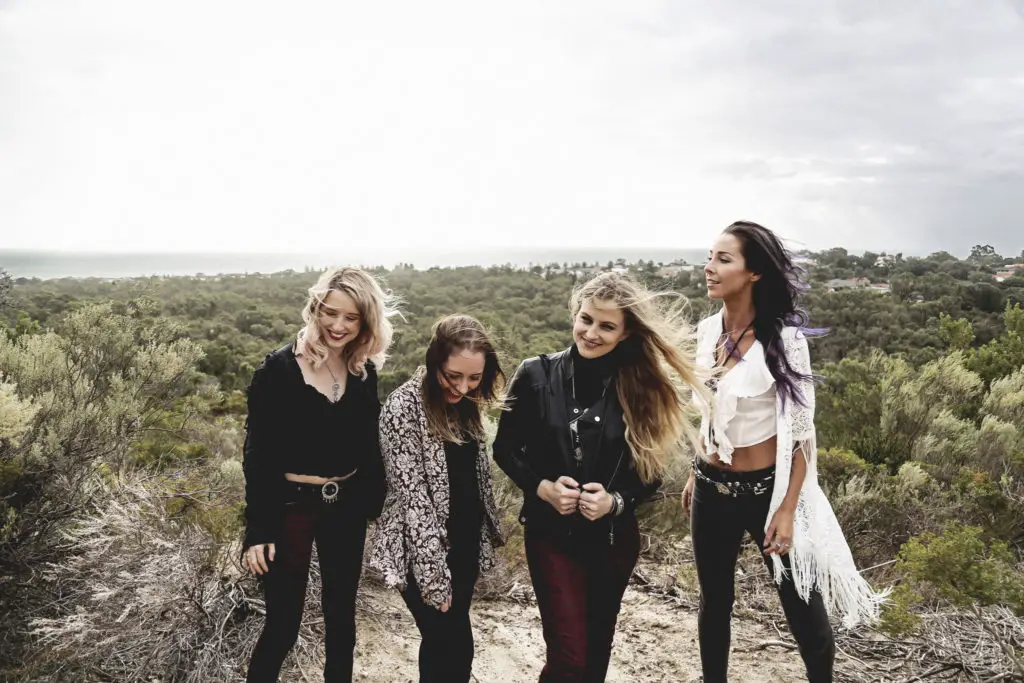 Legs Electric are a great Aussie band with a new EP out called Two Sides. This what Elana Haynes guitarist from the band had to say about it all so read on.
1. For someone unfamiliar with your music, how would you describe Legs Electric?
There's a lot of conviction in our playing and delivery. We've got strong solid vocals, guitar and rhythm section. So yeh, I guess don't expect anything airy or reserved. We're loud however there are moments in the songs where we carve out some space. We're all about giving the song what it needs. Not just leaving it on one setting. Legs are just full of power and vibe wrapped in a tight little package.
2. Tell us a little bit about the inner workings of your writing process.
Sometimes we just get in a room and jam over some random chord progression, other times we come in prepared with something specific we want to play, whether it be a melody/riff/chord progression.
3. What's one of your favourite live moments that comes to mind?
We had a gig down at Settlers Margaret River that was just really fun. We didn't necessarily have a massive crowd or anything, but it was one of those fun out of town gigs. Maybe more relaxing being out of the city, i don't know? But the vibe was there. On stage with us as a band, we were connecting. I think the best live moments is anytime I've got good sound to be honest. That sounds so boring, but it's true!
4. How important is social media to you in regards to engaging with an audience?
I think in this day and age it's a necessity. That's pretty much the only place you can see who's playing where at what time. I don't think there's any gig guides anymore? Even though I much preferred the paper copy personally. Easier to read it all in one spot, and not have to filter through everything else to see whats happening. On social media you can follow a band more closely, if they're in the studio or on the road, however I hope people don't substitute that for actually rocking up to a gig and experiencing all the action live!
5. What inspired you to take music more seriously?
I'm not good at anything else haha No other options?
6. What's spinning on your playlist atm? Any guilty pleasures?
Muse at the moment, I currently have them on repeat! Songs like 'MK Ultra, Panic Station, Madness, Knights of Cydonia …and I always have a bit of TLE going.
Oh I heard a song by Kasey Chambers on the radio and it made me cry, 'if we had a child'. Gosh I love it. So that has made it to my playlist mix.
7. Are you a fan of keeping the album format alive or do you think there's more benefit to release singles or EPs with the influence of streaming platforms arguably shortening attention spans?
If you've got a song, that just stands on it's own and wasn't a part of a longer story. Go for it. I think there is still a place for albums though. If you really love an artist, you want to listen to what they're saying. Not just cut them off once you're done with track 2. I think some albums are written with that in mind, where it was planned out that way during the writing process. Whereas other albums are a bunch of great songs in one place, but don't really flow like it was thought out the same way.
8. When not consumed with all things musical, what do you do to tune out or reset?
I jump to something else creative. Like designing or photo editing. I can't escape it! Actually possibly gardening. I love gardening and always have. Away from the noise, people, phone/computer. If it's summer i'll be in the water down at Scarborough resetting.
9. Your EP 'Two Sides' has just been released, what does the immediate future hold?
Well now that it's done and dusted we are playing a whole bunch of show with all the new tracks here in Perth and also heading over East for Byron Bay guitar festival. We're in the process of recording a SINGLE at the moment. An album is definitely on the cards, however the single definitely stands alone from our other songs we have in the works.
10. Lastly, Black Sabbath or Led Zeppelin?
ohhh Zeppelin baby!
Legs Electric 'Two Sides' EP out noew via Firestarter Distribution