| JUST ABOUT DONE |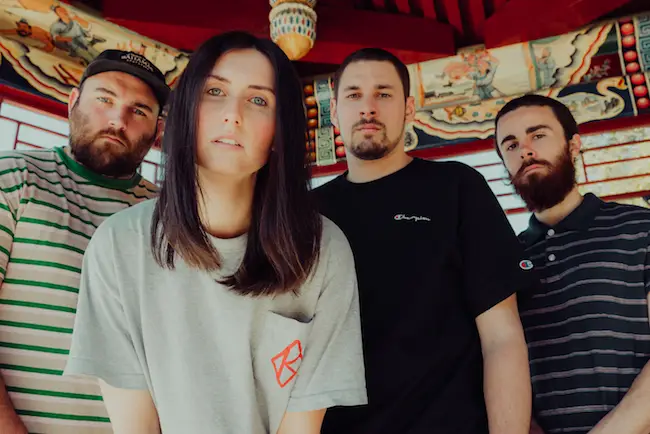 MELBOURNE ALTERNATIVE PUNK OUTFIT RELEASE NEW EP
'I AM GETTING BY' + ANNOUNCE UPCOMING SHOW WITH STUCK OUT
Melbourne based Alternative Punk outfit Just About Done have just released their highly anticipated EP 'I Am Getting By'.
They band have also announced that they will be supporting Stuck Out at Cherry Bar on October 26th and The Wonder Years (US) at Stay Gold on
December 6th.
Just About Done create a truly infectious and unique brand of music. The band debuted in 2016 with the release of single 'Settler'. They then unleashed their debut EP 'Mindless' in early 2017. Singles 'Southpaw', 'Catch 22' and 'Ivory' all received airplay on Triple J – 'Short. Fast. Loud.'
The band kicked off 2018 with the release of their single 'Helpless Hands', which was aired multiple times on Triple J. They recently released the first two singles/videos from their new EP as a part of a video series. The final video for single 'Peacemaker' will be released in November.
Since forming Just About Done have built up an impressive resume. The band have shared the stage with the likes of Between You And Me, Stuck Out, Slowly Slowly and This Wild Life (just to mention a diverse few.) They have also been featured in the
'Fierce Frontwomen' special via Triple J Unearthed alongside the likes of Shirley Manson (Garbage.)
New EP 'I Am Getting By' is available for download on all major online stores.
JUST ABOUT DONE
'I AM GETTING BY' | SHOW DATES
Saturday October 26th – Cherry Bar, Melbourne, VIC
W/ Stuck Out (EP Tour) + Whatever, Forever + Parkwood
Tickets available at www.eventbrite.com.au | 18+ only
Thursday December 6th – Stay Gold, Melbourne, VIC
W/ The Wonder Years (US) + Boston Manor (UK)
Tickets available at www.eventbrite.com.au | 18+ only