JACK ON FIRE RELEASE 'EASY MONEY' 
7-INCH SINGLE ON SEPTEMBER 21ST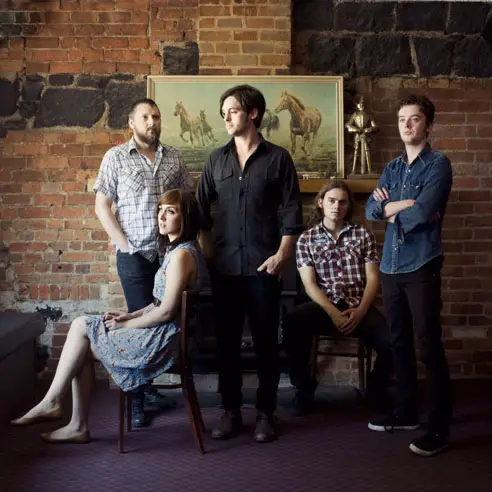 Powered by a steady musical diet of old time country legends and modern day guitar bands, Ben Blakeney is the skillful master and commander of Perth ex-pats Jack On Fire. The core of the band have a rich history, with Blakeney, Samantha Wass (acoustic guitar/keys/accordion) and Dave Thikerttle-Watts (bass) having played together in eight piece West coast dreamy popsters, Institut Polaire (Popfrenzy Records).
Jack On Fire is completed by Wass' old friend George Hyde, a fellow country music aficionado, and superb guitarist. Hyde's style perfectly complements Blakeney's intensity. Rounding out the band is Hyde's school time chum Ross Goodale on drums.After steady gigging in Perth, Jack On Fire relocated to Melbourne in early 2008, where their reputation as a dynamic live force spread quickly. Their collection of songs are brilliantly crafted and fiercely executed. Traversing swamp-rock, bluegrass and country noir, they possess a truly unique sound. In 2009 they released their debut album 'Stranger Cain' which received positive feedback amongst their peers and generated national airplay on community radio stations around the country.Jack on Fire released an EP's worth of new material in November, 2011 through independent label Hooked Up Records/MGM.
The bands latest single 'Easy Money' is a seething and ominous offering that follows a constant steam-of-consciousness haze through veiny guitar lines, abrasive vocals and scorched bass lines.
Jack On Fire will release 'Easy Money' as an exclusive 7″, with b-side track 'Suzanne,' on Saturday the 21st of September at The Old Bar – with the groups second album due for release in early 2014.
"Running along the same hot-blooded vein of WA bred and battered produce as the Kill Devil Hills and the Drones, Jack on Fire possess that violent desperation only found in the harsh dry heat of a frontier chapel" Steph Kretowicz, Mess & Noise
"They literally fill the stage and fill the room with a rambunctious set of rich, deep textured melodies heavily based on guitar filled alt country tunes." Boo Meister, Inpress
SATURDAY 21ST SEPTEMBER – OLD BAR, FITZROY