At Fates Mercy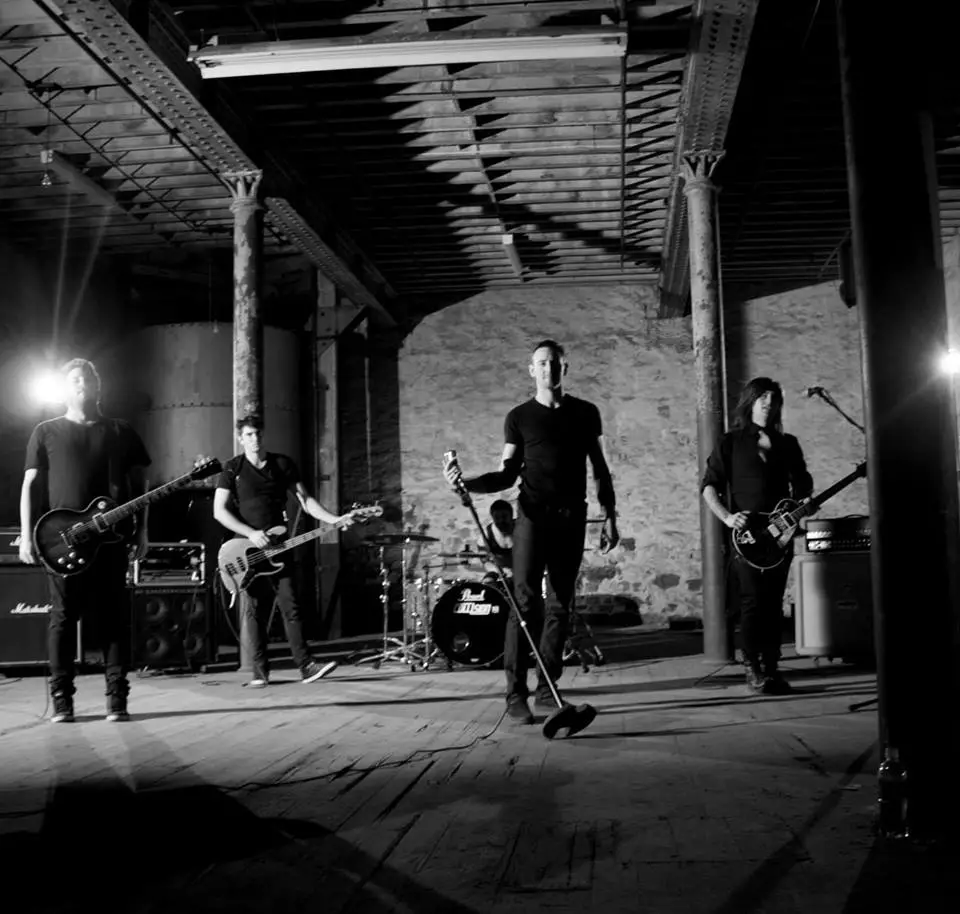 At Fates Mercy are a Adelaide post hardcore band doing good things. I liked what they were doing and thought an interview was a must and read on find out more.
https://www.facebook.com/atfatesmercy/
1. How did the band form? 
The band has been in existence since 2008 with a variety of different members who have come and gone through different stages.  The current line-up is our most solid writing & performing force to date, and it has really only been the last year of having this line-up that we have felt we could take our sound more seriously and embark on the process to go from mediocre group of guys playing instruments, to the potentially recognizable sound that accompanies a band people strive to listen to.
Jim (guitar) and Benn (vocals) have been in it from the start, drinking beers and jamming with other original members in spare time at the local rehearsal room.  Jimmy (guitar) moved from bass when the line-up was re-shuffled and joined a few years back along with Will (drums) who took over the sticks after being mates with the band beforehand.  Ben (bass) was selected to join after a social media campaign to audition prospective bass players was launched.  Finally feeling like the band is complete and everyone has taken ownership of their respective roles, has allowed the writing process for the songs to happen more fluidly and the resulting new music is something we all believe in.
2. What's been the highlight so far? 
So far the highlights keep getting bigger and better with each week but the biggest highlight so far would have to be the release of our debut music video.
3. How important is playing underage shows and all ages to you? 
Underage shows are extremely important as they give the younger fans a chance to see the bands they listen to at home play live.  For us it is a huge part of our target demographic, at least 30%, so having the ability to share our music live with all of our fans is very important to us.
4. How does regional touring help you as a band? 
We are about to embark on regional tours and to this point have had little experience on it.  From conversations with our brothers and sisters in other bands, as well as with friends who hail from regional areas, regional shows are like all ages shows.  They give people who couldn't normally interact week in/out with the music and scene they associate with, a chance to catch live music and rock out with their friends in an environment closer to home.
5. What has been your favourite show to date? 
I'm sure each individual member can recall a show that they enjoyed and they wouldn't all be necessarily the same.  To answer the question, let's say that Ben's first show in the band was particularly special because it announced the start of a new era of bigger and better things for AFM.  It was a show supporting Buried In Verona at Black Market in Adelaide.
6. How does radio and online radio play a part in what you do and reaching new audiences? 
It speaks for itself, literally.  Radio and online radio are two great mediums to discover and enjoy new music.  For the band, there is something special about hearing one of your songs on the radio and to think others out in the world are listening to the same thing is amazing and very humbling.  Radio helps us reach new audience by sharing our sound with people we would not normally know how to gain access to.
7. How important is social media to you as a band? 
Extremely, it is so commonly accepted as the platform for any artist to share their work, and we find it the easiest bridge between band room and audience to interact, share and communicate on all things relating to the band.
8. What does mean to connect with your fans? 
It means everything.  Fans are what drive the band both to perform live and continually strive to make every song better than the last.  Seeing someone singing along to the words at a show, or receiving a positive comment from a complete stranger means the world, and truly makes you appreciate the fortunate position of being in a band people actually enjoy.
9. If you could have any body in a video clip who would it be? 
Haha, I dunno.  Oprah?  Apparently she has a little influence in getting people to think/see/hear things?  It would also be great to have Victoria secret's models on hand for a music video for a day.
10. What does 2014 have in store for the band? 
Bigger and better music, shows, opportunities, travel and exposure.  2014 is the year we kick start the new At Fates Mercy image and sound.  We can't wait to show the world what we have got in store for them!