Destine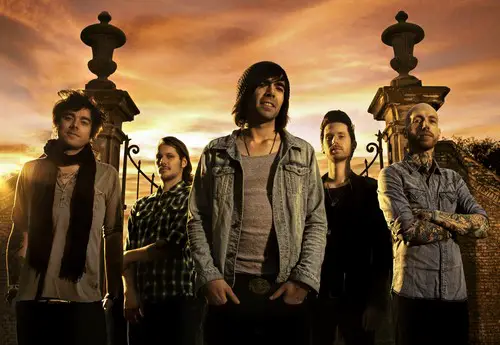 Destine are one of the most exciting bands I have heard in a long time, I really dug what I heard and knew I had to find out more from a band who are a one to watch. So Laurens Troost, keyboard/vocals from the band answers my questions and find out why I reckon these guys are gonna be huge.
1. How did the band form?
Classic story of five friends hooking up and start a band. Not very special, but a great base to start a new adventure!
2. What has been the highlight so far?
We played some crazy big shows, recorded two albums in Florida and made music videos with amazing people. Writing and playing music and people actually liking it is an everlasting highlight.

3. How did James Paul Wisner get involved with the new album?
We contacted our four favorite producers in the world and ended up working with two of them. We just sent him an email and our home recorded demos, he replied enthusiastic and six months later we were in the US with one of our heroes.
4. What inspires the band when writing music?
Mainly things in our lives and things we see and do on the road. Doing things you love gives you the opportunity to write the music you love.
5. What was the inspiration for the album Illuminate?
There is a recurring topic of hope in all the songs. Every cloud has a silver lining.
6. Who have you guys enjoyed playing with recently?
The guys in All Time Low are very nice and fun to hang out with. In Holland we have a lot of befriended bands that we see often. We made a lot of friends everywhere we travel, alcohol is a pretty good matchmaker!
7. Have you had much response from overseas labels?
We have a Japanese label and we have been working with Sony Indonesia. Nowadays internet serves everyone, so if you really want to, I bet you can easily find us.
8. How has social networking helped the band?
It's a convenient help to spread music everywhere. When we toured Japan and China, we were surprised how many people were singing along.
9. What advice could you give to some one wanting to give a career in a music a shot?
Rock hard but work even harder.
10. How has touring helped the band?
It helped us to gain inspiration to write music and made our team and friendship stronger. Meeting new people and discovering new places is the best thing in te world. When on tour the whole world stands still, there is only the moment you are living in.

11. Who would the band most like to work with or play with?
Katy Perry of course! That's pretty obvious isn't it?

12. How has radio and the media received the new album?
We had some hits in the Netherlands and radio and tv in Europe are picking up the new album pretty well. We never aim for airplay while writing or recording, but it helps when it happens.
13. What is next for the band?
Writing, touring and drinking!