Cooper Street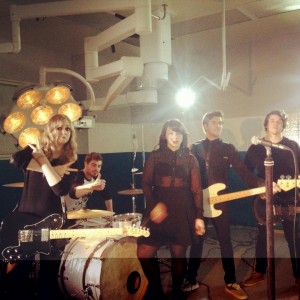 Cooper Street are an amazing young Melbourne doing good things. I loved what I heard and knew I had to interview them. I Speak to Megan from the band about it all.
They are launching their debut EP at The Evelyn Hotel tomorrow night. So go down and check them out.
http://www.facebook.com/cooperstmusic
1. How did the band form?
Well it all started with Casey and me in mid 2010, we met via an online ad that I posted looking for a guitarist. She resonated with my vision and the bands that influenced me so we met and almost right away, we were writing just like we had known each other for years. I had gone through a great loss in my family and I really needed something to keep me going, the universe is responsible for all of this, everything just fell into place and we went with it. The boys are all our friends from way back. Casey and Tim, our other guitarist, have been friends since they were about 5. We'd never planned on getting our friends in, It was just a natural progression and quite unorganized. They all started out just helping and jamming and then it became the real deal!
2. What was the inspiration for the EP?
Most of us were new to the recording process, so this EP was just to wet our toes. We just really wanted something out to see how people would respond so I guess the inspiration was to make a start so people could hear what we are about. Some of the songs were written before the whole line up was complete, so our sound has definitely grown since we recorded.  It was a great learning experience and has really set us up for the future in terms of what to expect from the studio and also getting the best out of ourselves as musicians.
3. Why chose the Evelyn to launch the EP?
It's just such a great venue and it's on our side of town. The street has an amazing nightlife and character; we have been visiting it for years and love the vibe, the people. It's actually perfect inside with the chandeliers and brick walls, glamorous and industrial and close to home
4. What was the inspiration for the video clip & song Wasted Patience about?
Well funnily enough the clip has nothing to do with the song. Casey and I went down the road of a story line that was very literal to the lyrics, about a friend that had started to lose their motivation not wanting to help themselves. But then we came up with the wild idea of the hospital and the crazy guy one night while brainstorming, so we ditched that idea. We got really carried away with the story, it started out as a bit of a joke like "let's go all Hollywood and girl interrupted style"! We were just having a ball adding ideas and the twist at the end but never thought we could get it done! We began by testing the waters with directors, props, actors and of course a hospital to see if we could make it happen and it just worked out that we could! The fact that the song is called Wasted Patience and the video is about a 'wasted' patient is just a coincidence, but a pretty cool one!
5. Who have you enjoyed playing with recently?
Pretty much everyone and anyone! We love to play no matter who it's with; Melbourne has such an amazing and supportive music scene its fun to play any show.
6.  Why do you think supporting lives shows and venues is important for the scene?
Because they won't exist without it! Just recently another venue in Melbourne closed down. I guess it's hard because there are so many of them, I don't think there is a shortage at all, I have certainly seen a few close doors that were good. It's up to the patrons that visit to keep it open but then again it's up to the venue to keep its reputation buzzing!
7.  How does social networking help the band?
Quite a bit, it's a very quick and direct way to reach people. I think it has changed music but not so much in a bad way. Have to keep up with the times and I find it exciting and fun! It's so easy to communicate with people on facebook and twitter, its how we get people to our gigs, and it's how we can share our music. Bookers and promoters often use a bands facebook page like a press kit so it's a convenient way to let others learn about you. Ours is facebook.com/cooperstmusic give it a like!

8. If you could work with any one who would it be?
We honestly have so many, from musicians to producers each member of the band has someone they would like to be produced by or ask their opinion. Researching producers and engineers is pretty much where we are at now so we can get started on the next record. Basically we just want to work with the people who can help us grow as a band.
9. If you could have anybody in a video clip who would it be?
I personally can't answer than fairly because I know the boys would disagree hahaha! Let's say Will Ferrell though because that would be awesome! And Dave Grohl. Everyone likes Dave Grohl.
10. What is next for the band?
Well perhaps some more shows over the summer to support the EP but then its next gear for us, writing and pre production, replenishing the bank balance. We have only been together for 12 months and have learnt a great deal so it's time to apply the lessons and get to work on the next project!