Charm of Finches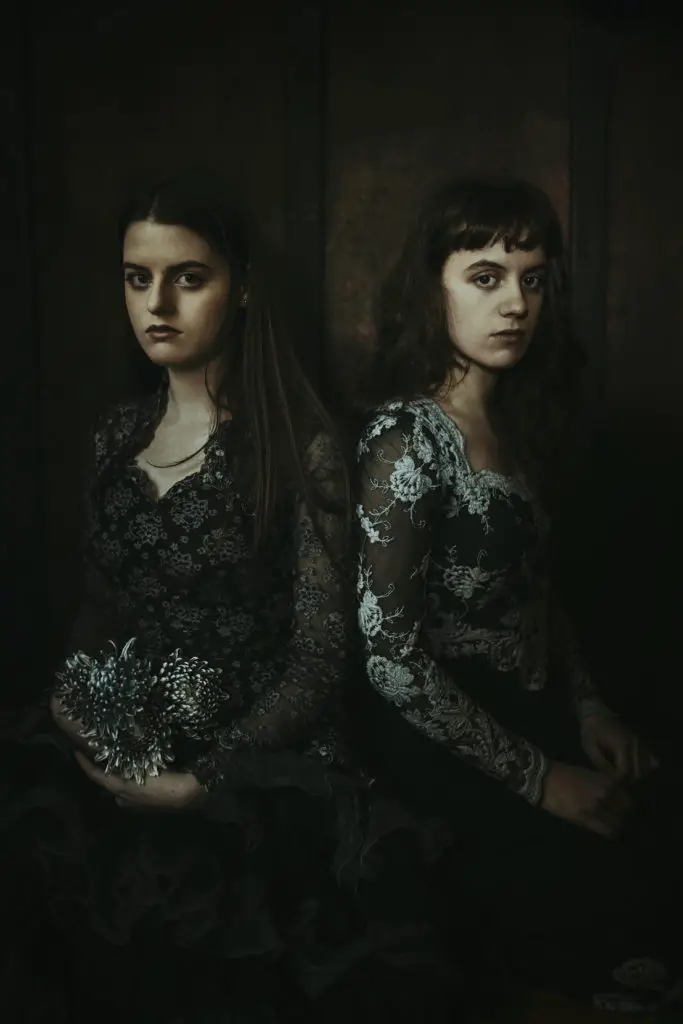 One of the most exciting acts of out of Australia are Charm of Finches. I knew I had to interview them. With a new song out. This is what they had to say.
https://charmoffinchesband.com
1. How did you get into music?
We have been around music all our lives. Our mum taught choirs and dad was obsessed with Bob Dylan. Plus, we went to Steiner school, where you sing every day. We started busking, singing three part harmonies outside the local veggie shop. We were keen to save enough cash to fly to Ireland We were 11 and 8 then, and our friend Bel sang with us. We called ourselves The Highway Sisters! Ha ha!
2. What inspired the new song The Bridge?
We were on our road trip just before Christmas to go play at Woodford Folk Festival in Queensland. We were walking across a bridge and came upon a group of young people who were obviously grieving. It turned out their friend had jumped off that bridge during  party and passed away. We felt pretty moved by that experience and it stayed with us. We knew what it felt like to lose a friend at that age. It's very intense and confusing. We wrote "The Bridge " that evening.
3. Were you happy how it has been received?
We always just really want to connect with people with our music. A lot of people have been contacting us saying they find the song beautiful and moving and haunting. All those things are good! Music is all about connection.
4. How does a song start for you?
So many different ways. Sometimes it comes out as lyrics, then guitar riffs, chords and a sung melody line. Sometime it's the guitar or banjo riff or a chord progression first. We collaborate a whole lot now, so we are constantly running in and out of each other's bedrooms with new ideas and melody lines. (we live together – very handy for a band!)
 5. Where do you get your inspiration from?
Inspiration comes from our own experiences- about being a teenager , about seeing what our friends are going through. Being in nature inspired us a lot, and often we are info;uenced by the books we are reading. WE have a song , In The Gloaming", which was inspired by our own experience of grief but also we were inspired by the novel "Kitchen" by Japanese author Banana Yoshimoto.
 6. Has your songwriting changed from when you were starting out?
At first Mabel wrote the songs, and Ivy added the harmonies. Now were are co-writing and the songs seem to be formed differently. That' a hard question, because every new song comes out as a little surprise and feels entirely fresh and new.
7. What has been the best piece of advice you have given about your music career?
George Jackson from One Up Two Down, one of the best bluegrass bands you are likely to come across in our humble opinion, told us to do music for the love of it! Don't do it for fame, do it for the pure love of music.
8. How did your album Staring at the Starry Ceiling come about?
We had been playing at a lot of folk festivals 2015 – 2016 and had a whole bunch of songs we had been playing live a lot. We contacted Nick Huggins and asked if he would produce the album with us. He was the perfect collaborator, as it turned out,. He is so open creatively. He has no preconceptions, and also listened very carefully to our ideas. We also had a ridiculous amount of fun with him! Many laughs.
9. What was the recording process like was it different to the new song?
Recording the EP "Home" was virtually a live recording all done in a day and a half with minimal extra parts added (cello and some extra vocal harmonies). Staring at the Starry Ceiling was the opposite. A real studio album, with heaps of spontaneous arrangement decisions and on the spot melody compositions. We also recorded a fair bit of the strings at home. We wanted to play all the instruments ourselves, though we did get help with flute, percussion and a hammered dulcimer. Recording this single " The Bridge" was similar to that, though we recorded everything at Nick's studio and played everything ourselves.
10. What do you love about your local scene?
We have a lot of favourite musicians who live in Melbourne. Dan Parsons, The Maes, Domini Forster, Anna Cordell. WE have been so lucky to meet such lovely musicians on our travels around the folk festivals. Melbourne has so much music- we're very spoilt. We do tend to see most of the bands at the festivals and gigs  we play at, though we do go to gigs a fair bit too, when we haven't got too much homework!
11. Do you have set theme for your music or does it go with the flow and changes?
The themes seem to be pretty consistent at the moment. WE tend to be contemplating fate, mortality, grief, solitude and there is always a backdrop in nature. Emotions and the elements comes up a lot. Our new music video for The Bridge really is a perfect example of our inspirations and mood. There is a mythical quality to the story, and the natural world around us, the lakes and fields and rocks all play a role in our journey in life. Being young, you feel a lot! So having songwriting, and filmmaking (ie making music videos) is a perfect way to channel and transform the intense feelings into art.
12. Do like to write with out inspiration or distractions or do you need a bit of both?
We live in a tiny house with five people and a mastiff! So yeah, sometimes distractions are unavoidable. we did once go to a friend's holiday house to finish a whole bunch of songs in peace and quiet. Maybe it was too quiet, cause we didn't finish one! But we did write a new song.
13. How important is having a plan in place for your music?
We have clear ideas about what we want to do. We want to tour, and we are already planning our 2020 UK/Canada tour. We know what kind of settings we like to play our music in, and we know who we love working with. We also have some crazy wish list items which we hope may actually happen! We would love to record with Sufjan Stevens for example!
14. How important is your brand Charm of Finches?
We don't think of Charm of Finches as a brand. We think of Charm of Finches as our creative project. We're very attached to it because we have poured a lot of love and creative energy into it. A lot of joy and beautiful collaborations too! Nick Huggins, Adalita, Emma McEvoy: lots of people who we love and admire have been involved with the finches and also mentored and inspired us. We're pretty proud of what we have created so far. Having Charm of Finches is itself inspiration to keep creating and coming up with new music, new ideas and new goals. Charm of Finches is kind of a creative being of its own.