Avaberee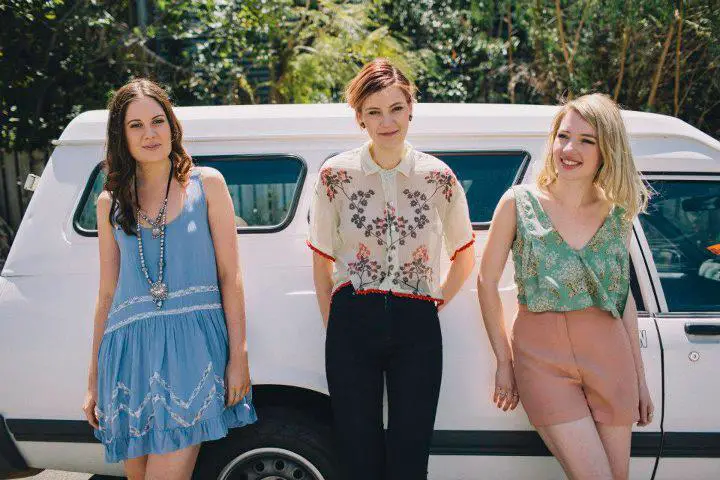 Avaberee are cool Brisbane band doing good things. their music is Harmony Infused Folk/Pop and I really liked what I heard. Thought they were worth interviewing for the site. So read on and find out why you need to check out this band.
http://www.facebook.com/avaberee
1.How did the band form?
We all met in High School, in music class! We started singing / arranging covers so we could enter a few band competitions as a means of making some extra cash ! At 16 we started collaborating and writing original songs and getting a few gigs here and there. With all of us persuing degree's in music at uni, we wanted to keep going with Ava, and get as much gigging experience as possible, so it's kind of just grown from there ! (Aimee)
2 What was the inspiration for the new song?
Lyrically, 'Lover of Mine' is about falling in the loves… that feeling when you meet someone for the first time and instantly want them to be a part of everything. (Aimee)
3. What inspires the band when writing music?
Lots of things ! Life, love, learning experiences. We write most of our songs together. Normally one person will bring a musical idea to the group – that being a verse, a chorus, or even just chords and a melody –  and we'll workshop it until we have a song! (Aimee)
4. How does it feel to be supporting international acts?
I think its a great privilege to be asked to support international acts as you get to mingle with a new group of talented people and hear about some of their crazy experiences. Also, I guess like any support opportunity, it opens up a whole new audience to your music, which is very cool! (Gen)
5. How do you warm up for a show?
I want to be able to say we do some crazy vocal meditation before every show, but that would be lying! I think we all warm up differently –  I tend to rely on the 'blowing raspberries whilst singing scales' technique. 🙂 (Gen)

6. How does social networking help the band?
Like most bands, social networking is probably one of our biggest forms of promotion. It's such a good way to get in touch with fans and keep them updated with everything Ava related! I'm still getting my head around Twitter, but its definitely worthwhile getting onboard with all social media outlets. (Gen)
7.How important is connecting with your fans?
Too important. We aren't self indulgent musicians, our music is for others as much as it is for ourselves. (Irena)
8. If you put the ultimate festival together who would be on the bill?
Arctic Monkeys, Feist, Kimbra, Goyte, Colin Hay, Whitest Boy Alive, Bon Iver, City and Colour, Newton Faulkner, Passenger, Matt Corby, Saskwatch, Paul Kelly, Paul Simon, Joni Mitchel, Jimi Hendrix, Fleet Foxes, Beatles, Crosby Stills and Nash! (ALL)
9. If you do a duet with anybody who would it be?
I get the feeling doing duets with Gotye can pay off… Closer to home though, probably Brisbane music icon Laneous (Irena)
10. What would be find on your stereo at the moment?
At the moment I've been giving Tame Impala's new album 'Lonerism' a good listening to. Along with Youth, Seekae, and Feist (Aimee)
I'm loving a mixture of Willowbeats, Ms Mr, Frank Ocean and Alt-J at the moment (Gen)
You find Toro y moi, kid cudi 'I need smoke' and little dragon (Irena)