Karen Waldrup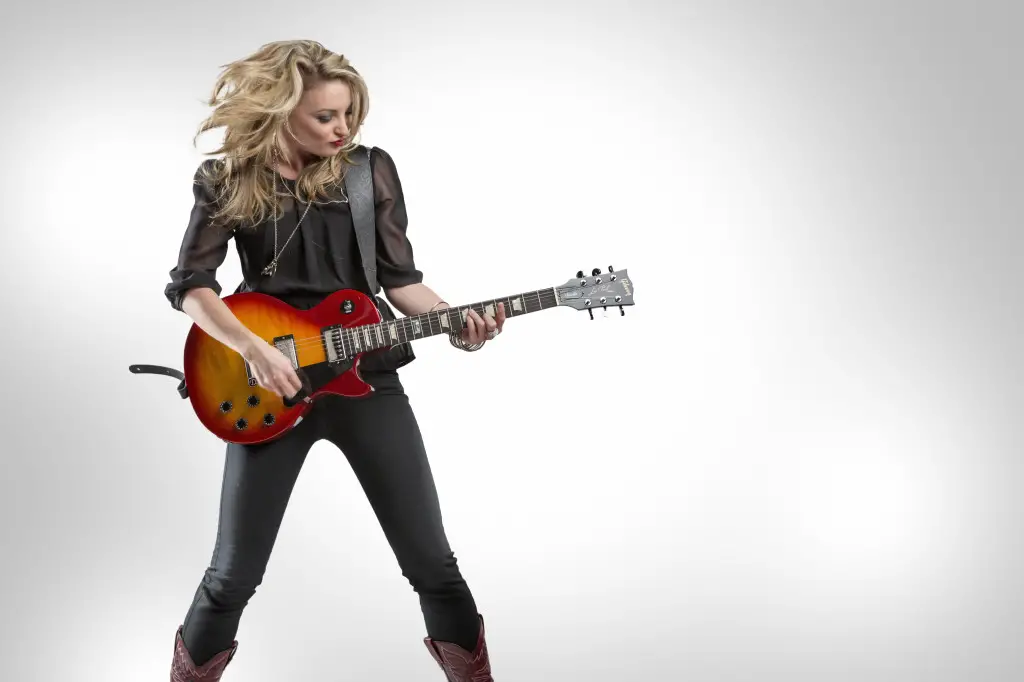 Karen Waldrup is a talented singer songwriter who music I love a lot, I've been listening to her stuff for a few years now and think her music is amazing. With a new song on the way next month Karen is going from strength to strength and this is why this talented beautiful lady is my beauty of the week.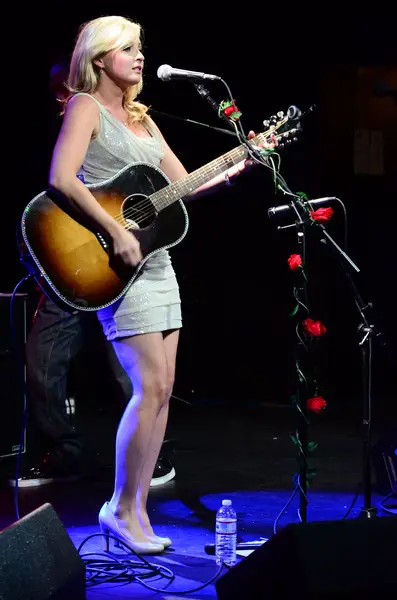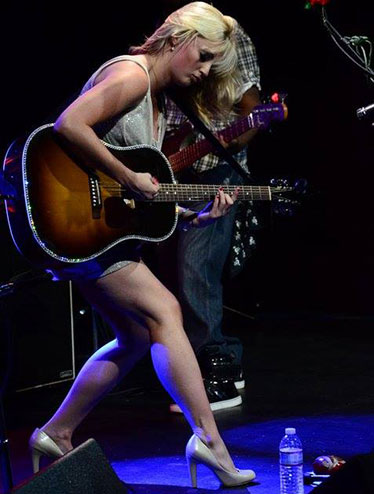 Draw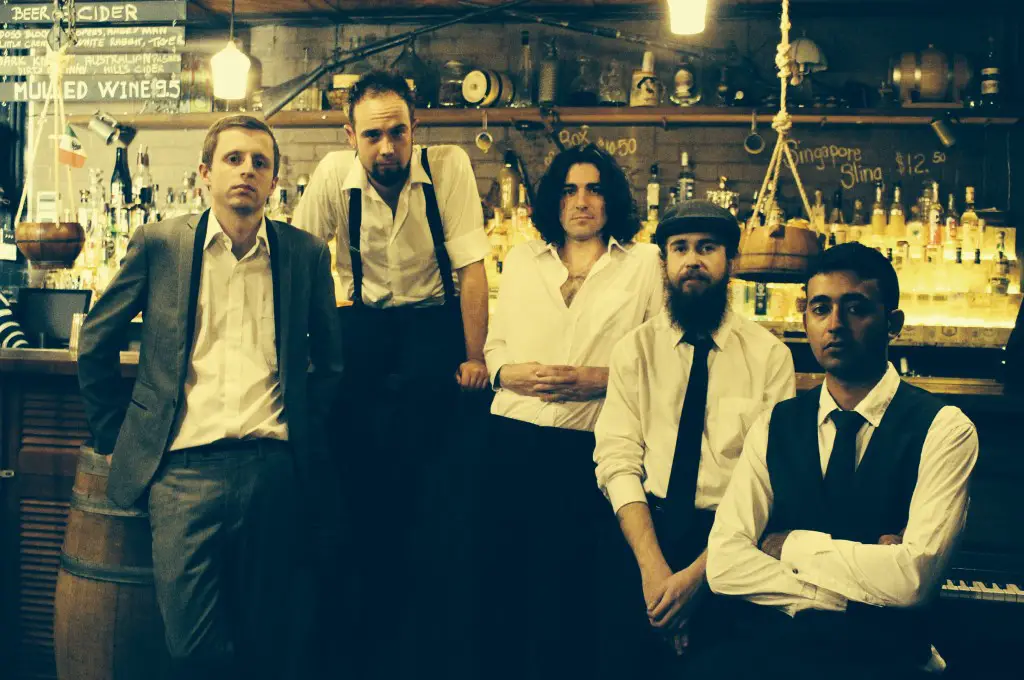 Draw are a rad band from Aussie with some cool tunes so read on
1. What does playing live mean to you?
It means many things. It's like a laboratory to experiment on mostly willing test subjects. Also I imagine it's what it would be like to walk a high beam with spectators hoping you don't fall, but secretly wishing you do for the horror. Maybe that's my own feelings and insecurities… It's starting to feel like a tribal campfire where friends travelling on different paths come together to share music, liquid and other mind altering substances.
2. Do you think it's all about the songwriting or does timing and the right place at the right time has a key getting your music out there?
I think for a band like us it comes down to the songs. I feel what listeners are really after are great songs to sing, dance and generally find some part of themselves in it. We don't have a mega media machine spraying the airwaves and billboards with us to a point of saturation which is very effective in connecting with listeners and turning them into fans.
3. How important to you are music blogs in helping get your music out there?
It means the world to us. There is so much music in the world right now and this is a great thing. That you choose to pay attention to us makes us feel like we are on to something and also because of you, hopefully other people will pay attention to us in amongst a sea of music.
4. What inspired you in the first place to give music a shot?
I started playing music in primary school and I was playing the saxophone, but it was one Sunday afternoon in Bundaberg when I was 16 watching "Year and a Half in the life of Metallica". It is a sort of documentary about them recording the Black album and I knew when I was watching it that I wanted to do that for the rest of my life. Record great songs, work with talented people, and take that music as far as it can go.
5. Having tools like Soundcloud does it make your job easier when trying to gain new listeners to your music?
Soundcloud is a fantastic platform. We tested all our demos on it with everyone we could send it to, to get feedback and work towards a better sound and dynamic in the band. It is so easy for people to access it so it makes that process easier. Our single is on Soundcloud now for people to listen to.
6. Do you think releasing EP's and singles is a good way of keep momentum going before releasing a full length or spending time out of the spotlight writing songs is better?
Yeah, definitely, A good album is a very costly venture – money and time wise. Doing this EP and single has allowed us to see where we are at and that now has influenced where we are going in the future.
7. How does a song happen for you?
It usually starts with a person with some fascinating quality. They could be from a book, interview, movie or TV show. In fact, AMC , the cable channel, is usually the place I find them. Then I think about the sort of music that would be playing around them. What they are feeling influences things like tempo, key and rhythm. Then I'll go through my favourite albums and get ideas for textures and arrangements, put that together, get a critique from the band and then we start tinkering with it until it sounds like Draw.
8. Are there moments where your just not in the mood for writing music and need to do something else before you jump back into songwriting mode?
Yeah sure, but I would say on any given day I mostly think about writing songs. It is a bit obsessive. Whether I am trying to reverse engineer a song I love in my head or working out what I really love about a lyric or a melody. But I have found a quick holiday refreshes the fleshy music machine
9. Do you think YouTube has help save the music industry?
I did think that but since their new move involving deals with musicians and monetizing their songs on Youtube I think they've kind of ruined the party. I feel it is in order for them to eclipse the other music platforms out there. I get they are business but Google has enough money, and putting constraints on what musicians can do on there in order to make a living is just a greedy move.
10. Do you think being serious with your music at a young age has helped you?
Yes, I think to some extent it has helped but it is my friends and family that help me the most. They support me so much but also are brutally honest with what they think and feel and having their support and feedback has challenged me to get better as a singer and writer. Knowing they will be there no matter what alleviates some of the anxiety of what lies ahead.
Hey everybody
I've re changed my mobile phone site design, looks cooler and also a lot more accessible.  Plus you can fill out the form for your copy of Parx-e Volume 4, get your copy now by clicking the Parx-e Volume 4 link and fill out the form it's that easy
PS I'll be focusing a lot on the CD plus adding new video content for the site
Enjoy
Chris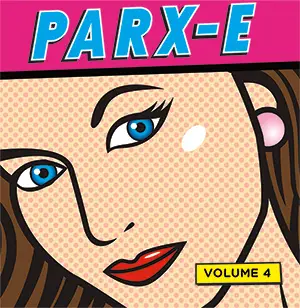 Parx-e Volume 4 is now available for giveaway.
Get your free copy now by clicking the Parx-e Volume 4 link on top of page. I won't share your info. This is who is on the disc below. 21 tracks of female solo artists and female fronted bands.
Parx-E Volume 4 Track Listing
1. Steph Hannah – Eat the Crumbs
2. De̊ǰa – Luststruck
3. Silver Cities – Lights
4. Heather Longstaffe – Gonna Take a Woman
5. Manor – Architecture
6. Courtney Jaye – Tiger's Eye
7. Girl Pilot – Bright Bones
8. Jasmine Nelson – Keep Her Close
9.  Tarra Layne – Cherry Moonshine
10. Samara – So Out of Reach
11. Avaberée – Running Out
12.  Annelise Collette – You Got Me Now
13. Samantha Schultz – Legend of My Life
14.  Amanda McCarthy – Bad Habit
15.  Miss Elm – Space
16.  Shannon Hurley – the Light
17. Francesca de Valence – Beautiful Night
18.  Jenny Dalton – Nightmare
19.  Amanda Rogers – Cabin Muse
20.  Catherine Traicos – Lost at Sea
21.  Allison Gray – Time Goes by
Kelsey Lewis
Kelsey Lewis is a very talented and beautiful singer songwriter with a extremely huge future ahead of her. I came across her amazing music last year and really dug her début album.  I believe she has the talent and songs to go very far.
http://www.kelseylewismusic.com/
Photos by Kristen Rae Photography
Jenny Dalton – Black Water (Glossy Shoebox Productions)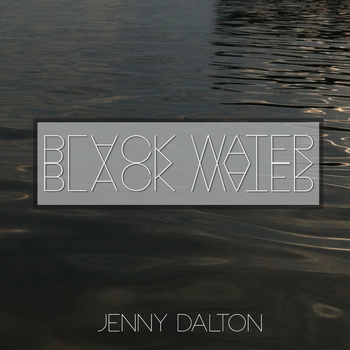 Black Water is Jenny Dalton new album which was recorded and produced by herself, to me it has a dark and mysterious tone all over the album from the way the songs are structured and performed. Paper Moon highlights that as the opening track, Jenny piano playing and song writing has never been better and really does shine. Wolf Named Somebody follows suit with that. I love the piano playing on Wake Up Call and Jenny vocals and the way the song is structure and performed. Father would be one of my picks off the album as I love the use of the piano and strings alongside, I thought the piano intro was moving and grab me into the song. Songs like Rage have good use of backing vocals and has got in mind a kind of an Irish folk song structure but at a slower pace. It's a well-crafted tune, moving and grabs you from the word go. Songs like Monument show off the song writing, lyrics and the vocals. The ending track Hold On, Hold On, has great vocals, song writing and is well structured and performed. Jenny new album is amazing as is the rest of back catalogue, it's a little raw around edges and that only adds to the vibe of the material. She has always been an amazing talent to me, her songs have always been special and this is adds to it. I've always been a long-time fan and a friend and believe this will gain her new listeners. You need to hear this now.
NEW FOUND GLORY
TO RELEASE NEW ALBUM
RESURRECTION – OUT OCT 10
VIA UNIFIED/HOPELESS RECORDS
NEW MUSIC VIDEO FOR 'SELFLESS' RELEASED:
AUSTRALIAN EXCLUSIVE ALBUM PRE-ORDERS AVAILABLE!
Australian Exclusive Pre-Orders:
http://www.24hundred.net/search/?search=new+found+glory
Worldwide Pre-Orders:
http://hopelessrecords.com/resurrection
Pop-punk icons New Found Glory have announced their
new album, Resurrection, which will be released on Friday 10
October in Australia and
New Zealand via Unified/Hopeless Records. In addition, fans can watch the music video
for the first track, 'Selfless': http://www.youtube.com/watch?v=akCQa-yKqxA.
Australian Exclusive Resurrection Pre-order bundles, which include CD, vinyl, poster
and t-shirts are all available for pre-order at the 24Hundred store. For more information, visit
NewFoundGlory.com.
New Found Glory walked into the studio to record Resurrection with the all of the album
tracks already written, which was a new and invigorating starting point for the band. "This is the
most prepared we've ever been," lead guitarist and vocalist Chad Gilbert notes. "Writing as a
band now has never felt so easy. We really came together with ideas. We've gone through a lot
and figured a lot of things out. This album has been very cathartic for us."
Resurrection is an expression of the overall human experience and what it means to take the
cards you're dealt and move on in a positive way. Lead vocalist Jordan Pundik remarks, "We've
always been a band that has written about life experiences from a deeply personal place." He
continued, "Some of it fictitious and some of it not fictional, but it's all been stuff we've dealt
with in our lives."
After selling millions of records, interacting with countless fans and touring the world, New
Found Glory feel a responsibility to their audience to bring something new and fresh to the
table with every single release. "The goal for the new record was to make it sound really
authentic and natural and not filled in," Gilbert says. "It was trying to make the biggest sounding
record stripped down as four people."
New Found Glory is: Jordan Pundik (lead vocals), Chad Gilbert (lead guitar,), Ian Grushka
(bass guitar) and Cyrus Bolooki (drums).
Resurrection Tracklisting:
1. Selfless
2. Resurrection (Featuring Scott Vogel of Terror)
3. The Worst Person
4. Ready and Willing
5. One More Round
6. Vicious Love
7. Persistent
8. Stories Of A Different Kind
9. Degenerate
10. Angel
11. Stubborn (Featuring Anthony Raneri of Bayside)
12. Living Hell
13. On My Own (Featuring Brendan Yates of Turnstile)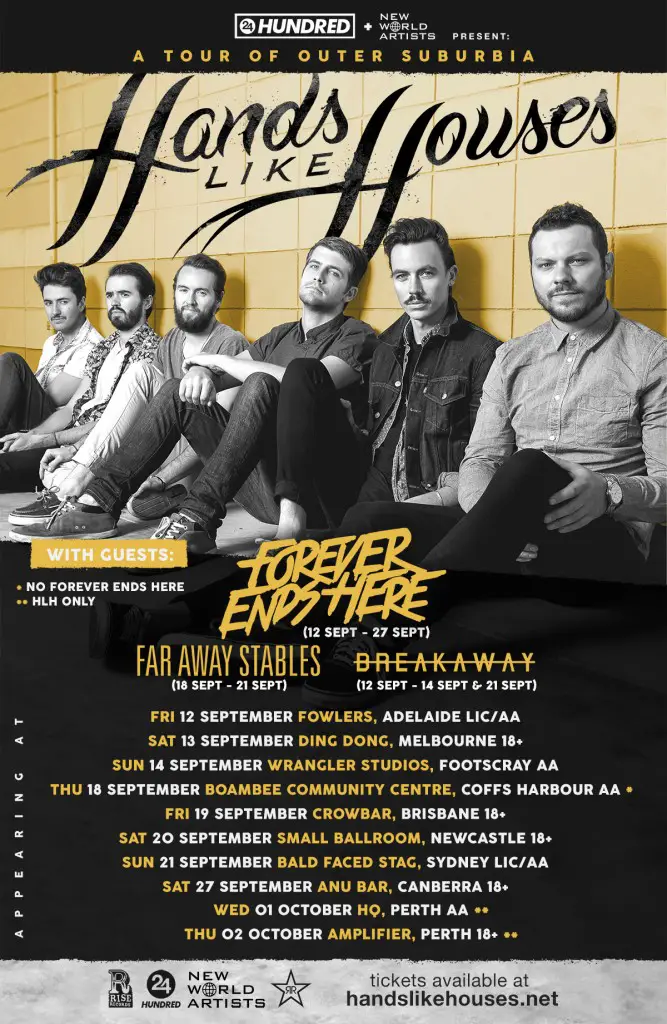 24 Hundred & New World Artists present:
A TOUR OF OUTER SUBURBIA
AUSTRALIAN HEADLINE TOUR

 - SEP–OCT 2014
With Guests 

Forever Ends Here
Tickets Available at http://wl.eventopia.co/handslikehouses
FRI 12 SEP – FOWLERS, ADELAIDE SA (LIC/AA)
with guests Forever Ends Here, Breakaway
SAT 13 SEP – DING DONG, MELBOURNE VIC (18+)
with guests Forever Ends Here, Breakaway
SUN 14 SEP – WRANGLER STUDIOS, FOOTSCRAY VIC (AA)
with guests Forever Ends Here, Breakaway
THU 18 SEP – BOAMBEE COMMUNITY CENTRE, COFFS HARBOUR QLD (AA) *
with guests Far Away Stables
FRI 19 SEP – CROWBAR, BRISBANE QLD (18+)
with guests Forever Ends Here, Far Away Stables
SAT 20 SEP – SMALL BALLROOM, NEWCASTLE NSW (18+)
with guests Forever Ends Here, Far Away Stables
SUN 21 SEP – BALD FACED STAG, SYDNEY NSW (LIC/AA)
with guests Forever Ends Here, Far Away Stables, Breakaway
SAT 27 SEP – ANU BAR, CANBERRA ACT (18+)
with guests Forever Ends Here 
WED 1 OCT – HQ, PERTH WA (AA) **
Local supports TBC
THU 2 OCT – AMPLIFIER, PERTH WA (18+) **
Local supports TBC
* Forever Ends Here not appearing
** HLH only and local supports
Christie Lamb – All She Wrote (WJO Distribution)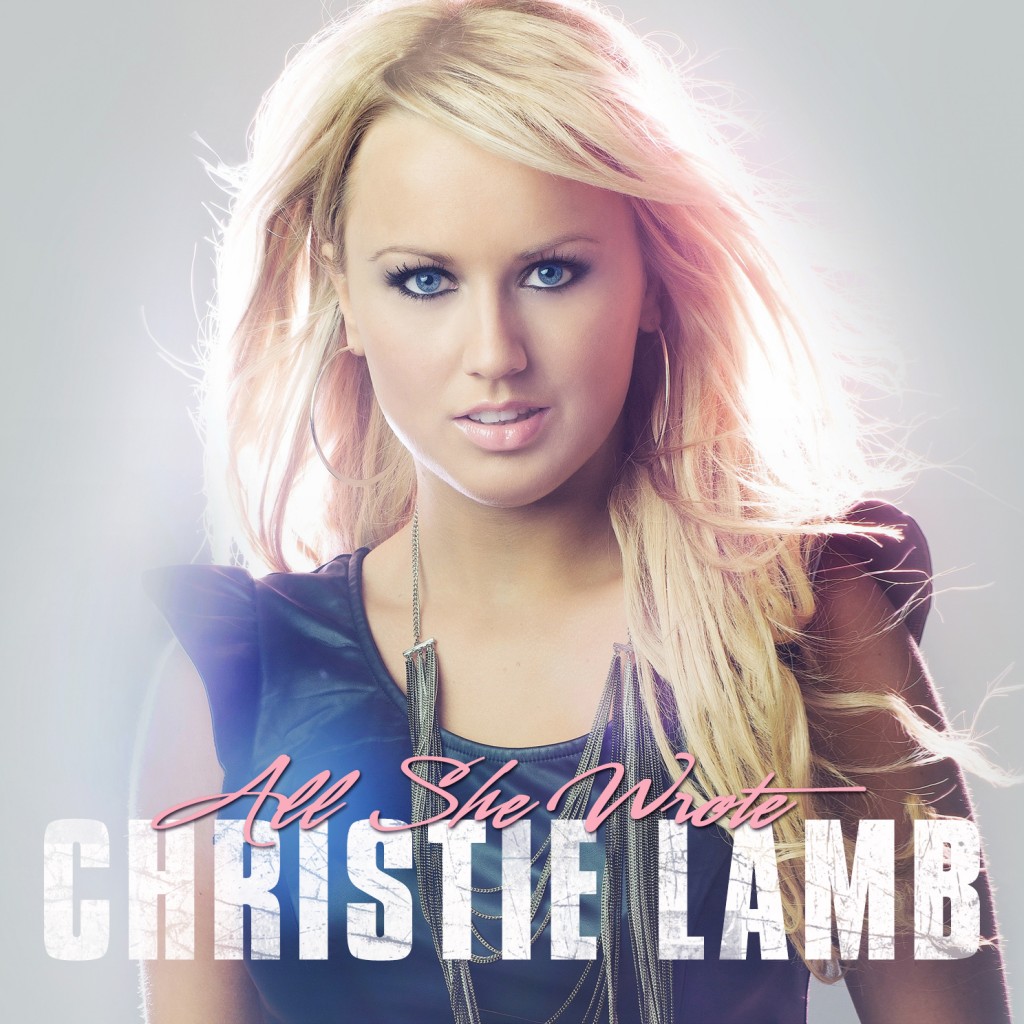 Christie Lamb debut album is the perfect introduction to her music. She is a fantastic country singer songwriter, her music is a bit modern but she is a star in the making. Her album highlights her vocals, her song writing ability, she wrote with a number of people. It has a mixture of upbeat numbers like the opening song Broken Record, its catchy well written, solid vocals and good musicianship. All She Wrote is an energetic baldest number that has solid vocals and musicianship. Something In The Way is in the same style energetic, solid vocals and musicianship. Manhunt is a modern country number with the lyrics, vocals and musicianship that shows of her vocals and the musicianship of the band.  Songs like Love Me Tonight shows off Christie amazing vocals, the song writing and musicianship of the band. He's The Trouble is a sold country rock tune that delvers with solid vocals, musicianship and song writing.  Songs like Perfect Crime are just laid back country.  Overall this is an exciting debut album by a talent who is the complete package, beauty and talent will ensure her star to rise and get everybody to take notice.  With eye-catching artwork, a striking cover and 11 solid tunes, Christie Lamb debut album is one of my favourites of the year, it's an exciting, energetic and moving debut album that deserves to be in your collection.