James Teague is back with his new song Heaven and is going on tour for it. It's a killer song worth checking out
JAMES TEAGUE AUGUST TOUR DATES
Friday 7th – Dane Certificate's Magic Theatre, Melbourne, VIC
Sunday 9th – Smith's Alternative Bookshop, Canberra, ACT
Wednesday 12th – Uni Bar Lismore, NSW
Thursday 13th – The End, Brisbane, QLD
Friday 14th – Soundlounge, Gold Coast, QLD
Thursday 20th – Tree House, Byron Bay NSW
Sunday 23rd –Mill Hall, Rous Mill, NSW
Thursday 27th – The Music Hunter Experience, Katoomba, NSW
Friday 28th – Petersham Bowling Club, Sydney, NSW
Conjoined Movie Review
Conjoined is a horror comedy and I Gotta tells you, I really enjoyed it. The script was well written, the film was well shot for it's budget and the acting is really good. The jist of the story is when a lonely man finds out the love of his life has a conjoined twin, who happens to be a serial killer, he must take drastic measures to keep his love life intact while keeping himself out of big trouble. All the acting was really good but Michelle Ellen Jones just shined as Alina one of the Conjoined Twins. Keefer Barlow also stood out as the other Conjoined Twin who is a serial killer and Tom Long just played the of Stanley just right. The script was great, and it was funny, witty and well written. To me a great movie is something you weren't expecting to be great and that surprise of going wow this is an excellent movie. Michelle Ellen Jones is just really wonderful as Alina, the sweet and perfect Conjoined twin, she is incredibly talented as well being extremely beautiful. I am really impressed this is first movie role and if she keeps giving performances like this, she going to have a hugely successful career in acting. I love a good horror comedy and this one delivers with fun, great acting and a great story to go with it. Seriously check this out, you won't be disappointed.
Shimmergloom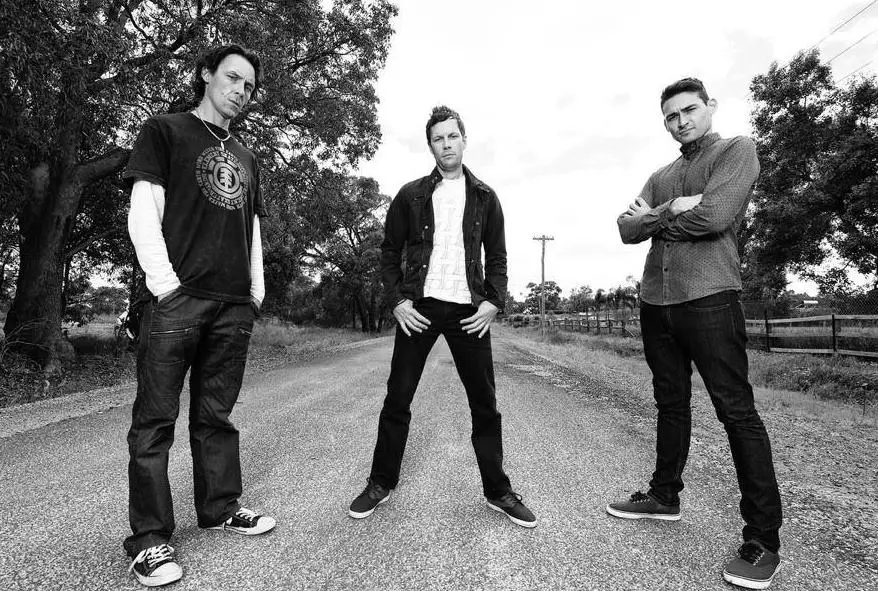 Perth indie alt-rock band Shimmergloom answered my questions. I dug what I heard and knew I had to interview them.
https://www.facebook.com/ShimmergloomSounds
1. For someone unfamiliar with your music, how would you describe Shimmergloom?
Shimmergloom is a mix of various elements & sounds, that range from hard driving bass & drums to lighter vocal harmonies & melodic guitars mixed with offbeat timing. We were recently described as "space grunge" in a recent review, which we thought was fair description based on the sounds & effects we use at times. As a three piece we try to use our vocal harmonies & our playing styles in a way that helps fill out our sound.
2. Tell us a little bit about your writing process. A peek inside the inner workings of the band if you will?
We write music in many different ways which we think helps to add to the variety of tunes we play. We have songs that have come from a spontaneous jam at rehearsals, as well as songs that have been written by individual members separately and also collaboratively. We will often record our rehearsals so if we start going off on a tangent that we like, we keep that so we can go back and work on it at a later date. Right now we have well over 200 files of rehearsals stuck on phones or computers waiting to be looked at.
3. As far as breakout success is concerned, is it all about the strength of a song or does being in the right musical climate at right time make all the difference?
I think it's a little of both. You obviously have to have a strong track that people can either identify with or that they really love, but it also helps to be able to get that track out in a way so that people can hear it. Having someone in the industry take an interest in your music can be a really fantastic boost to help you be heard. On the other hand, sounding exactly like everyone else can mean you get lost in a myriad of acts, so its good to be a little different. Either way you've got to love what you're doing or no-one else will.
4. How important is social media to you in regards to engaging with an audience?
We find social media can be a fantastic way to keep people in the loop of what the band is doing, whether that be any upcoming shows, available releases, or just day to day updates that might interest fans of the band. The trick is to find things that people would be interested in without oversaturating them. We're far from social media guru's ourselves, so we just keep trying to learn what works.
5. What inspired you to take music more seriously?
I think we've always been serious about music because it can be the most incredible feeling to write, create and perform music you love, so naturally we wanted to do it as much as possible. Music can make people feel so many different emotions, it's the closest thing to magic that's left in this world, so to help create that is magical in itself. One of the best experiences I've had is to go out onstage in front of thousands of people and have them sing our songs and rock out with us. Music can also open up so many opportunities for you as a person, where you get to do so many cool things and meet interesting people. I feel most at home on stage and I find that when I'm not creating music I'm not as happy, so music is a serious but fun way of life for us. Its not easy to make a living out of it, but when its your passion, it makes it worth doing well.
6. What's spinning on your playlist atm? Any guilty pleasures?
We listen to a range of different artists, which I think helps to influence our sound in some way, if not directly. My ipod has everything from classic albums by The Cure, Smashing Pumpkins, Swervedriver, Hendrix, Zeppelin, even 80's pop bands to newer tunes from Boy and Bear, Violet Soho, Umpire or Silversun Pickups & Muse etc. My brother, being the drummer, tends to listen to stuff like Tool, Motion City Soundtrack, Karnivool and newer artists like Sleeps Makes Waves, where our guitarist Gareth would listen to Interpol, Fields, We Were Promised Jetpacks and more. Our music collections are fairly eclectic.
7. Are you a fan of keeping the album format alive or do you think there's more benefit to release singles or EPs with the influence of streaming platforms arguably shortening attention spans?
I like the album format, as it creates an atmosphere unique to that record, whereas single after single presents as a one off journey each time. I can see the appeal of single releases, as it keeps a steady stream of tunes for fans to look forward to, however for me I think its good to hear the songs on an album as the artist intended for us to hear them. I think an album can be more of a look into the psyche of the artist at that moment in time as well which can give us the listener a greater insight into what they are experiencing.
8. When not consumed with all things musical, what do you do to tune out or reset?
I tend to get out and do lots of physical activities when not playing music. My brother and I have been surfing, skateboarding, windsurfing, mountain biking, kicking the footy etc from an early age and we still get out and do that for a bit of fun. We do have to be a bit careful these days because we were skating a half pipe last year and my bro broke his wrist which meant we couldn't gig for a month, however we did play a show where he just drummed with one hand on an electric kit which was interesting. I think Gareth does cooking or stuff like gardening when he's not playing music. He's pretty chilled most of the time anyway.
9. Your current release Frequencies Collide is doing the rounds right now, what does the immediate future hold?
Right now we are still playing shows whenever we can to promote the new album, and we're starting to write a whole new set of tunes that we're looking forward to playing live in the near future. After that we'll start looking to record our next album, which I'm looking forward to as we have new sounds and recording techniques we're thinking of using. Hopefully the next record wont take as long as Frequencies took to get completed and out for people to hear.
10. Lastly, Prince or Michael Jackson?
I'd say Prince for his amazing guitar work and Michael Jackson for the fantastic bass lines in The Jackson 5 & his solo stuff. Too hard to split.
Jen Nikolaisen
Jen Nikolaisen is somebody I love interviewing on the site, she is a incredibly beautiful talented actor. She has been in tons of cool stuff recently like NCIS, the new Atlas Shrugged movie for example. She also just became a mom. She also kindly gave up her time today to chat again on the site.
RED BEARD
TOUR DATES
Saturday August 1st – The Brightside, Brisbane, QLD
W/ Young Lions + Twin Haus
Tickets available at www.oztix.com.au | 18+ only
SEPTEMBER
Thursday 3rd – Small Ballroom, Newcastle NSW
Friday 4th – Entrance Leagues Club, The Entrance NSW
Saturday 5th – Studio Six, Sutherland NSW
Thursday 10th – Wollongong Uni , Wollongong NSW
Friday 11th – Oxford Art Factory, Sydney NSW
Saturday 12th – Transit Bar, Canberra ACT
Wednesday 23rd – Dalrymple Hotel, Townsville QLD
Thursday 24th – Magnums Hotel, Airlie Beach QLD
Friday 25th – Villa Noosa Hotel, Noosaville QLD
Saturday 26th – Parkwood Tavern, Gold Coast QLD
OCTOBER
Thursday 1st – Racehorse Hotel, Ipswich QLD
Friday 2nd – Wooly Mammoth, Brisbane QLD –
Saturday 3rd – Spotted Cow, Toowoomba QLD
Friday 16th – 170 Russell, Melbourne VIC
Saturday 17th – Riverview Hotel, Tarwin Lower VIC
Thursday 29th – Werribee Plaza Hotel, Werribee VIC
Friday 30th – Chelsea Heights Hotel, Chelsea Heights VIC
Saturday 31st – Workers Club, Geelong VIC
NOVEMBER
Friday 6th – Club 54, Launceston TAS
Saturday 7th – Republic Bar, Hobart TAS
Thursday 12th – Inferno, Traralgon VIC
Friday 13th – Hallam Hotel, Hallam VIC
Saturday 14th – Commercial Hotel, South Morang VIC
Wednesday 18th – Leisure Inn, Rockingham WA
Thursday 19th – Prince of Wales Hotel, Bunbury WA
Friday 20th – Rosemount Hotel, Perth WA
Saturday 21st – Mojos Bar, Fremantle WA
Sunday 22nd – Dunsborough Tavern, Dunsborough WA
Nova & The Experience Live Review
So Nova & The Experience wasn't a band I had checked out yet but boy I am glad I did see them Saturday night, they really put on an excellent show and it's easy to see why they have a song Whole Body in the aria charts. The brother sister James and Anna Buckingham fronted band just both work so well together especially when they came off the stage to play half of the song off the stage was pretty special and every one was so quiet for it too. The band itself was tight and everybody just worked so well together. Both Janes and Anna vocals just work so well together. It was just a great show, the musicianship and the vibe of the room was on fire. These guys have got a lot of talent and I can see them going to have a huge career. Choice of venue was well suited.
Julia Henning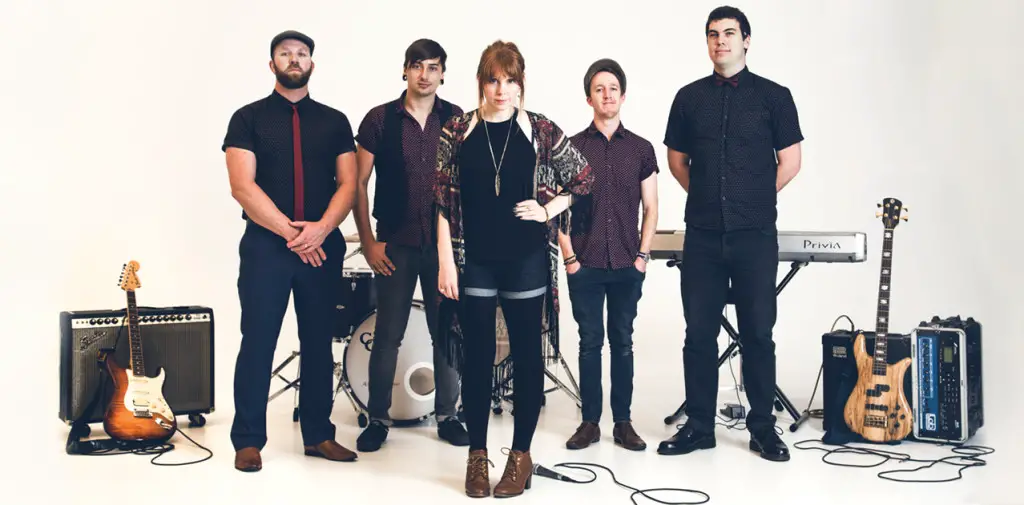 I adore Julia Henning and her music. She kindly let me use her latest song for as part of The Parx-e Show. She kindly gave up time to chat which you can listen to here.I think she is a fantastic singer songwriter and that is why I asked to use her song as part of The Parx-e Show and why I had to interview her again as her music is amazing.
Belmont Lights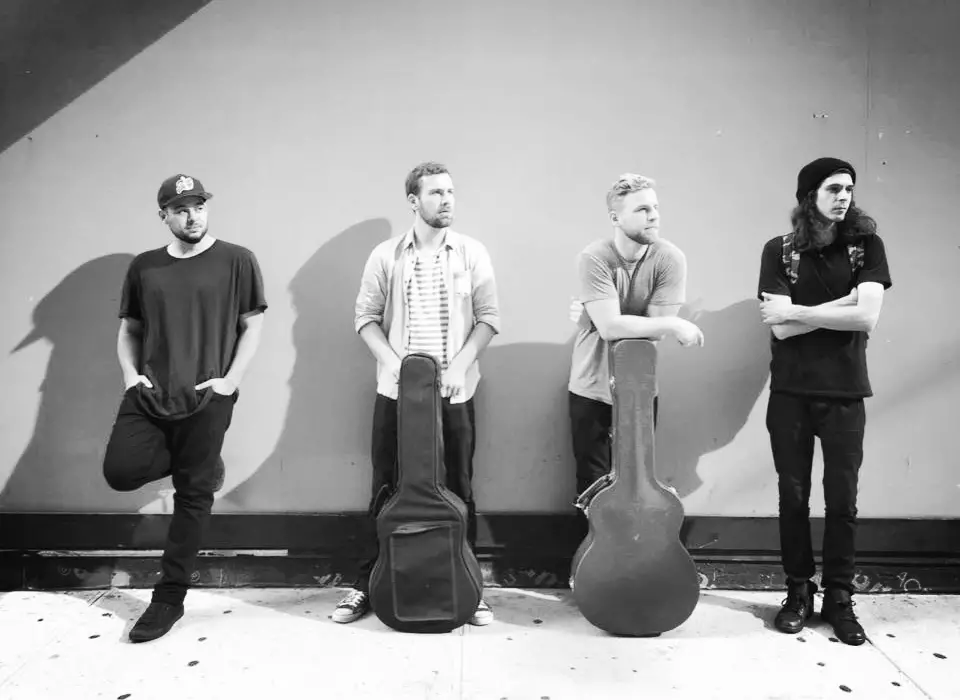 When I went to America, I saw a lot of music and a lot of it was local musicians and these guys were one of them.  Belmont Lights played The Whiskey and I was blown away. I bought their EP, their live set was incredible, so I knew I had to interview them and finally I did. So read on and find out why I think these guys are amazing.
http://www.belmontlightsband.com/
1. What was the inspiration behind the song warrior?
This was initially written as poem for my aunt who was suffering from breast cancer at the time. She was telling us about how she couldn't get the strength to go to her chemo treatments so I wrote her the poem / letter trying to inspire her using some of the words she told me when I was younger. She unfortunately ended up passing away a couple of months later before I could give her the poem.
2. How did it feel to be able to perform it on The Today Show?
It was a surreal experience. It was really cool to have our music reach such a large audience. Something we will always remember.
3. What inspires you now when writing music from when you starting out?
Our own lives still inspire our music. We're older now from when we did our first two EP's and we've all experienced much more in our lives.
4. How does a song come about?
Per Casey (guitarist), we usually start with a musical idea or track…then we put a melody and lyrics to that thus forming the song. We collaborate with our good friend / producer, Alejandro Barajas, and he then helps fine tune the final song.
5. Do you guys have moments where you just can't write?
Always…they come in waves…sometimes the waves are small and sometimes they're tsunamis.
6. What has been your favorite show to date?
Family Guy…..oh, you mean a musical show. We really loved playing Webster Hall in New York. In Los Angeles, we love playing at The House Of Blues in Hollywood and San Diego.
7. What does the rest of 2015 have in store for you?
Well, unfortunately our guitarist is going to have knee surgery pretty soon, but as of now we are in negotiations with some record labels and are getting ready for our music to hit the radio. We're also prepping the release for our new album which will be out either later this year or the beginning of 2016.
9. Will we hear any new releases from you guys soon?
We're constantly putting out music and are really excited about our album which we just finished. This album will be out later this year or the beginning of 2016, with a single probably being released very soon.
Olivia May
Photos By Brandin Photography
I adore Olivia May, to me she is the complete package, beauty and talent. Where it be being an actor, singing her own music or being in Isles or David & Olivia. She can do it all and do no wrong. Just look at her she is incredibly beautiful. She is my beauty of the week for these reasons alone and would love to interview her again for this site.
https://www.facebook.com/OliviaMayMusic and http://www.missoliviamay.com for more info
Yes episode 6 of The Parx-e Show is now up for you to watch. Features interviews with actor Julie Dickson and actor Kaitlin Thomas. Kaitlin Thomas interview had a few problems with the recording of it. But managed to salvage a bit of it. The show now has a new PC so will be faster to edit and record interviews on Skype