Alexa Borden rad new song Dynamite is a cracker of tune, she is a fantastic artist, I love her music and I know she going to be a star. I believe it and know she will do well in all that she does.
I've been dealing with some personal stuff at the moment, so I have a lot of stuff to put up on the site which will be up during next week.
Parx-e Volume 4 is ready, received the CD's last week but it won't be out for a while as the promotion of the CD will be happening.
Hope you understand
Chris
Michelle Page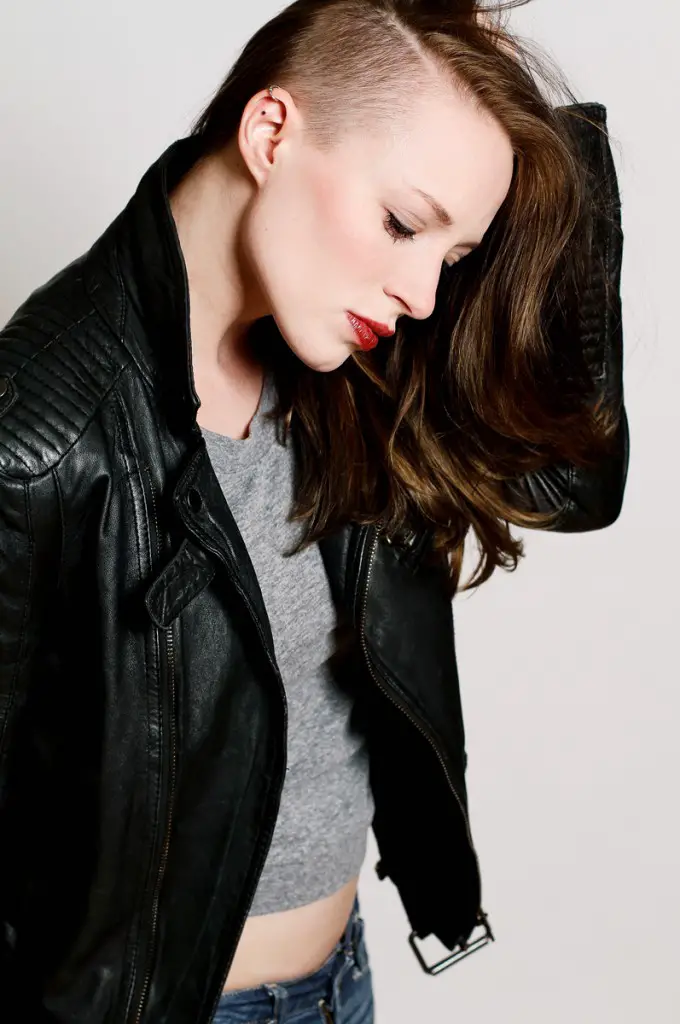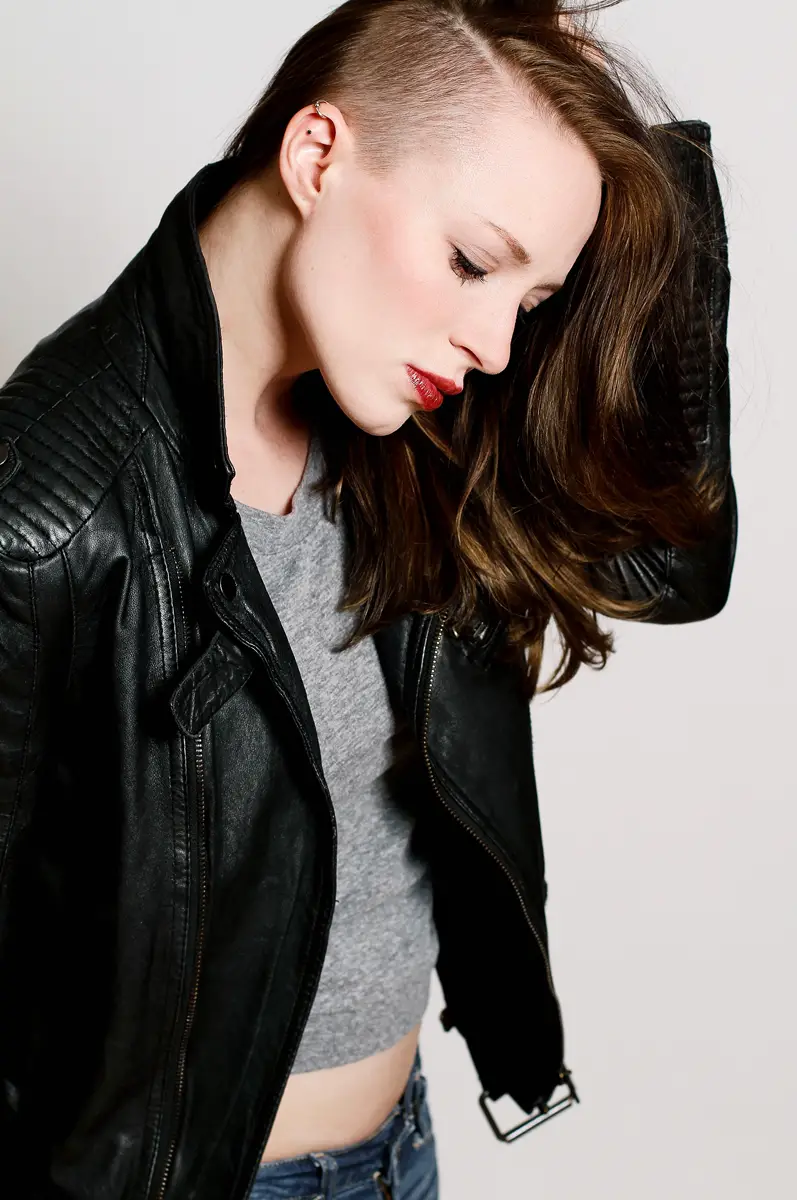 Michelle Page my amazing friend is my beauty of the week again on my site as I think she is an incredibly talented and beautiful lady who deserves everything that comes her way. She is a hard working talented actor who will soon have everyone after her in their movies. I think she is an incredible person who keeps on giving amazing performances. She rocks and studio people put her in your film.
Chelsea Wilson latest new song Through With Lovin You is a cracker of a track. Chelsea is fantastic singer songwriter who always delivers on stage. I'm a fan of her music and you should totally check her out live.
You can get this rad tune off Itunes and to find out more about her visit http://www.chelseawilson.com.au
Bayside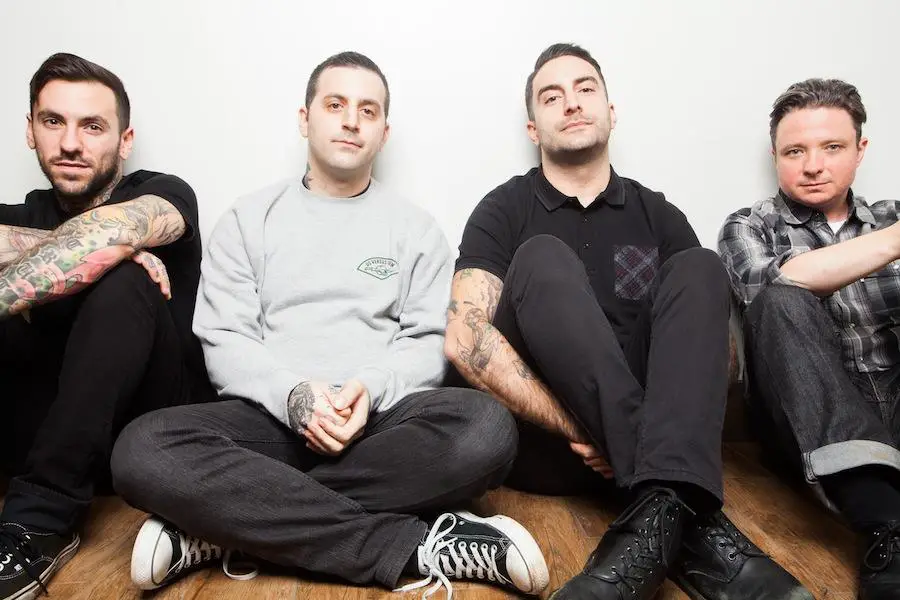 Bayside have new album out called Cults released today in Australia. It's a good album so I chat with vocalist Anthony Raneri, so read on.
Bayside have a new album out called Cults, which is released today in Australia. I chattered Anthony Raneri the vocalist from the band about the album. He says he is happy how the album turned out, but says it was a really long songwriting process for him, questioning everything, decisions and so on to make the album good as possible and make sure everything is nailed in.
In terms of songwriting the process has still stayed the same, starting off on an acoustic guitar as he says, a good song needs to sound good stripped down. Mentally he thinks of songwriting a little differently, to not only listen as the writer and as also as the listener.
The recording process was similar to earlier releases but the songwriting as said earlier, he really tore apart every idea to make sure it was the very best idea and he doesn't normally do this. The stuff he did in the past was usually more organic. For him this one was really scrutinizing everything.
They got signed to hopeless records after talking to a lot of record labels from indies to major labels and felt hopeless was the best as they seemed to be on the same page as they wanna work with bands on the same team. To them everything was a real team effort, they were like-minded people with the same goal as us.
They get a buzz from playing the big festival such a warped tour and our own Soundwave festival and yes they wanna come back to Australia and play to their fans again soon.
Cults has been released today and it is a cracker of an album, I suggest you all go out and check it out. It's worth your time.
Alexa Borden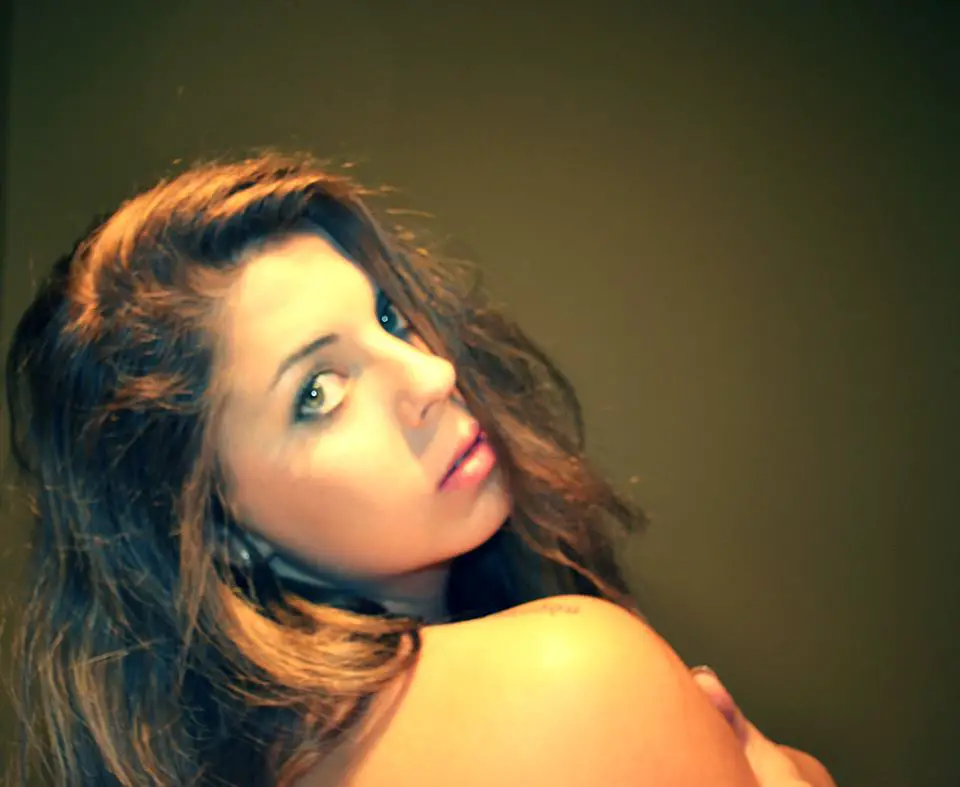 Alexa Borden is my beauty of the week as she is an incredibly talented singer songwriter with a bright future ahead of her. Her latest album is a masterpiece.  She a Canadian now living in LA and she is an extremely beautiful women with a future ahead of her.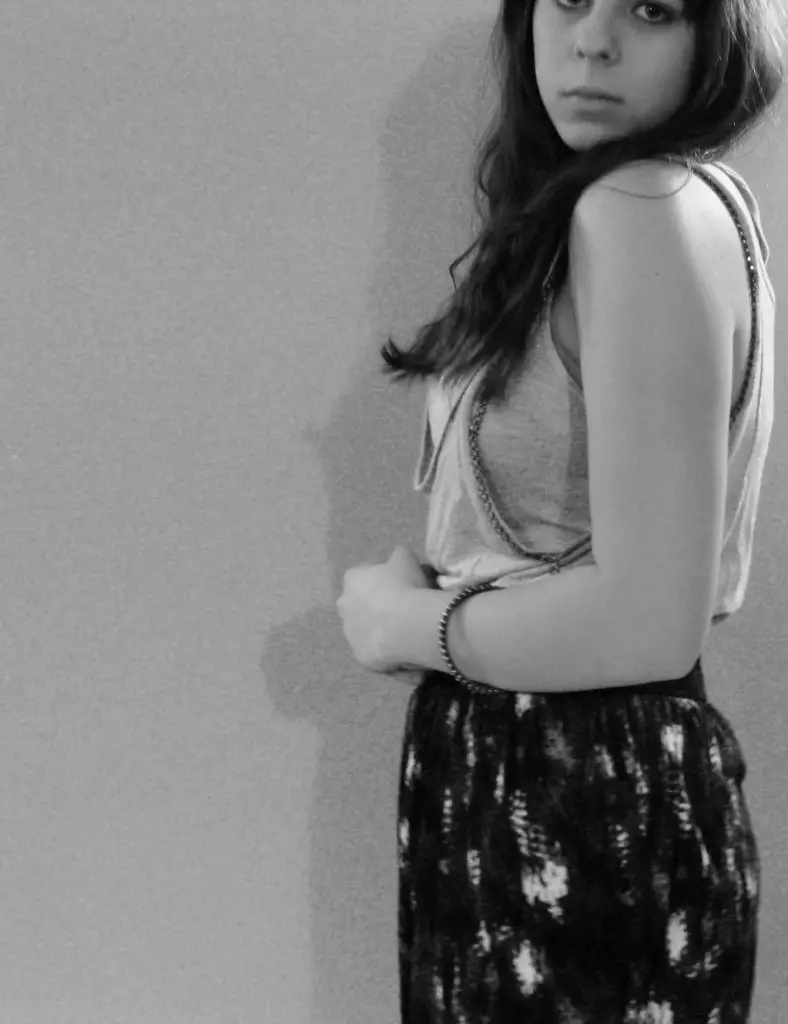 I AM THE AVALANCHE
ANNOUNCE NEW ALBUM
WOLVERINES – OUT MARCH 21
AUSTRALIAN PRE-ORDERS AVAILABLE
Friday, February 14, 2014 – Rude Records is pleased to announce the new album from New York City-
based rock band I Am The Avalanche. Their third full-length album titled, 'Wolverines' was produced
and  engineered  by  the  band's  drummer Brett  "The  Ratt"  Romnes at The  Barber  Shop  Studios in  Lake
Hopatcong, NJ and mixed by Will Yip. Encompassing ten songs full of heart, ferocity, relentless passion
and,  of  course,  struggle, 'Wolverines' follows  the  band's  sophomore  album,  the  acclaimed Avalanche
United (2011), and will be released on Friday, March 21, 2014 in Australia and New Zealand through
Rude Records/Rocket. Australian Pre-orders for Vinyl, CD and Digital album are available now at JB
Hifi and iTunes.
I  Am  The  Avalanche  aren't  holding  back,  having  already  released  two  new  songs  from  Wolverines
including  the  first  single  "The  Shape  I'm  In",  lyrics  penned  by  singer Vinnie  Caruana  were  inspired  by  a
serious physical injury he sustained last year while on tour, and the physical and emotional pain he had to
grapple with and overcome. The latest offering, "Two Runaways" recently premiered at Vices' Noisey.com
and was deemed 'catchy and anthemic', is currently streaming on YouTube. Fans will receive both "The
Shape I'm In" and "Two Runaways" as instant grat downloads when they pre-order the album on iTunes!
PRE-ORDER WOLVERINES
JB HIFI
CD
http://www.jbhifionline.com.au/music/alternative/wolverines/698766
Vinyl
http://www.jbhifionline.com.au/music/alternative/wolverines-white-vinyl/698758
ITUNES
https://itunes.apple.com/au/album/wolverines/id819146153 
To the members of I Am The Avalanche – Vinnie Caruana (vocals), Brandon Swanson (guitar), Brett "The
Ratt"  Romnes (drums)  and John  Oliva (bass)  – 'Wolverines' is  their  most  anthemic  and  cohesive  full-
length album to date and stands as a fitting body of work to the band's natural progression. Their self-
titled debut record, released in 2005, was the sound of a band finding themselves in the context of their
scene that, through their associations, couldn't help but define them, even if they didn't want them to. The
band's  second  album, Avalanche  United,  was  written  across  a  long,  drawn-out  six-year  period,  and  the
uncertainty  of  their  situation  during  that  time  pierces  that  particular  record's  constructs.
There were no such problems with 'Wolverines', however – it's a powerful record through and through, a
complete  set  of  songs  that  each  play  a  specific  and  vital  part  on  the  album.  "I  think  it's  our  most  well
thought-out  and  least  rushed  record,"  says  Caruana.  "Times  spent  at  rock  bottom  and  also  feelings  of
personal triumph have shaped what I feel is the perfect record for us as a band and for our supporters as
well."
WOLVERINES track listing:
01. Two Runaways
02. 177
03. The Shape I'm In
04. Young Kerouacs
05. Wolverines
06. Anna Lee
07. Save Your Name
08. Where Were You?
09. My Lion Heart
10. One Last Time
WOLVERINES will be out digitally on Tuesday 18 March and available in Australian and New Zealand
stores on Friday 21 March via Rude Records/Rocket.
Sans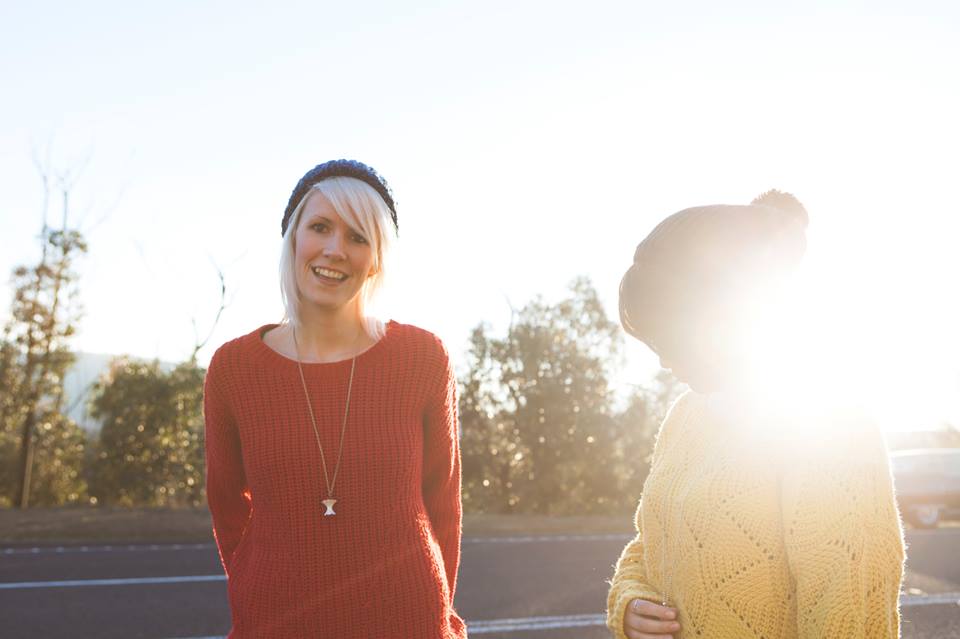 Sans are a Melbourne band doing good things. With some radio play on Triple J, this band is going places. I ask Amanda from the band a bunch of questions, this is what she had to say about it all.
https://www.facebook.com/sansbandmelbourne/
1. Are you happy how things have gone for the band so far?
We're always striving for greater heights and yes, we're very happy so far. We love playing together and people seem to be responding well and that's all we can ask for!
2. What inspires the band when writing music?
Both Stacey and myself tend to write separately, then bring it to the band to add the magic. Generally, our songs are inspired by personal experience or the things we see around us.
3. What is your latest song about?
It's one of our first happy songs to tell you the truth, lyrically we are usually a little more pensive or upset about something! Long story short, the latest song Bluebird is about the rush you get at the start of a new relationship or when you first have feelings for someone. When you come to the realization that you want to be with someone, and you're trying to find the ways to tell them…
4. How does it feel to have triple j radio play after uploading a song a week ago?
Crazy! We're all over the moon, the response so far to Bluebird has been pretty intense and we are stoked – because we love the track too!
5. Have you had response from that?
Yeah, we've had a few reviews come through and a few contacts from some people that want to work with us (venues/artists etc). Lots of people downloading and listening to the track online too which is awesome.
6. What has been your favorite show to date?
That's a tough question – because we're about to launch our EP in April and I think that will be the best show so far! Our first show we played as SANS last year was pretty amazing.
7. How does social media help you as a band?
Facebook tends to be everything. Along with Twitter and Instagram. It's a little hard to reach people without them, and it's even hard to reach people with them sometimes! It gives us an opportunity to let people know what we are up to, while letting them decide whether they'd like to attend a show or have a listen to something. Just as important is our ability to get in touch with other bands, venues, industry types etc. Without social media that would be far more difficult.
8. How are things different from your previous band?
We've all come from different backgrounds and a few of us still play in other bands – and we love them all. This band is definitely the most upbeat or poppy band we've all been in so it's great to write party tunes and just let loose. At the end of the day the goals never change, to stay passionate about our music, keep writing and continue to enjoy playing with each other.
9. If you could have any body in a video clip who would it be?
Ooh – I'm not sure! It's always fun to have friends in your clips but on the other hand, clips without any people in them are cool too!
10. What's your favorite venue to play at?
Lately we've been loving the Grace Darling Hotel in Collingwood…
11. What does 2014 have in store for the band?
A new EP release in April, a bunch of shows to back it up and hopefully a national tour!
Push Over Festival has today announced that it is shelving the 2014 event scheduled for Monday March 10th.
Currently standing as Australia?s longest running all-ages festival, Push Over has provided formative festival performances for some of Australia?s favourite touring artists such as Parkway Drive, Killing Heidi, The Living End and Silverchair. Over its 21 years, it has provided valuable experience for over a thousand young event managers.
Push Over Festival Director Shane Wickens said, ?We are disappointed to see ticket sales down on previous years, however we know we?re in the middle of a very tough summer music festival season. It?s now time to revamp the model for the future. We apologise to the artists who have made a commitment to Push Over and to the music fans who have purchased tickets.  Refunds are available at the point of sale. ?
Push Over will now add a new free all-ages music stage to the Moomba Festival at Birrarung Marr, Melbourne on Monday March 10th. For more information see www.thepush.com.au
Thanks goes out to all that have supported Push Over festival over the years – stay tuned for its return in 2015, bigger and better than ever!
LIVE AT YOUR COSMIC MIND TO TAKE OVER BRIGHTON UP BAR

Friday the 21st of February will see the first Live at Your Cosmic Mind event take centre stage at Sydney's Brighton Up Bar. A sonic-visual hybrid experience in every sense of the word, Live at Your Cosmic Mind will bring together art and music in a bewitching, unpredecented mindmeld.

Sydney artists Sindy Sinn and Mike Watt will take you on a journey that will push the boundaries of the mind until they shatter, taking their art to the wall as they sculpt the trajectory of a trip. Meanwhile, bands you may have heard of Raindrop, Glass Skies, Gypsys of Pangea and Grand Oyster Palace, will be scoring the trip, their psychedelic soundscapes working in tandem with the visuals to generate an unforgettable, mindblowing experience.

A journey through the kaleidoscope of the mind, Live at Your Cosmic Mind is one of the most unique experiences possible in Sydney – make sure to join these artists on their audio-visual trip.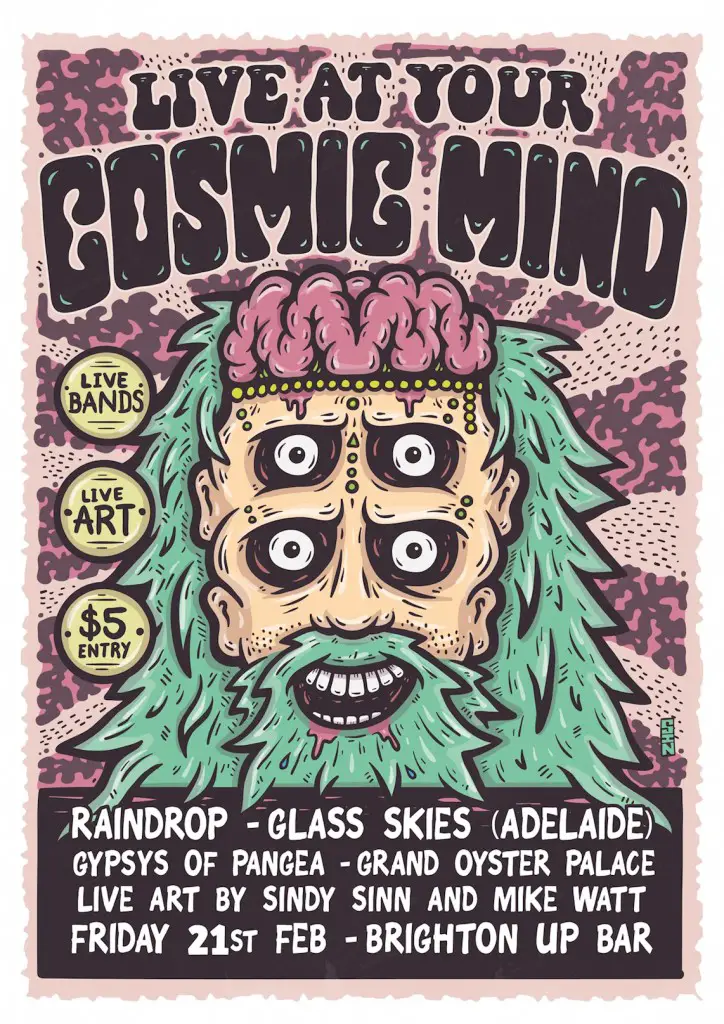 LIVE AT YOUR COSMIC MIND
Friday February 21st – Brighton Up Bar, Sydney, NSW
Entry $5

featuring live music by
Raindrop
Glass Skies
Gypsys of Pangea
Grand Oyster Palace

and live art by
Sindy Sinn 
Mike Watt