Jayme Knightly
Photo by Matthew Thomas Photography
Jayme Knightly is our second beauty of the week oft the week again because she is an incredibly beautiful all natural women, with a bright future ahead of her. She has a BS in Exercise Science and pursuing a career in health. We think this lady will do amazing things. I love the way she looks, she is a classic beauty. She is one of the nicest people I've interviewed on the site. She is beautiful as well as being smart, she is friendly approachable and she has such beautiful flawless skin. So I wanted to give this gorgeous girl again another spot as another beauty of the week on the site.
Buchanan – Human Spring (Raw Imagination People Expect/Gaga Digi)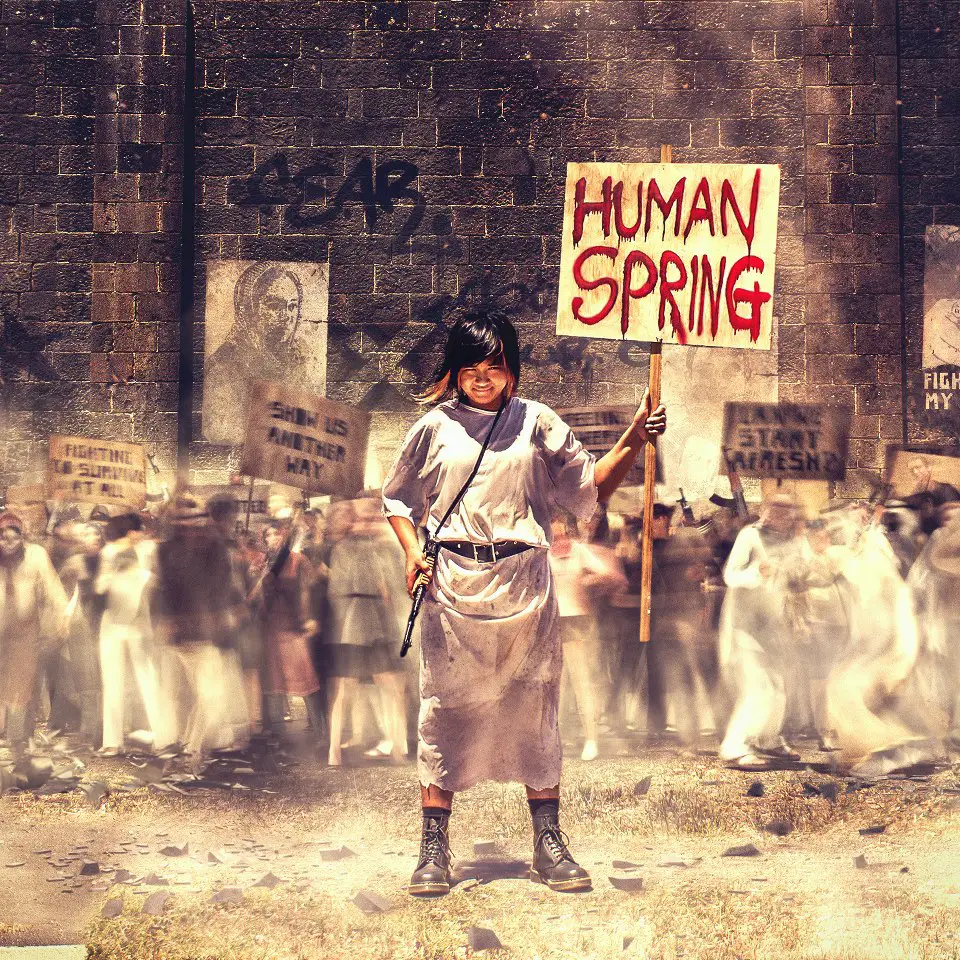 Buchanan début album Human Spring is an exciting début album, it's catchy, well written, exciting and delivers many surprises with every listen. They are alternative pop rock band that writes songs that give so much. Act Natural open the track with a catchy pop laced tune with incredible songwriting, vocals and amazing musicianship. Par Avion is another song that shows off Buchanan talents, good songwriting, lyrics and musicianship. The Punch has a cool synth intro, the use of keys, the way the vocals are used. They all just work together, side by side and all bring something to the table. Temptation leads more to rock side of things and their big chorus that make you go well. The song is well written, solid musicianship, great vocals. Just works. For Tonight We Rest (Leaves) is a well written tune, good vocals and lyrics. Run Faster is more rock than pop but like all the other songs it always ends up sounding big and I like that a lot. Human Spring is the title track off the album and it seriously the perfect tune, mixes rock and pop nicely. It's catchy, well written, good vocals, musicianship. It really is an incredible tune, words can't describe how good it is. Temperamentally feels the same, just another great tune. Good vocals, musicianship, good melodies and lyrics. It's a catchy tune and has an awesome chorus. Sit It Out is a little more simpler, fewer instruments, mainly guitars and vocals. But the song works, it's a good tune and shows off what Buchanan can do. The Few with the use of strings turns into another tune that delivers, big bold and exciting. Solid vocals and good lyrics. Just an incredible tune. An All Clear? Finishes off the album well, solid tune has kind of unique edge, it's a lot different the other tunes, has a pop vibe. This is an incredible album, its exciting well produced, a joy to the ears, All the songs are well produced and written. Buchanan has talent and I can see this going very very far.
Samantha Schultz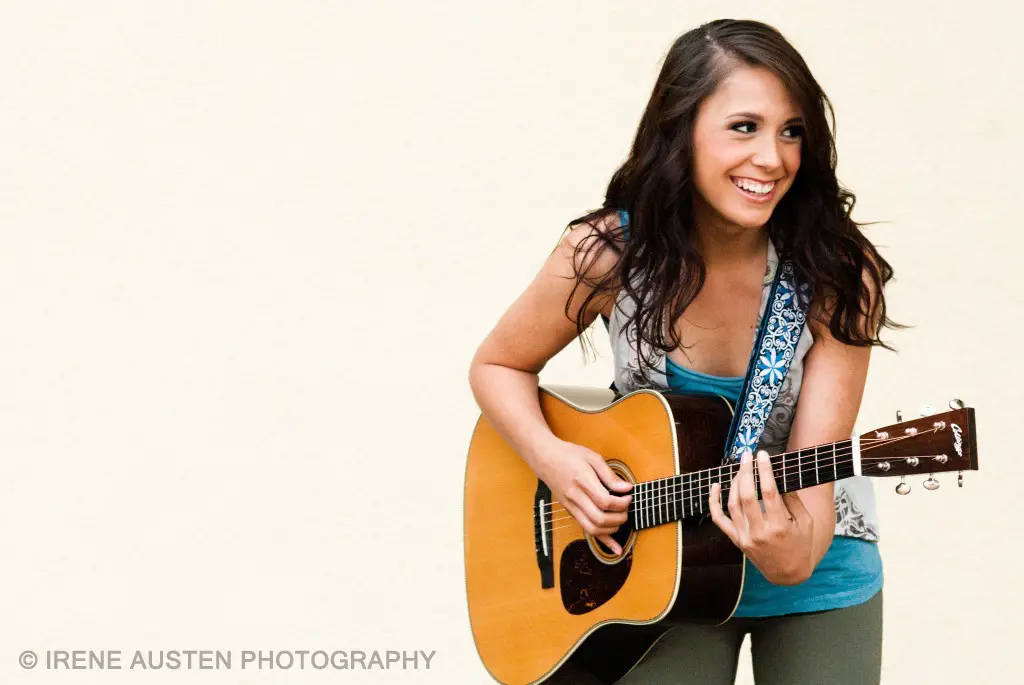 Image © 2013 Irene Austen Photography
Samantha Schultz is a fantastic singer songwriter from Canada who music I really dug when I heard it, so naturally an interview was a must.  So read and check out her amazing music.
http://www.samanthaschultzmusic.com
© 2013 Irene Austen Photography
1. How does it feel to be graduating from Berklee College of Music?
Graduating from Berklee College of Music is a completely unreal feeling. In my last semester of high school, I wasn't planning to go to college or university at all – I wanted to just jump into my music career. Thanks to my best friend who made me audition and to an incredible scholarship donor (Gary Slaight), I have had the opportunity to go learn and grow in an incredibly nurturing and creative environment. The things that I have absorbed and the people that I have had the chance to get to know have completely changed my life for the better. I would never trade these past four years for anything…it's insane to finally call myself an alumnus of Berklee College of Music!!
2. Are you happy how both albums have been received?
I am incredibly happy with how my two albums have been received. I released my debut album, Both Sides, in 2007. Being a primarily acoustic act prior to its release, I was nervous about how some of the band tracks would be taken by my listening audience. Thanks to my amazing producer (Mike Lent), engineer (Jerry Woolsey), and all of the incredibly talented musicians, my first release was a total success with a balanced mix of full band tracks, acoustic tracks, and songs with partial accompaniment; this element played a huge role in picking the title for the album, as it showcased "both sides" of my music. Before I released it to the public, I brought the CD to a lot of the amazing people in the Edmonton folk community who had helped me get my start in music at open stages to listen to it. It was wonderful to have them and the folk community receive it with open arms. Beyond that, my online audience was extremely satisfied with the product as well.
I released my second CD in July of 2011 with the same producer and engineer, but with a whole new arsenal of musicians. Having had a couple years at Berklee under my belt, I knew that my writing and singing had improved and it was time to release a new album (it had also been four years since I released my first CD). These songs were more chordally complex and the lyrics were more metaphoric and thought through. Just like my first album, I had a mix of full band songs, acoustic songs, and songs with partial accompaniment. Thankfully, I am blessed with a beautiful listening audience and they received the album very well.
3. What was the inspiration behind them?
Both Sides has a lot songs about my family, my friends at the time, and songs that I wrote from other peoples' perspectives. With Ink To Paper, I still wanted to make sure that I paid homage to my folk roots, but I knew that it was important to show my growth over the four years since my debut album release. Major themes in the album (that I didn't realize until after) were love, light, and nature.
4. What do you hope graduating will do for your music career?
Graduating from Berklee College of Music is a complete honor. I hope that being a graduate will allow me to go out into the music industry and show people that I am a hard-working individual with something new to bring to the table. I am hoping that the title of "Berklee College of Music Alumnus" will elevate my career to the next level. Something that is really cool about Berklee is that there is a massive alumni base across the globe; I am now a part of that community and it is an extremely humbling feeling, but simultaneously, a very cool feeling knowing that I am now one of these alumni. I know that graduating is a huge accomplishment and I want to go out into the world and do right by the school's name.
5. Who has been the greatest help for your music so far?
I think that there are multiple influences in a musician's life that helps their evolvement personally and artistically. For me, I know that the relationships in my life have been the greatest help in terms of my music: my relationship with my family; my friends; my colleagues; my teachers; and my relationships in love. Without these life experiences, the things that each of these people have taught me, and with the way each of them have affected me, I know that I would not be the person I am today.
6. Do you think the internet has made it harder for artists to stand out?
I think the use of the internet has made it both easier and harder to stand out. I believe it's harder for a musician to stand out because everyone has access to infinite marketing and recording resources, allowing everyone to put out product, build a website, promote through social media, etc. At the same time, these resources allow musicians to stand out as an individual as well. For those that know how to properly use these resources in combination with true talent, this allows musicians to rise above the multitudes that are trying to achieve the same dream.
7. What does it mean to connect with your fans?
Connecting with my listening audience is vital. I make an effort to try to answer every single email, message, comment, tweet, etc. that I receive. Making sure that your audience knows that they are appreciated is so important and necessary when it comes to the survival of your career. As one of my former professors said: "Your audience doesn't need you to survive – you need THEM to survive." Truer words have never been spoken. After all, if you don't have an audience to sing to, you're only singing to yourself.
8. What has been your favorite show to date?
Wow, that is a seriously tough question! I have been fortunate to have a series of really exciting and amazing gigs under my belt, so I'll give you some of my favorites:
– My very first paid performance at the age of 13, at the Full Moon Folk Club in Edmonton, AB. I opened for a beautiful lady by the name of Ruthie Foster, from Austin, TX. I was so nervous, but the audience, Ms. Foster, and my family that had showed up, gave me the confidence to give as best of a show as I could and my performance was well received. I could never forget my first opening act (huge thanks to Peter Pirquet – owner of the folk club at the time – for asking me!).
– My very first performance with my sister. I performed solo for years before my sister joined me on percussion (djembe, cajon, and auxiliary percussion) and harmonies. She has been performing with me now for around five or six years, and I am so grateful to have my sis on stage with me. It's nothing short of fun, but we make sure we give the best performance that we can every time.
– My first performance at the 2005 Edmonton Folk Music Festival as a "tweener." The Edmonton Folk Music Festival has played such a pivotal role in my life; thanks to the amazing music director, Terry Wickham, I have had the chance to take part in this festival as a performer multiple times. I was given a "tweener" spot at the age of 14 and I was ecstatic (a "tweener" is someone who performs in between the main acts on main stage while the different band stage plots are torn down and set up). I felt so at home on that stage was grateful to have the opportunity to perform at such a prestigious festival multiple times. This festival is as close to home as you can get for me!
– Participating in the 2012 Close Encounters Festival: Helsinki & St. Petersburg. I was asked by Berklee to take part in the festival with my trio (vox and guitar; percussion; and electric bass), where we performed multiple shows and had the opportunity to write and get to know other participating students from Finland, Russia, and France.
– Participating in the 2013 Berklee Graduation Commencement Concert. I was asked to participate in the concert by Berklee faculty member, Ken Zambello, to sing Carole King's "It's Too Late," and part of Willie Nelson's "Pancho & Lefty." What was cool about the concert was that both Carole and Willie were in attendance at the concert as honorary doctorates. According to various faculty and friends that witnessed this, Ms. King gave me a standing ovation and was tearing up at my rendition of her song. I have never been more humbled or blessed in my life to hear great news like that. To top it off, I was given a shout-out in an online article from RollingStone.com about my performance. That weekend was the biggest blessing and best way to end my four years at Berklee.
– Performing with Kris Kristofferson in Northampton, MA. Kris Kristofferson was a guest of Willie Nelson's at the Berklee Commencement Concert, and I ended up meeting him and his wife, Lisa, after the show. They were extremely kind and welcoming and not knowing what to expect, I gave Lisa a card. The next evening, I received an email from her, asking if I wanted to sing with Kris at a show of his in Northampton, MA. Of course, I said yes and went on to have one of the most incredible experience of my life – performing with the legendary Kris Kristofferson. They are two beautiful people who shared so much wisdom with unadulterated kindness. I will never forget what they did for me.
9. What does 2013 mean for you?
2013 is a big transition year for me. I'm making the move from being in school 24/7 to dedicating my all that time, effort, and attention to bringing my career to the next level or the next big thing. Being from Canada, I'm hoping to get a visa approved that will let me work in the USA for a year, specifically in Los Angeles, CA, where I have a lot of connections and resources to draw upon. This year will be dedicated to making the move from a full-time student to a full-time working musician.
10. What is next for yourself?
In terms of the near future, besides making the move to Los Angeles, I am trying to constantly improve my songwriting and guitar playing skills by writing and playing every day. I'm reaching a point where I know that another album is in the near future for me and I want to have the best material possible to include on my next release.
My dream has always been to write, record, and tour, but ultimately, I want to create and share music that people can relate to. I find that songwriters have a responsibility to create and write songs that speak of the emotions that every day people feel – to let someone out there know that they're not alone and that someone knows what they're going through. I cannot tell you how rewarding it has been in the past to receive heart-breaking stories from my listeners that end in happiness because of a song I wrote. I want to get out there in the world and let as many people as possible know that there is someone who is aware of the feelings and happenings in the world – that I'm paying attention to the people that make up this global community and not just writing for me. I am looking forward to the day where I can make that impact, but it must start small. So I will continue to work hard, take on challenges as they come, and dedicate myself to something that I have been in love with since I was a small girl: creating and sharing music.
Holley Maher – Euphorics (Self Released)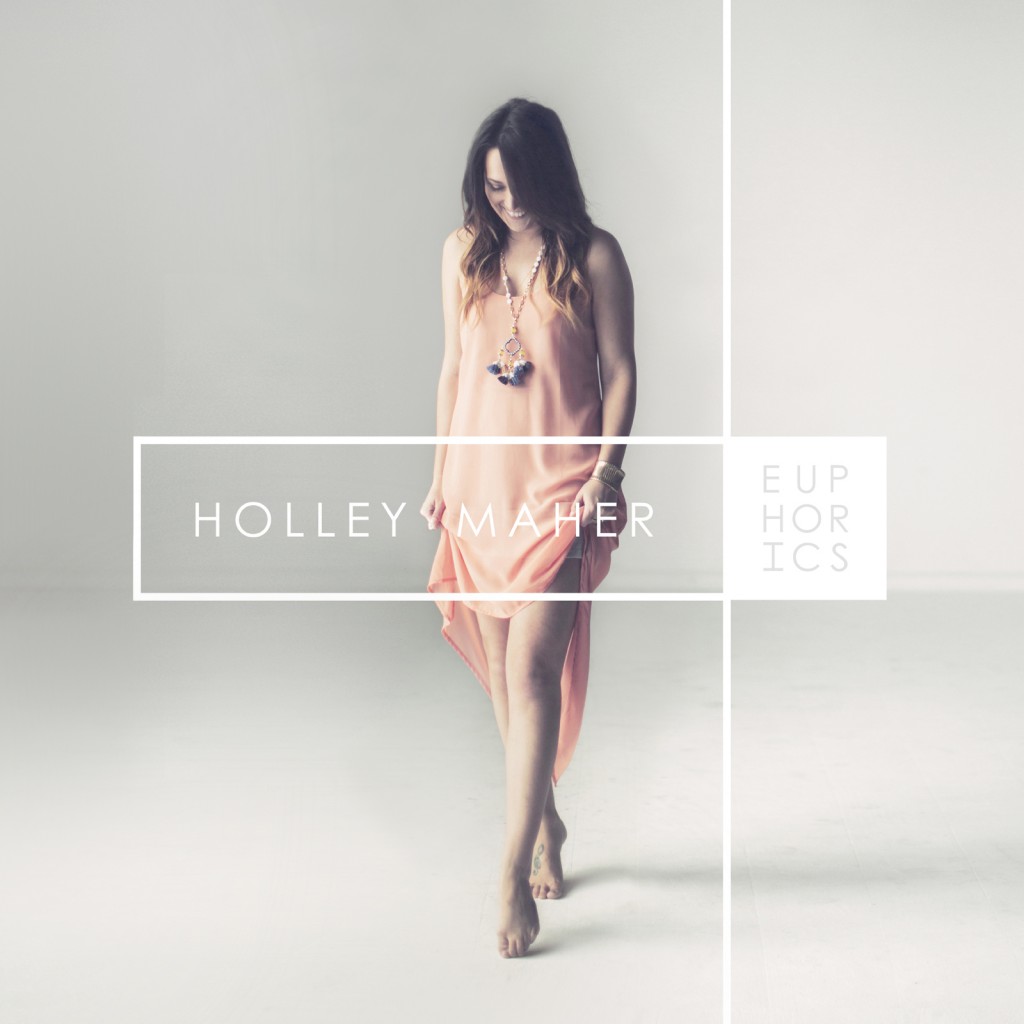 I had interview Holley late last year because I thought her music was good but her new EP Euphorics just happens to be one of the best EP' of the year even EP of the year. I could not believe what I was hearing. Gimme Your Love opens the EP with a beautiful anthem pop tune with great vocals, lyrics, solid musicianship, great musicianship and I love the use of the backing vocals. I could see this being a huge radio hit. Golden has kind of jazz pop influence but branch out into a big haunting pop melody in the chorus in the song, it's a catchy tune with the use of hand clapping just used to perfection. Hiding Place shows off Holley vocals, it's got good songwriting, musicianship and the track works. I Do like Gimme Your Love is one of my picks off the EP has great use of the piano, the guitar and the male vocals by Jonathan Lister and Holley vocals just work together. It's a solid pop rock tune. Whispered Words haunting a vibe to the track, the use of the piano, the vocals and the drum beat. This is such a beautiful release, it's one of those releases where you can't believe what your hearing, such beautifully written music, sung so wonderfully and production that shines. I could not believe what I was hearing. It's such an amazing release I can not wait for the album if this EP is so good. Holley Maher is the real deal.
Sleep Parade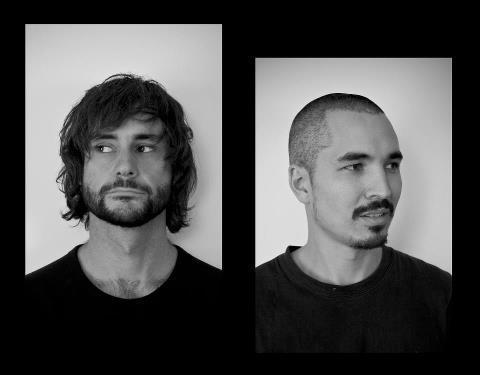 Sleep Parade are a great Aussie band with one album out another one coming out in July this band is doing good. So Leigh Davies (Lead Vocals, Guitars, Keys/Synths) from the band answers my questions.
1. What is the new song about?
2:09 is a song which talks about a type of therapy I have experienced called Gestalt Psychotherapy. 2:09 is about following a path into the unknown where the only certainty is knowing that to move forward it is the only route that can be taken. The song describes my experience with the therapy which involves seeing connections between my past and the way it influences my present, It's designed to break these patterns by shining the light into the dark.
2. How are things different from earlier releases?
2:09 explores a more ambient side to Sleep Parade and utilises spacey atmospheric synthesises and keyboards. I feel my vocals are a lot more the focal point of the song whereas in the past our music has probably been more in the foreground and the vocals more of a texture.
3. Do you think touring is easier or harder from when you guys were starting out?
I think it feels easier in that we are obviously more experienced than when we first began. To be more specific knowing how to look after your health on tour (contrary to popular rock and roll belief) can make the touring experience for me personally a lot more enjoyable. I'd prefer to cut back on partying after shows and would rather have more energy to play a good show for the fans which is what it's all about yes?
4. Do you think the Internet has made it harder for bands to stand out?
I believe that good music will always come to the surface and stand out however it is reliant and dependent on how much belief and time a band puts into promoting it. What has definitely happened though is a lot more run of the mill untalented music is showing it's ugly head due to anyone being able to put their stuff online. If you can cast your memory back to the 60's and 70's (if you're that old, I'm not..) artists only became massive due to their sheer talent as recording equipment was not around at that time to make them good. Now with all this technology at our fingertips, regardless of being a blessing or a curse, anyone can become an artist. But I still believe that in the end sheer talent and creation does stand out in the end.
5. How did it feel to be picked as supports for such talented bands?
We were all over the moon. We worked hard and it was a real relief and great feeling to be acknowledged by these bands whom we all looked up to: COG, The Butterfly Effect, Porcupine Tree.
6. Are their plans to go overseas and tour?
Once we release and establish this second album in July this year we have our sights set on touring Japan and the UK/Europe first off. From feedback online our music has and continues to be received very well in places especially in Europe so that is definately a must.
7. How often does the songwriting process change when writing music?
Generally Sleep parade have kept a very similar approach to songwriting since the beginning. Often I'll write a cool chorus or something at home and then bring it into the studio and then we will jam it out and then it basically grows from there. Sleep Parade like to really fine tune each song.
8. What does 2013 mean for the band?
This year Sleep Parade are going to release the 2nd album entitled Inside/Out in early July. We have already released a seeding track called Dancing With The Enemy which was received quite well and we have just released the first single from the album called 2:09 which is getting even better feedback. Sleep Parade will endeavour to tour Australia at several different points this year in support of the album releases.
9. What does it mean to connect with your fans?
That is what it's really all about isn't it? It shouldn't matter how big a band becomes the essential backbone is still that the band connects with their fans. So yes it absolutely is very important to Sleep Parade to be in close contact with fans, replying to messages/emails and chatting after shows.
Empra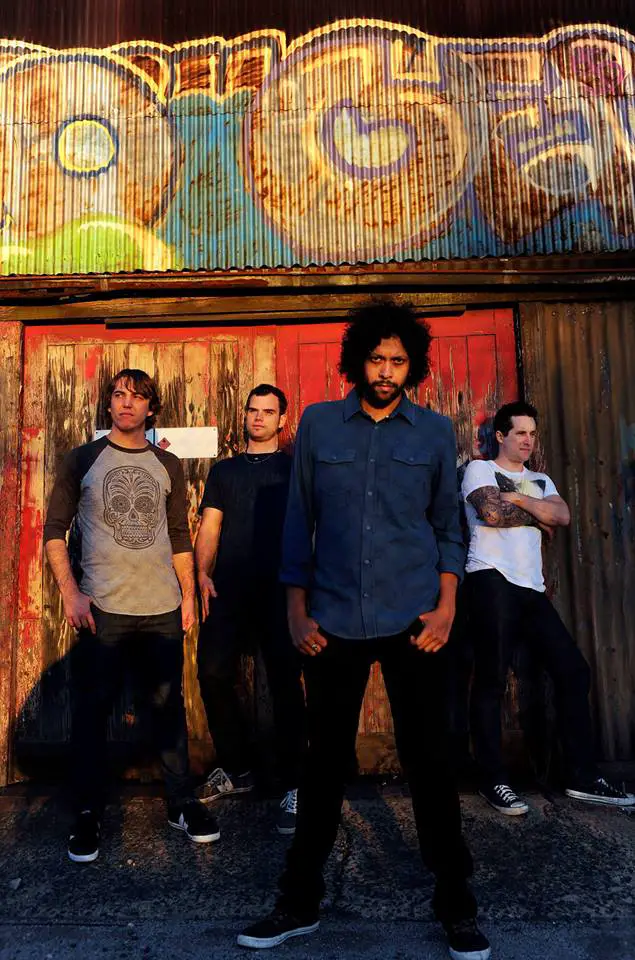 Empra are a Melbourne band making a name for themselves in Australia and overseas winning a LiveNation competition in America. This is a band doing good things, so read on and find out some more from this talented Aussie rock band.
1. How did it feel to be an Aussie band that won a LiveNation competition in America?
1. It was awesome to prove Aussie bands can impress anywhere in the world. The American crowds really welcomed us with enthusiasm! Heaps of people congratulated us after the show, commented on the songs and live performance. Even the judges had drinks with us!
2. Do you guys take it all in and go look how far we have we have come in a few years?
2. We have come a long way in a few years, becoming a more tight-knit band: writing songs and performing live, sharing 2 bed hotel rooms, living room floors and a 'soccer-mom bus' for 12 hours at a time on the road! It all shines through on stage and in the studio.
3. What will the new album be about?
3. We are currently working towards the release of a studio EP for the 2nd half of the year, so you'll have to be patient…
4. How will things be different from the first album?
4. The new material has shifted a little from the punk-rock, polished sound of the first album and become more driving, catchy and unique. It sounds more 'EMPRA' than anything we've done previously, and less like any other band. Easier to boogie down more to the new stuff.
5. Do you think the Internet has made it harder for bands to stand out?
5. The internet allows brilliant content and ideas from unknown, unsigned talented people to reach a massive audience. YouTube and Facebook etc spread content quickly to more and more new people, which will make a band stand out far better than any amount of marketing or advertising. News of our competition win spread to around 50,000 people within a week!
6. Do you think playing regional areas is an important part in getting a band known?
6. Of course! It's really important to bring the live show to as many people as you can. We've had some of the craziest, most enthusiastic crowds at regional gigs.
7. How often does the songwriting process change when writing music?
7. For us it has remained largely the same, but now we tend to flesh out and arrange Sanny's song ideas as a full band with more even input.
8. What does 2013 mean for the band?
8. New songs, bigger shows and more touring!
9. What does it mean to connect with your fans?
9. It's extremely important to connect with EMPRA's brothers and sisters, both at shows and online. Our Twitter feed brings fans closer to our everyday experiences! You can follow us at
www.twitter.com/empraonline
Melissa Johnston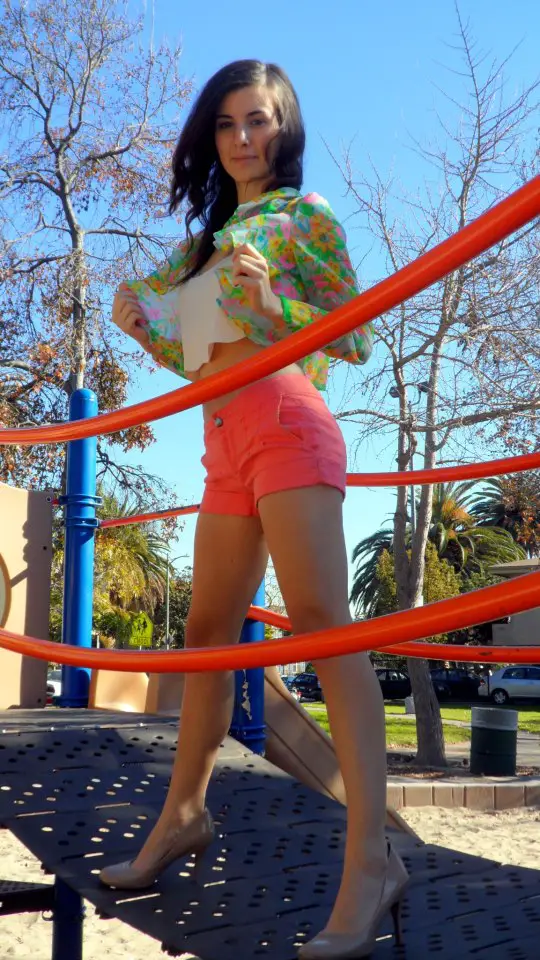 Photos by Tali Sigalius
I interviewed my talented actor friend Melissa Johnston again last week and thought she would be perfect to make as Beauty Of The Week again for this week as she is incredibly beautiful, so talented, switched on, hard working and going places plus being one of the nicest genuine person I've gotten to know. She is a gorgeous talented person and worthy of the career she is making for herself.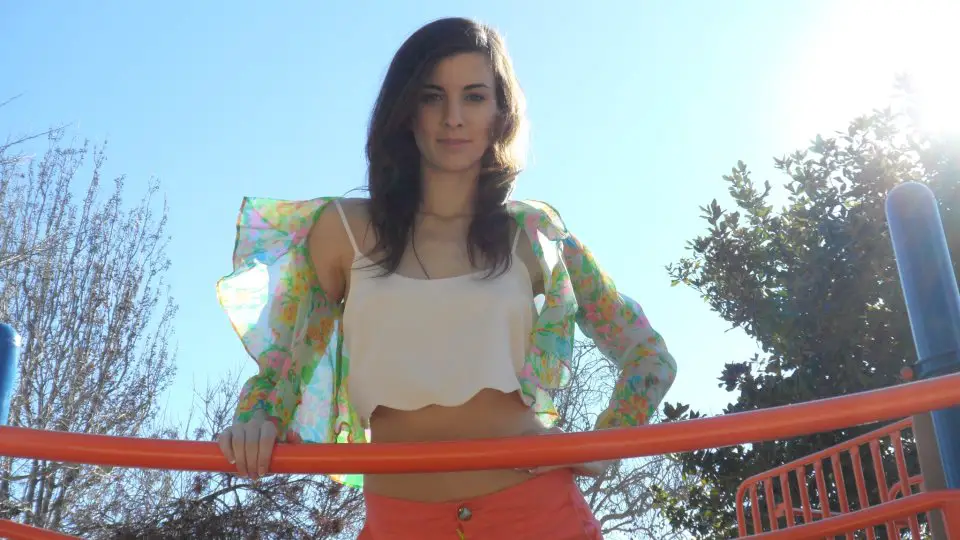 KINGSWOOD LAUNCH 'SOME MOTHERF**KER'S GOTTA PAY' VIDEO TRAILER &
 ANNOUNCE NATIONAL TOUR DATES
'Change of Heart Deluxe' EP out now on Capgun Kids
Wild gun shootouts. Blood shed and Rock'n'Roll. What began as a Tarantino inspired video clip has evolved into a Spaghetti Western short film.
Shot in and around Sydney and rural New South Wales by young film crew Wonderworld Films comes the first look at KINGSWOOD's short film 'Some Motherfucker's Gotta Die'. An epic 10-minute short film for latest single 'Ohio'. The film, much of which was shot at the iconic Sydney venue the Annandale, features guest appearances by Seth Sentry, Thelma Plum, Sticky Fingers, Kira Puru, Dan Rule of The Annandale and Cult Surf Icon Reg Mombassa.
The full-length short film will be launched on June 1st at an exclusive premiere at Melbourne's Eureka Rebellion Trading. How do you get a ticket to the film premiere? Purchase your ticket to the Corner show now and go in the draw to win one of 100 tickets to the screening where you will be the first to see the full length short film along with the band and other special guests.
In the meantime check out the trailer here:
Having just wrapped up a tour with Australian legends Grinspoon and a support spot with Aerosmith KINGSWOOD are also announcing a run of national Australian tour dates before heading over to the US to record debut album in Nashville.
TOUR DATES
June 1st – Exclusive Short Film Premiere – Eureka Rebellion Trading, Melbourne 
25th May – Bass In The Grass, Darwin NT
26th May – Monsoons, Darwin NT
6th June – The Annandale Hotel, Sydney NSW
7th June – Waves, Wollongong NSW
8th June – The Small Ballroom, Newcastle NSW
21st June – The Karova Lounge, Ballarat VIC
22nd June – Jive Bar, Adelaide SA
29th June – River Sessions, Mackay QLD
6th July – The Republic Bar, Hobart TAS
18th July – The Corner Hotel, Richmond VIC
20th July – Eatons Hill, Eatons Hills QLD