Keri Noble – When It Don't Come Easy(KikoSaysSo Music)
I've had this album on my desk for a while and the real world has kept me from reviewing it and like all good things, it was seriously worth the wait reviewing it as it's a fantastic album that deserves to be heard. Keri been playing and releasing music for a while and this cracker of an album has 14 tracks on it and it's worthy of your time. It starts off with the haunting track When It Don't Come Easy being the title track off the album, with its solid vocals and great piano playing, starts off the album well. Red Eye Flight would be one of my picks off the album, it's a catchy track about going back home on a red eye flight to see her man. Its more rocker than the first track, more guitar, drums and bass used through out the song. It also a song very suited for radio and it should be on radio. Songs like Wake Me Up, Say Her Name, I Will Love Me, I've Got You (What Do They Know), Flying Solo show off the ballads where they are beautifully performed and sung with great lyrics and the piano taking a life of its own through out the songs. . Songs like What I Gotta Do show off the country rock influences where she gets sing with heart and soul and let her songwriting really come through. Songs like Japan, Let It Burn have a real bluesy, country rock influence and a little bit of the ballad as well. It finishes off beautifully with You're Home a real solid song with great songwriting, lyrics,great souring vocals and great musicianship and you can feel the energy and passion she has for her music shining through the song. What I like about Keri music is that she writes songs that a really energetic as well as being haunting ballads that the guitars,drums and bass help transform the songs alongside the piano to be something truly special and magical. The production on this is second to none. Just sounds fantastic, a high quality production that you can tell straight away from the first note. She been doing it for a while and I am without a doubt saying this is her strongest release yet. If your tired of the music on mainstream radio at the moment and miss the good old days of real singer songwriters, pick up When It Don't Come Easy by Keri Noble, you will be glad you did and well it probably will not leave your stereo for a while.
Steph Hannah – Mouthful Of Water (Self Released)

Steph Hannah one of those singer songwriters that has managed write tunes that are really moving and also catchy and upbeat at the same time. She a Melbourne singer songwriter and worthy of checking out. This would be her debut ep and it's fantastic. She plays poppy jazzy inspired music and well its a joy to listen to. It starts of with Mouthful Of Water that starts off with just her playing the piano and then leads into an upbeat catchy tune that moves you as well as making you get up and take notice. She has hints of one my fav singer songwriters at the moment Katie Costello. Cherry On Top is a feel good upbeat jazz pop tune that hits all right notes, good melodies and vocals, great piano playing. Just makes you tap your feet grooving in your chair. Songs like Out Of Order highlight her songwriting and solid vocals and also the fine piano playing which she can do. Embers is another haunting moving tune that shows off her songwriting skills,vocals and lyrics. She has a way of grabbing you in with her voice and her piano playing. Play It Down Slow finishes off the EP well and highlights how good she is crafting and performing a great tune. Steph has produced a great EP, something she should be proud of and will no doubt lead to good things and a start of successful career. Special words on the artwork and production of the EP, both excellent. If you're after a great singer songwriter to discover and enjoy Steph Hannah is it.
Further Earth – Kingdom (Firestarter Distribution)
From the moment the first note hits on the opening track The Coastal Repetition off the EP Kingdom by the band Further Earth, I know I've got something really special here, something really good. Something I haven't heard this good in a long time. These Perth boys have truly delivered a world class EP deserving radio play and world wide success. It's alternative rock music done really well. Well produced,written and played. The songs shine with ease, Fierce Eurphoria captures vocals really well, another anthem to scream from the top of your lungs. Songs like The Compass show off the musicianship, lyrics and the vocals. Mocking Bird finishes off the EP well is another song screaming radio play. This is a fine world class EP that deserves your attention. You will be hooked. If Triple J, Triple M and all other good radio stations don't rotate The Coastal Repetition, I will be very surprised as it's a hit in the making.
Ingram Hill
Ingram Hill put out a great rock album last year Look Your Best. So I thought it was time to interview the band about the album, their career and if I'll ever get to see them play in Australia.
http://www.ingramhillmusic.com
1. Are you happy how things are gone for you so far with the music?
A: Yeah I think so. I feel pretty confidently that we've given our all to every record we've made, so I suppose that makes me happy.
2. How have things changed for you as a band in the years of making music?
A: I think a lot has changed. Our writing style is a quite a bit different. I think we tour a lot better and more efficiently. I think we sound a lot better as a band now. I suppose all of that is just natural maturation from doing it for so long, but there's a definite difference in us as a band compared to 5, or even 3 years ago.
3. What inspires you now as an band?
A: I think hearing other great songs, and seeing other great bands. When we first started, it was pretty much women that stirred the creative pot, but I think now it's a lot more of just hearing other great songwriters, and trying our best to be that, as well.
4. Are u happy how the new album Look Your Best has been received?
A: I am. We've had a lot of positive press from it, and our fans seem to really like it, too. At least none of them have told me yet that they hate, so they're either being polite, or they actually like the album.
5. How did u get involved with Rock Ridge Music?
A: We have a lot of friends on the label, and when we were searching for a home for our record, we reached out to them to gauge how well they liked it, and word kind of spread to the Rock Ridge folks that we were asking around, and we eventually created a partnership.
6. Who has been the biggest help with your career?
A: Oh man. There are way too many to name here. I think Rick Beato, who not only produced "Look Your Best," but our first album, "June's Picture Show," had a pretty big impact on us creatively.
7. How is the new album different to the previous ones EG what have you done differently in the recording process?
A: I'm not sure anything in the actual recording process has been drastically different. But the lead in to recording was different. Mostly our songwriting process was a lot different, as well as what we were trying to accomplish with the songs was different. We just wanted to make the songs as honest as possible, and record an album, instead of a contest of which song could be a single.
8. Has the Internet & Social Networking sites played a huge part in your career?
A: It's been huge, in both a positive and negative way. With social networking, it could not be easier to keep in contact with fans, gain new fans, and be able to let people know the ins and outs of the band. However, the internet also lets people download your music for free, which can surely get you new fans, but also means you're not actually selling any records, which then makes it increasingly difficult to afford to make future records.
9. What advice can you give to somebody who wants to make a career in music?
A: Stay away!!! Just kidding. I would say to be prepared to work extremely hard and have thick skin, and enjoy it as much as possible in the process.
10. Who have u enjoyed playing with recently?
A: We were just on something called The Rock Boat, which is essentially a music festival on a Caribbean cruise. It's hosted by Sister Hazel, and there were so many amazing acts we got to play with. Alternate Routes and Tony Lucca are just a couple that I really enjoyed, but they don't really have bad bands on this thing, so I pretty much enjoyed everyone on that boat.
11. Any plans to play Australia?
A: You know we've discussed this many times, and I don't know when it will happen, but I certainly hope it happens soon. If nothing else, I need a good excuse to visit there, so why not play some shows while we're there!
Amanda Kallisto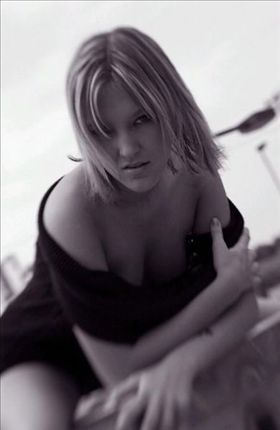 Amanda some I had interview a few years back and thought she was worth interviewing again. She some one that does it all, models, yoga and activism. Plus now she had a baby. So read on.
1. Why did you get into Yoga?
None of us really know our purpose in life, but I think it's simply to live it. To enjoy this very moment for what it is. A unique and fleeting spec in the grand scheme of things. With my fast paced life and a lot of emotions to cope with, Yoga helps me focus on being conscious of the here and the now. It helps me process my thoughts and sometimes mold them to be more positive. Since I always have a deep seeded desire to help others, I want to share this with others through being a Yoga instructor and hopefully transform lives for the better.
2. How is that different from Modeling?
It's actually the exact opposite. Modeling is about living up to a standard. It's about always striving for that next gig or trying to change yourself. Yoga is about accepting who you are and where you're at.
3. What have you done recently Modeling wise?
Since learning of my pregnancy, I've only done a few local shoots, nothing too big. I did shoot for Missconstrued clothing a few months ago, which was a lot of fun. And I have a wolf shoot planned for my non profit this month!
4. Who have enjoyed working with the most?
Oh that's like choosing a favorite Oreo from the box! Sure, I've had some experiences that weren't so fabulous. But even local gigs and photographers no one has ever heard of can be a blast and an amazing experience. Playboy was fun of course, but so was shooting with Michel Savage for the Faerylands series in Oregon or Glam Rock Magazine in Cali. So were the random shoots that I did just to help other photographers build their portfolios or advertise their business. So were the figure modeling classes I did for sculptors and painters. There's something about knowing that someone is capturing that moment in time, your emotion, your life and passion that is just absolutely unexplainable.
6. How is the activism work going?
Well I definately have my work cut out for me with the political shift from this election cycle to predominantly conservative Republicans. It's not good news for the environment, for animals, for women's health, for gays, for the economy…..in all honesty I'm terrified that we're pretty much going to be sodomized from every direction.
7. What been your favorite shoot so far?
I always loved shooting with Tragic Glamour. I always got some funky and unique shots, had a great time, and felt like I could be myself. Plus, her and I both liked the same professional wrestler, Jeff Hardy. She is such a great person and a talented designer, photographer, and stylist.
8. What is next for Amanda in your professional life?
Well, I've enrolled in college as a Mind-Body-Wellness Practitioner with specialties in Yoga and Holistic Nutrition. I'm also taking environmental classes. So right now I'm veering off the modeling road to focus on my soul and my baby. I won't turn down gigs, but my priorities are definately shifting and the entertainment world just isn't calling me at the moment. But don't you worry, you haven't seen the last photoshoot from Amanda! I'm keeping this body in shape, so post baby, I will be one hot MILF! And as a small secret, I have been in cahoots with Playboy for another shoot after the little tyke comes 😉
9. How will the up coming birth of your child change everything you do?
I think the better question is, what about everything that I do will it NOT change!? My time is already stretched pretty thin between all of the things I am passionate about, and now I will be focusing more on my family and myself. I will have to take a little time to adjust to my new role, fit into my new hat, then gradually start branching out again. I will still partake in the same things I do now, just a little less of each.
10. What are you listening to at the moment?
Linkin Park
11. Have you had any bad feedback from what u do?
Oh heavens yes. Everything I do seems to be controversial, even the Yoga. Some believe it to be against their idea of God, which is pretty strange to me since Yoga doesn't focus on any specific religious ideals and instead teaches you to have a personal relationship with the Divine and offer your body and mind to the Universe. When it comes to modeling, I often get accused of "objectifying" women, which is just absurd to anyone that knows me. With my political causes, I of course get labeled as a Jesus hater, a Nazi, a baby killer, a heathen…..I mean, I've had holy water thrown on me for crying out loud! And it's not just the anti abortion or anti gay crowd because I get just as much heat from my environmentalism and love for animals. No matter what you do, there's always someone telling you that you shouldn't. You just have to be strong enough in your beliefs to know what is right and wrong for you.