Katie Cole
Photo by Andy Fortson
Katie Cole is a Melbourne singer songwriter I first interview in 2005 and discovered and dug her music, yep a long time ago. Now she has moved to LA and made a real red hot go of cracking the music industry. Read and discover why she is doing so good and how she is successfully using social networking sites to get her name out there, and what you should be doing as an artist to really make go of your music.
http://www.katiecoleofficial.com
http://www.myspace.com/katiecoleofficial
http://www.facebook.com/officialkatiecole
http://www.twitter.com/katiecolemusic

1. Are you happy how things are going for you so far with the music?
I have been fortunate enough to work with some the best people in this industry. My producer Howard Willing (Ok Go, Smashing Pumpkins, Sheryl Crow, Van Hunt) pulled in the best musicians to play on my record. I got EXTREMELY lucky to find someone who supports my music and believes it has a place in the market. We were able to track much of my record including the "LOST INSIDE A MOMENT EP" at Henson Studios, Sunset Sound and other amazing historical recording establishments. Randy Jackson walked into my first session at henson in Hollywood to say "hi" to my Producer. I fist pumped him. I got lucky that when my producer reached out to me from Los Angeles to me in Australia, I knew exactly who he was, wanted to work with him and was prepared for the next step.
The simplest answer is "yes".
That being said, getting your music recorded is actually the smallest part of the equation these days. It is a very trying time for indie/upcoming and new artists. Don't get me wrong, music is MORE popular than ever, but all you have to do is log onto Facebook or Twitter and within 2.3 seconds you can find a million new artists. The market is flooded so it causes new artists to push their music harder than they ever thought they could to the media, or purely remain a live music entity. I am attempting to do both, and I feel I am creating a "buzz".
2. How have things changed for you in the years of making music?
I now travel in limousines only. hehe. No. But there are many things that have changed and evolved for me socially, creatively and in a business sense. As a songwriter, I have been writing songs for almost 10 years, so there is a dramatic change in my ability to craft material and articulate what I want to convey. I really love telling stories and for me, I have learned to take real emotions and mix those with my ridiculous imagination to come with interesting stories. That way the story in the song is new, but the emotion is real. This also applies to writing new chord changes. Sometimes "complicated" is just complicated. You don't have to say too much, just say enough. Make it count. Musically, I like to stay mid to up-tempo, but I now know how to challenge that.
Socially, I am learning that people make this industry function, so it's
great to know more people, artists and network!!! Not to shmooze or be
cheesy, but to stay informed with who is doing what. I moved from
Melbourne to LA, so I had to learn fast. I was very much starting from
scratch. I try to stay on top of my online personality as much as my
live one. This way you can engage people from around the city, the state, the country and the world. It's all about flooding the market, however you can do it.
3. What inspires you now as an artist?
I like good art, books and believe or not, I love cartoons like Family Guy and South Park. I nurture the adult as much as the inner child in me. I find I don't actually need inspiration to write, I just need to be in a good place mentally. If I'm happy/content, I generally write very fluently.
4. How is LA different to Melbourne in terms of music?
Vastly different. Melbourne caters to rock, indie, folk, blues and roots etc, LA caters to singer songwriter, rock, punk, jazz, pop, folk. It is a little more diverse. It's not to say that Melbourne isn't diverse. It is. However, if LA has a venue that is punk, it REALLY is punk, and I've seen my friends punk band play at Les Deux Rock Mondays in Hollywood, and saw real mohawks and real punks. It's not a fashion statement. People in LA live their personas. This is expressed in the live music scene. Venues like "Hotel Cafe" are very important for singer songwriters and pop artists, so you see artists like Guy Sebastian, and Missy Higgins from Australia will play there. Does that make sense? There are far more venues like Room 5 and The Mint in LA where I play, and these venues have artists like Anna Nalick, Colbie Caillait and Sara Bareilles perform too. There is a focus on pop in LA. I feel it's missing in Melbourne. But Melbourne makes up for it with musicianship and rock.
5. Do u think working with different songwriters & producers has helped shape your music?
Absolutely. I think you can learn something form every situation. I try to be objective about my writing… so that when a co-writer or Producer says, "that part is too long" or "Let's re-write the bridge"…. you are willing to try it. It never hurts to try to better a song.
6. Who has been the biggest help with your career?
My producer Howard Willing. Hands down. Greatest guy, and biggest curmudgeon that ever lived. haha. He has helped open some doors that never would have opened without his expertise.
7. What was it like supporting Glen Campbell?
Amazing. That guy is the REAL DEAL. He still sings all his classics in the same key, and plays guitar solos. A lot of people don't realise that aside from having hits like "Rhinestone Cowboy" and "Wichita Lineman", Glen Campbell was a major session guitarist in the 60's. he played on some of the important sessions very recorded like "Strangers in the Night" for Frank Sinatra. The group of session musicians were nicknamed "The Wrecking Crew". The musicians involved were players Glen Campbell, Carol Kaye and dozens more. They played on all types or records fro artists including The Mamas and Papas, the Monkees, The Carpenters and The Beach Boys to name a few.
It was a real honour to perform with him, not just for the artist that he is, but the musician too.
8. Has the Internet & Social Networking sites played a huge part in your career?
YES! Did I mention yes?. YES. The online part of the music business is 90% of the business. When someone googles your band, do you come up? What comes up? I have generated more buzz, fans and exposure on the web than I ever have could have done on a one to basis with a publicist. It's truly amazing. I can post something to twitter, or my website, and with enough people watching – it can make a difference. It's a lot of up-keep but it's worth it if you can be patient and target who you are reaching out to.
9. What advice can you give to somebody who wants to make a career in music?
Manage your marketing. Find an angle, and model from other like artists and bands. What are they doing? how are they doing it? It's all about good press, reviews, buzz and flooding the market with your name and brand. Be involved with as many like groups, organizations and bodies as possible. more is more.
10. How did it feel to win a Future legend of 2010 award from MOVADO?
Great. it was all very fast and unexpected. I entered a competition via West Coast Songwriters ( a Californian based musician org) and entered my song "GRAVITY". The comp involved MOVADO watches and their new range the "BOLD". My song immediately jumped to top 3 of all the entrants. I was called and interviewed by the head of Marketing at Movado. It was at that point they decided to use my song in their ad campaign nationally and flew me to New York and presented me with their award. I was amongst big names like Jazz legend Wynton Marsalis and Baseball star Derek Jeter that evening. I was driven around in limousines the entire time I was in New York. It was pretty cool
11. How are playing gigs in LA different to Melbourne?
They are vastly different crowds and there is an expectation to bring people into the venue in LA. In Melbourne, many venues have a built in crowd. I was paid to play in many venues in Melbourne. Very different. Most "name" venues in LA , for the most part, have an expectation to bring fans in. It is actually to gauge how popular a band is. And it DOES work for that matter. There are venues in LA that A&R will scout for talent at.
12. What has been the highlight so far?
Biggest highlight of my career. hmm. Opened up for Glen Campbell, toured with Anna Nalick, shared a stage with Jackson Browne, I released my first American EP and had a full venue, I won an award from Movado, had a song in a national commercial, I am currently sitting as the frontrunner to record a song with Keith Urban and open up with my band at one of his concerts…… All of these things are amazing. I am grateful for it all. These are the highlights. More to come!!!!
Susannah Murray
Interview With Susannah Murray By Chris 14/8/07
Susannah Murray is a woman who went into a house and her life changed
She is one of the nicest honest people I have come across and know how lucky she has gotten
She is grateful for the opportunities that have come her way
Please read to find out more about her.
1. How has your life changed since BB?
wow, everything in my life has changed – for the better! i walked into that house with regrets about the state of my career – doing something i wasn't passionate about, being somewhat estranged from my family, and also being in quite a lot of debt – now i'm doing something i love (signed a 12 month contract with Zoo and FHM), my family and i are closer than ever and with all the work i have been given since leaving the show, my finances are in order for the first time in years! i'm feeling very positive!
2. Why do you think it is still popular?
People identify with the housemates at varying levels, its also like you are 'living with' us – watching our every move, every emotion, its like real life Neighbours!!
3. Are you recognized a lot now because of the show?
Ohhh yes, it takes a lot longer to walk down the street now but i don't take it for granted – i'm really appreciative that i've been given so much support by the fans.
4. Are you worried what people will think of you for posing for FHM and Zoo?
No im not worried at all. i'm really proud of it, especially being 30 – i think its quite empowering to be honest!
5. How did you feel when you were asked to pose?
i felt really flattered and excited!
6. How did it feel to be on the cover of Zoo and FHM?
Sooo exciting! its a dream come true for me!
7. What next in the pipeline for you?
Hopefully something media related – i would love to work on Television!
8. Have you had problems from being on BB?
The only downside of being on the show is getting so sick after all of the appearances – i really ran myself down and ended up with pneumonia!
9. is there any kind of shoot you wouldn't do?
i would never pose naked – EVER – after all, my Grandmother buys all the magazines im in!!!!
10. Would you like to host a show like some of the previous BB people are doing?
That would be a dream come true for me! i would absolutely love that!
11. Have much job opportunities come out of being on BB?
Yes ive signed the contract with Zoo and FHM, plus i've signed a 12 month deal with a company called Hair Extensions international.
12. What was it like doing the FHM and Zoo shoots?
i have so much fun at the shoots – the crew are like a little family and i'm so familiar with them all now. plus i get to try on all these cute outfits so it really caters to the 'girlie girl' in me!
13. Do you feel better about life after being on BB, has that changed your outlook on life?
ive actually described the time in the house as a 're birthing experience' – i've come out a new and better person!
14. What would we find on your stereo at the moment?
Ministry of Sound or Kasabian
15. What are some of your favorite musical artists?
Lionel Richie, Spandau Ballet, Beyonce, Missy Higgins, The Strokes, TLC, Usher, Tears for Fears
16. What are some of your favorite movies?
Breakfast at Tiffanys, Zoolander
17. What have you seen recently that you really enjoyed?
Factory Girl with Sienna Miller
18. Are you happy being in the spotlight for now?
i'm loving it, but i know it won't be forever !!! i will never take this time for granted and i wake up every day thankful for being able to have this experience!
Katie Cole – Lost Inside A Moment EP Review
Australia is well a really small country and I mean really small. Yes it's big in land size and so on, but musically it's small. That why a lots of artists go overseas to try to make it and that what Katie Cole has done it and this EP one part of her way into a very successful rewarding career. I first discovered her about five years ago and really dug what she had done then and this EP captures on that and more. She writes pop rock songs. The opening track Always is a catchy blast of energy, vocals and melodies, one of picks off the EP. Lost Inside A Moment is a track that energetic well written & played. Good vocals and lyrics and well I feel like its a 90's track. A song that could and should easily be played on radio. The same goes for Found You a great pop rock ballad with great vocals and melodies, guitar playing that is excellent. The one song I think will be hit off it and should be is Sunrise. It got everything working for it. Great chorus, good solid vocals, melodies and rhythms that just work. Same goes for the lyrics. Breakout is another ballad track that finishes off the EP well. I like all kinds of genres of music, I have no shame in that, I love a good metal bands like Strapping Young Lad as well as I love a good pop rock artist known as Katie Cole who delivered a top quality release that should be heard and discovered and trust me you will know who she is soon enough.
Heather McComb – Talented Actor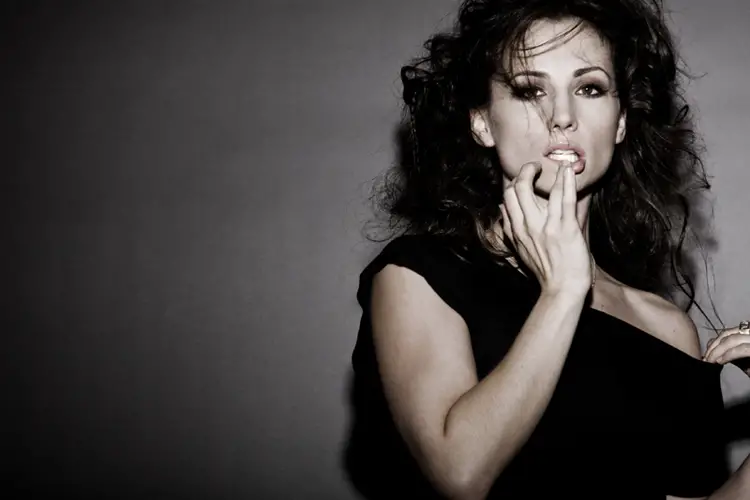 I've been a fan of Heather's work for years. Think she is a incredible talented actor. She's been in such films as The Joyriders, Apt Pupil, Anywhere But Here, All the Real Girls, Steel City, Freak Talks About Sex, Artie. Such tv shows as the recent The Event, Party Of Five & Dawson's Creek.
Think she got loads of talent. Dig what she does as an actor. I always enjoy watching what she does. So check out her work.
More info here http://www.heathermccomb.com/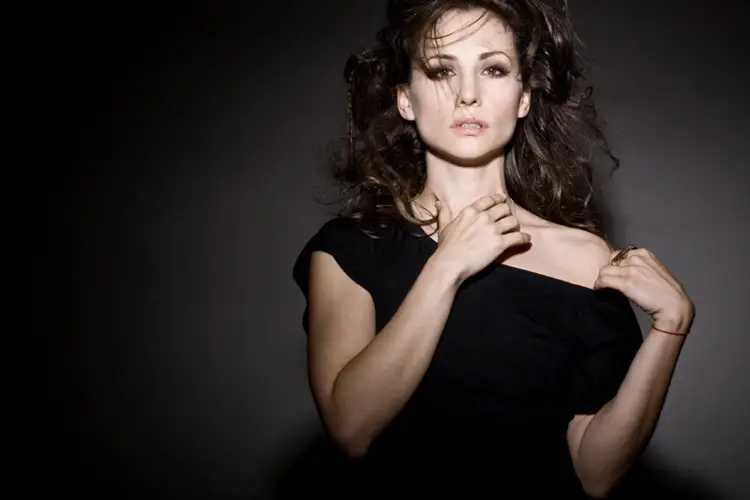 Photography by Eric Scot
Catherine Traicos – Beg For Love (An Ocean Awaits Records/Fuse)
A good singer songwriter to me should do a number of things, firstly write songs that are captivating and enjoyable to the ear. Secondly to be able to play with or without a band and still grab your attention and quite frankly Catherine Traicos can do that. Her new single Beg For Love is very nicely done, it's a bit more upbeat but still maintains the folky quality that she has. The use of a full band behind her just adds to her music. It's a song I could easily see Triple J rotating. Her voice is in fine form. I get hints of PJ Harvey in the track. Baby Don't Cry is a just a lovely laid back tune with a very nice use of the pedal steel. The use of drums alongside acoustic guitar and pedal steel are just perfect. Ever since I first saw her play early last year, I've been a huge huge fan of Catherine's and these two song are no exception. She a fine singer songwriter, one of the best this country got, I for one can't wait to hear the album. Bring it on I say and go check out these tunes folks. You don't know what your missing out on.
Chinnook – We Could Be Friends For A While (Self Released)

Chinnook are an awesome melbourne band playing pretty much brit pop/teenage fanclub kinda style music and boy to they do it real well. It opens up the classic track Black & Blue with it's great hooks and solid vocals.. Yellow Belly is a catching rollking number with it's great vocals & backing vocals really work here. It's catch upbeat and fast. Carry On is just a good pop that sweet,breezy and a joy to the ears. Good Weird Joker is one of my highlight of the EP sung beautifuly by Moira. It the one song, I hope they are sending off to radio as it screams radio play. Nice use of keyboard. It's a really lovely tune, beautifuly sung and performed. Heart Inside My Hand reminds me off the first track, love the use of the keyboards, the use of backing vocals and it's well performed. Evil Weasel is another good track good use of the vocals and the keyboard. This song has more of rock'n'roll feel to it. Finishes off nicely with Child Of The Water with good use of of slide guitar played by the brilliant Andrew Higgs. It's more of a beautiful laidback ballad with the keyboard & slide guitar working alongside each other perfectly. This is a finely produced EP, well written,sung and performed. If you've never heard of Chinook, you need this EP, it's fantastic. Already one of my highlights of the year.
Young Griffo – Tiny Islands (Self Released)
Young Griffo are a Brisbane band who have released their latest release Tiny Island which is 6 tracks of energetic indie rock music that delivers in songwriting, vocals and musicianship and solid production. Starts off with Pennies, which hits it off on the right note, with good melodies and vocals and good solid musicianship and a song just ripe for radio. Facade hits the right note as Pennies but the darker side of music creeps in and gives the song a nice edge and you can tell it in the lyrics. Four Points has a little bit of a groove going which is a nice touch and mixes things up musically nicely. The vocals and band are good. Lyrics interesting too. Tiny Islands the title track off the EP is my pick, nicely written and produced, vocals are solid as is the band and the production, another radio hit as well I reckon. Blood To Bone, is an awesome track, love the bass line opening and everything about this track is cool, dear I say it could be a hit with kids and the triple j crowd. Come To This End is different as well, has a little bit of Tom Waits, Nick Cave thing going with the vocals which is a winner with me.It's an edgy almost laid back kinda of tune and it's cool. This is good ep, something different, unique, production, musicianship are solid. This is a good start to the bands career. Very much worth checking out.
Dylan Ollivierre & the TNs – Lighthouse (Firestarter Distribution)
Dylan Ollivierre & the TNs is doing aussie indie pop guitar music. He is from Perth and the CD is a great first release as it highlights his talents as a singer and as a songwriter. It's also a little rough around the edge, just not overly produced which really works in his favour. It starts off with Find Your Truth which is the perfect song for summer, nice breezy, beautiful and sweet. Too Young has more of blues feel to it. The vocals both backing and main just work really well together. I even get a little hint of Jebediah here for some strange reason. Weight is more or less just Dylan on the guitar & a bit of Slide Guitar then picks up with drums and lead guitar. It feels like an aussie indie pop song, the way it is written & structured. Sunshine Rays is probably my pick off the CD, just a great track that is structured right, well played. It's the song that crosses the bridge to being that song that could make it for them. It's classic indie pop. Temper is just another rocking number, it's just a cruisey upbeat pop number and works with good melodies, rhythms & vocals. Melodyssey is probably most different track on the CD, call it a little upbeat pop ballad with the use of the melodica really works in it's favour. It's a charming sweet little number. Songs like Walk On are just simple laid back ballads with just the guitar and vocals captures the rawness, organic feel of the music. It finishes off with Lighthouse which is a rocking indie pop music with good musicianship and song-writing. This is good a debut album for the band. It's well written & well played, the more organic sound by not over producing is a real plus as you actually get to feel the energy of the band coming through out the songs. Dylan Ollivierre is a good new talent who I could see winning over new fans easily. Top Stuff.
I've know Aviva for a while, Thought and still think she is a great actor. You no doubt know her from Superbad, or how about her amazing performance in Forgiving The Franklins. Great movie check it out. How about her scene steal guest role in Party Down. Or even NCIS. She done a lot and doing loads of good work. Or the movie Saint John of Las Vegas.
This girl is super talent, got the talent. She going places so check out her work.
Nikki Griffin Interview
Thanks to the powers of the internet I discovered Nikki Griffin and her work. I liked what she was doing as an actor.Thought an interview was need, so here we are. Powers that be, put her in your movie. she worth it.
http://www.imdb.com/name/nm1330512/
1. What has been your favorite role to date?
Jess Sathers on The OC has been my favorite roll to date. Jess was enormously fun to play, "Bad Girls" usually are. She had such attitude, and I loved her sarcasm.
2. What do you do to prepare for a role?
It really depends on the role. I read through the script, make notes in the margins. Sometimes I'll write a narrative of my own from my character's POV.
3. Any techniques to remember lines?
Having someone read it aloud with me is the best way to learn my lines. I also will sometimes re-write the lines several times on a blank page.
4. What was working on tv series like OC like?
As I said already, this was my favorite role. However, it was also my favorite job. It was a hot show at the time. It aired before The Dukes of Hazzard premiered, although it was filmed after. I was happy to be working with such a great group of people, I really enjoyed showing up everyday.
5. Did you gain much skills & experience from being on a show like that?
Yes, when filming a TV Drama, like The OC, you sometimes have multiple scenes a day, w/ re-writes handed to you right before rehearsal. I learned to be flexible; Be prepared but not married to your choices.
6. How is the filming of daytime tv different to a primtime tv program?
Soap Operas (Daytime TV- Young and the Restless, General Hospital, etc) are filmed very quickly. They have so much to film, since soaps air 5 days a week. It can be much like putting up a scene for theater;
You do a rehearsal/blocking of the scene, they light it accordingly, then you shoot it only once or twice using 3-4 cameras to catch all the angles. This is mostly done between the hours of 7am-7pm, on a soundstage. They rarely shoot outside, or on location, because of the time limitations
Dramas (1 hr long- The OC, CSI, etc) are typically filmed in 8 days. Scenes are scheduled (Shooting Schedule) not in chronological order, but in order of efficiency. Soundstages are used, as well as location, because of the time limitations
Dramas (1 hr long- The OC, CSI, etc) are typically filmed in 8 days. Scenes are scheduled (Shooting Schedule) not in chronological order, but in order of efficiency. Soundstages are used, as well as locations, and the hours can be anytime of day or night, as long as there is enough turn-around time for the next day.
Comedies (Two and a Half Men, Friends, etc)
are shot in 5-8 days or so (depending on the type) , but the first 2-3 are used for table-reads, fittings, and rehearsals. They are predominately shot on a soundstage, with reasonable hours 7am-7pm. If the show is a traditional sitcom, like Rules of Engagement, there will be a one night taping of specific scenes in front of a live studio audience.
7. How has the internet helped with your career?
I only joined social networking sites in the last 5yrs, but I have found them to be greatly beneficial. It is awesome to be able to reach your audience, promote your work, and even develop new mediums of entertainment, like web-series and pod casts.
8. Do you think it's a useful tool?
I do. The internet makes it much easier for people to be seen and heard, be discovered. It gives an artist a much broader audience, allowing people all over the world to view their work.
9. What don't you like about Hollywood?
That the moments are so fleeting. You are on top one minute and struggling the next, but maybe that is also the beauty of it.
10. Who have you enjoyed working with the most?
I am a huge Buffy the Vampire Slayer fan, so I was honored to work w/ Alyson Hannigan. I actually have her Willow action figure, but I didn't tell her! She and Neal Patrick Harris were the nicest people, and so much fun!
11. What is on your stereo at the moment?
I have eclectic taste in music. I listen to anything from Punk to Country. Right now, as I type, I am listening to a local LA Punk band, called Kamikaze(www.KamikazeLA.com). I am also listening to Rachael Yamagata, The Avett Brothers, Ryan Adams, Mumford and Sons, Cory Branan and Muse. And always listening to: Tom Waits, Johnny Cash, Counting Crows.
12. What movies you have seen lately you have really enjoyed?
I have seen Tangled and True Grit in the theater, and I LOVED both. I also watched Zombieland again on Netflix, and thought it was just as good as the first time.
13. What are your favorite movies?
My all-time favorite movies are Dangerous Beauty, Clue, and The Breakfast Club. I love films so much that I am always watching new things and calling them my favorite.
14. What is next for you?
I am currently working on building my personal website, which will be All-Things-Nikki. I will begin an untitled independent horror film in February, as well as, begin auditioning in this new year.
15. Who would you most like to work with?
I would love to work with Matt Damon, Sandra Bullock, Ryan Reynolds, and Alan Rickman.
16 What do u like to do when your not working?
I watch a LOT of film and television. I play video games on XBox, and network on my computer. I like to cook and read. I hang out w/ my friends, I go see live music.
Thank you for including me on your site!
xo
Nikki