Slam Day – Cherrywood Interview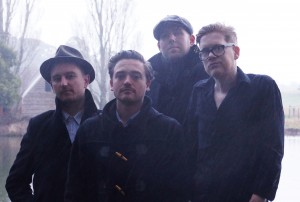 The Slam Rally which happened a few years back was an important moment for live music in Melbourne and also Australia. I know as I marched in support of it. Now with venues under threat, supporting live music and venues is even more important than ever. So My Fiction and Cherrywood are both playing shows on Slam Day so I thought it was appropriate to ask them both the same questions To Get their thoughts on Slam Day & Live Touring. So read on and find out what Cherrywood have to say about it all. Cherrywood are a great Melbourne band, have a look at the clip below to hear what they are all about.
So on the 23rd of this Month being Slam Day, Cherrywood are playing The Joynt in Brisbane.
So Go Check Them Out.
http://www.cherrywoodband.com/
1. What does Slam Day mean to you?
It's a good day for everyone to be reminded that live music is an integral part of our culture and that Musicians and live venues deserve to be respected for what they do.
2. Why do you think it is important to support live shows and venues?
Nowadays, it's the only way for musicians to make any kind of money. Live venues go out on a limb by taking a risk and putting on small bands. It's much easier for them to just serve beer and have a DJ. They have to love music to do it. The same goes for bands – they spend a lot of time and money on rehearsals and whatnot long before they even get on the stage. It's a risk for everyone involved, but the payoff is definitely worth it and it's important for everyone to support and appreciate it.
3. Why do you think touring is important to you as a band?
It's a great way to get our name around. No matter how much publicity or internet push there is behind you, nothing will match somebody seeing you play a show and then telling their friends about it. You get to be up close and personal, sweat and yell together and have a great time. We've made some really good friends with fans and other bands whilst on tour. It's the same for me as a punter, no matter how much I might like a band's recorded material it's always better to see them live. It works for everyone!
4. Do you think the touring scene has changed from when you guys were starting out?
When I first started out in bands, it was a lot more about playing major cities and coinciding that with airplay and publicity. I think that for us now and a lot of other bands we tour with, it's more about spending the time to go and play all the regional shows and we've realized that those are often the best ones on the tour.
5. What has been your favorite gig to play?
There's been too many fun shows to name just one! Our last single launch in Melbourne was pretty amazing. Outside of that, The Joynt in Brisbane last month was incredible. A massive lineup of some of our favourite bands and a great party. Can't wait to go back there again in a couple of weeks.
6. What has been the craziest experience while out on tour?
Gonna have to plead the fifth on that one, but the whole Tamworth experience was pretty hilarious!
7.  If you could put the ultimate line up together who would be on it?
Slayer, Metallica, Anthrax and Megadeth at The Tote in 1984.
8.  How important do you think social media is to live shows and touring?
More important than anything else nowadays. It's a fine line between informing people and annoying them though. Community radio in Melbourne and postering can still help to get your name out. But social media is such an easy way to reach so many people.
9. What is next for yourself?
We're heading up to Brisbane again next week. Then doing a quick east coast tour with an American band called The Von Ehrics. After that we'll be launching our album and touring the hell out of it. Gonna be a busy year!
10. What does 2013 mean for you?
Somewhere between 2012 and 2014 I'd say.